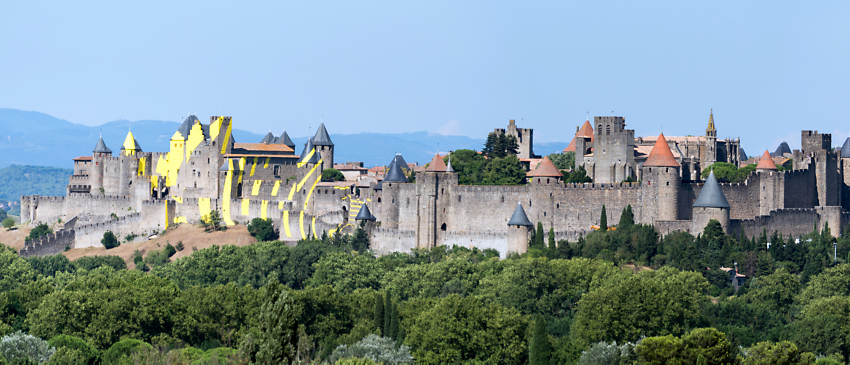 Question: Where in the world did a castle's makeover transform it into a target—for critics?
Answer: The Citadel at Carcassonne, France
France's second-most-visited site (after the Eiffel Tower) hardly needed to draw attention to itself. The medieval fortress is surrounded by nearly two miles of fortified walls with 56 watchtowers, and draws four million visitors a year. But France's Centre of National Monuments thought it could use a little something extra to mark its 20 years as a UNESCO World Heritage Site, and they hired Swiss artist Felice Varini to juice things up.
His answer was to cover the façade in bright yellow rings of increasing size; to preserve the stone, the rings are not painted on but applied in reflective aluminum strips. An example of anamorphosis—art that fools the eye but only if seen from the right perspective—the results look like ripples expanding outward in the optical illusion pattern used by hypnotists. While Varini was happy with the artwork he dubbed "Concentric, eccentric," many locals were not, saying it looked (among other things) like gun sights on a target.
Almost immediately, a petition was launched to get the city to remove the yellow, which is so bright that it can be seen from great distances. Two thousand residents signed the letter of protest calling it "a disgrace" and many complained to the press, grumbling that "we have to look at it every day." Because the commission is temporary and slated to come down by the end of September anyway, the odds of the city intervening are slim. So, some have attempted to take matters into their own hands—literally trying to peel off the strips—which led to the installation of video surveillance equipment.
"Concentric, eccentric," did find its audience eventually: when the Tour de France passed through Carcassonne in July, the stripes were a big hit, largely because they're precisely the color of the coveted yellow jersey awarded the tour leader. Practically made for the televised Tour coverage and ideal for sharing on social media, the artwork was suddenly the talk of Europe. The vindicated Varini told a reporter, "I have often met this type of reaction. At first there is incomprehension and then opinions change little by little."
A Matter of Perspective: 12 Actual Reviews of Carcasssone's Makeover
"Filthy"—from the petition


"Like a yellow safety jacket"—also from the petition


"Oh my god, oh my god"—Pennsylvania tourists to a reporter


"Ignoble and expensive"—local shopkeeper to French newspaper


"Wonderful. It's a real success"—different local shopkeeper to the same newspaper


"It looks rad"—"The Europeans" podcast


"Alarming"—Colossal magazine


"Playful and impressive"—visitor quoted in British press coverage


"A real horror, I am ashamed"—Instagram user posting on Tourism Carcassonne page


"Who is on turpentine duty?"—American Twitter user visiting from DC


"I want to puke"—Sylvia Van Bruggen, poet, the Netherlands


"Ephemeral…satisfying"—the artist himself
See France from a whole new perspective when you join the optional Carcassonne and Bayonne pre-trip extension to O.A.T.'s Northern Spain & Portugal: Pilgrimage into the Past adventure.