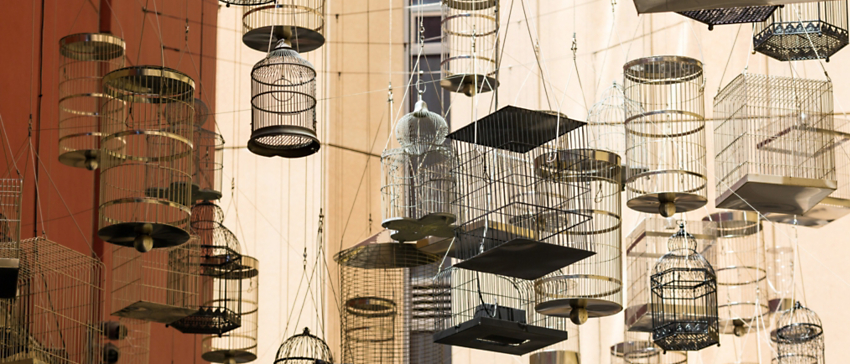 Question: Where in the world can you listen to a variety of bird calls from birds that can't be found for miles?
Answer: Forgotten Songs Art Installation, Sydney, Australia
On a pedestrian alleyway in Sydney Australia, the chirping of birds echoes in between surrounding buildings as metal bird cages hang overhead. Sadly, this sing-songing is not from real birds themselves, but is played in remembrance to the species of birds eliminated from the city due to colonization and urbanization. In this alleyway known as Angel Place, the birdcages and birdsongs memorialize the 50 species of birds that once thrived in the area that is now Australia's largest city.
Located in the lane between George Street and Pitt Street, this exhibit of art and ornithology features a canopy of 120 birdcages suspended in the air and plays recordings of birdsongs from the winged creatures who once called Sydney their home. Since the start of European colonization, these species have been pushed to the outskirts of central Sydney or even further. The chirping that is played matches with when these birds would naturally sing—during the day, calls from birds like the Eastern Whipbird, Regent Honeyeater, and Fan Tailed Cuckoo may be heard, while at night, the Australian Owlet-nightjar, Powerful Owl, or Southern Boobook can be heard cooing.
The installation was designed by artist Michael Thomas Hill in 2009 and was originally planned to be temporary, but the calming, yet somewhat eerie exhibit grew in such popularity that it became a permanent fixture in the city in 2011. Its purpose is to not only remember the lost feathered friends but to highlight the sustainability issues associated with increased urbanization. Habitat loss is the biggest threat to the survival of birds in Australia. 129 species of birds native to the state of New South Wales are formally listed as extinct or are threatened with extinction, and 60% of 262 native birds in Victoria and New South Wales have lost more than half of their natural habitat. Especially along the heavily-populated eastern coast, population rates of Australia's birds continue to decline.
As a permanent part of the city, the Forgotten Songs sculpture continues to shed light on how bird populations are affected in growing cities, and it reminds all who visit of the beautiful chirps that once reverberated from real birds. Though now through speakers, the bird songs have made a return to Sydney and are welcome back as a peaceful part of city life.
7 More Things to Know About Australia's Magnificent Birds:
Australia is home to approximately 830 bird species, 45% of which are endemic to Australia, meaning they are found nowhere else on earth.


Unfortunately, some research suggests that up to 10% of Australia's current bird species may go extinct by the year 2100 due to climate change.


The 830 bird species range in size from tiny birds of only 3 inches tall to the emu which stands 6.5 feet tall.


Australia is also home to the colorful Australian Southern Cassowary which is one of the heaviest and largest flightless birds on Earth. It's also considered one of the most dangerous birds in the world due to its powerful kick, dagger-like talons, and sprinting speeds of around 30 mph.


Both the flightless emu and cassowary are considered some of the most similar species to dinosaurs that exist on Earth today.


Another unique bird native to Australia is the laughing kookaburra which is well known as a symbol of Australia's birdlife. This bird can grow up to 18 inches tall and is typically found among the eucalyptus forests of Australia. It gets its name from the laughter-like call during early dawn that sounds almost like a human cackle.


Australia's birds have a profound impact on their ecosystem and are essential for keeping it healthy. Many varieties of Australian birds help to spread the seeds of trees, pollinate flowers, and keep insects in check.


Visit the Forgotten Sounds of Sydney and discover more about Australia's extraordinary bird species when you travel on Enhanced! A South Pacific Odyssey: Australia, the Outback & New Zealand.