Where in the World?
Posted on 8/8/2017 12:01:00 PM in Travel Trivia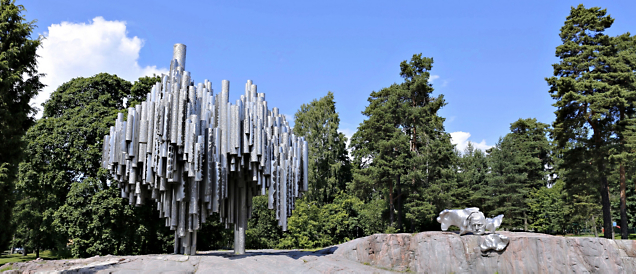 No, Helsinki's monument to honor composer Jean Sibelius is most definitely not a pipe organ.
Question: What country turning 100 this year is also marking the 60th anniversary of its most famous monument, which was erected on the 10th anniversary of the death of its most famous composer (who probably wouldn't have approved)?
Answer: Finland
When Finnish composer Jean Sibelius died in 1957, his loss was mourned nationwide. He was not only acclaimed as the country's greatest composer but key its national identity. His work—especially "Finlandia," which was adapted into the song "Finlandia Hymn"—was interwoven with the rebellion against Russian rule, a movement that led to independence in 1917. When it came time to find ways to honor him, authorities announced a competition for a monument that would be erected in time for the nation's 50th anniversary in 1967 (which coincided with the tenth anniversary of his death).
The eventual winning design, titled Passio Musicae, was the brainchild of Finnish artist, Eila Hiltunen. The 24-ton monument is a rippling 36-foot long wave made of 600 hollow steel pipes. The artist said it was meant to capture the feeling of the composer's music in an abstract way; however, many viewers saw only pipes and assumed (wrongly) that it was a massive pipe organ. This sparked a heated debate, as Sibelius rarely wrote for organs and didn't especially care for organ music. To appease the critics, Hiltunen added a very literal bust of Sibelius to the site.
The controversy didn't do much to diminish the popularity of the site; it is Helsinki's most visited statue and the best know sculpture in the nation. A copy of it was made for the UNESCO headquarters in Paris, and a replica of a small section of the statue graces the plaza outside the United Nations headquarters in New York. And the statue is only part of the national Sibelius tributes: he has appeared on Finnish currency, and the park surrounding the statue now bears his name, as do a museum, a concert hall, and an international violin competition.
As his homeland celebrates 100 years of independence and his monument turns 60, Sibelius's legacy has exceeded the bounds of earth: scientists are continuing to monitor the asteroid 1405 Sibelius, a minor planet named for a major composer.
10 Fun Facts About Finland
On average, Finland has below-freezing temperatures nearly 1 of every 2 days of the year.


Traffic tickets are income-based: the more you make, the more you owe.


Finland claims to have the most official lakes in the world—more than 187,000 of them—though the bar is low: minimum size for official designation is 500 square meters (about one twelfth of an acre).


Cash payments round to the nearest 5 cents; as a result, though 1 and 2 cent coins exist, most people don't use them, and stores don't have to accept them.


There is one sauna for every 2.5 people in Finland, where the first was created 2,000 years ago.


Finns consume 26 pounds of coffee per person each year, which translates to 3.5 cups of coffee every single day for every adult in the country.


Finland also has the highest milk consumption of any nation on earth: an average consumption of a quart of milk per day.


On National Sleepy Head Day (July 27), the last person to wake in each household is either thrown into the nearest body of water or awakened by having water poured onto their head.


Climate change is making Finland bigger: as heavy ice-age glaciers melt, Finland is rebounding from the weight and rising out of the sea, gaining more than 2 square miles a year.


The rural Sami people have a unique measurement: the poronkusema (the average length a reindeer can walk without a pee break).
Discover what makes Finnish culture so memorable and celebrate the start of its second century when you enjoy our Fjord Cruise & Lapland: Norway, Finland & the Arctic Small Ship Adventure.