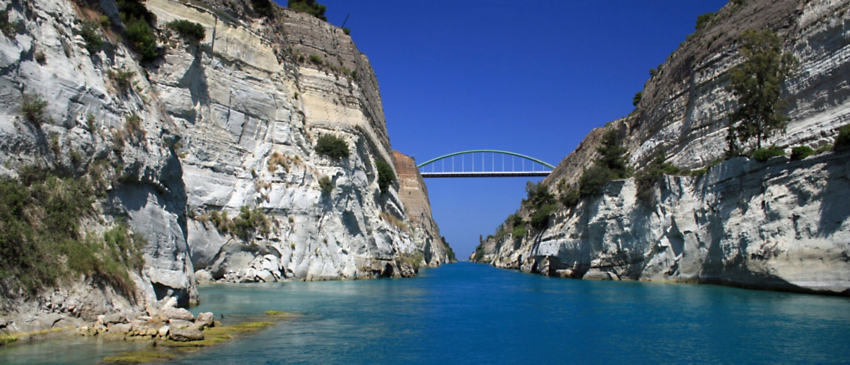 Question: Where in world did tyrants spend centuries building a canal better suited for relaxation than for shipping?
Answer: Corinth Canal, Greece
Separating the Peloponnese Islands from mainland, the Corinth Canal was the dream project of Greek tyrants (as an entire era of rulers was known), three Roman emperors, and at least one king. But making the dream come true was something of a nightmare. The seventh-century BC tyrant Periander tried first, but abandoned the project over labor and cost concerns, building a road instead. The next tyrant to try miscalculated water levels and quit over flooding concerns. Successive Roman rulers drew up plans in turn but each died violently without getting too far: Caesar was assassinated, as was Caligula, and Nero—who had personally taken a pickaxe to the earth to break ground—committed suicide in the first century AD.
It would be more than 1,700 years before the plan would heat up again. In 1830, a Greek statesman had a French engineer draw up plans—only to back off once he saw the price tag: $40 million gold francs. The Suez Canal opened in 1869, and the pressure was on to keep up, but after the Panama Canal's French investors went bankrupt, it made everyone involved in the Corinth project nervous. Nonetheless, in 1882, ground was broken for the new canal, with the King of Greece overseeing the event. Money woes persisted even then—with the project running out of cash midstream—and it would take 11 years to complete.
Once finished, it was a single 26-foot-deep channel requiring no locks. It cut a 20,000-foot-long path between near-vertical rock walls rising 300 feet. But it was surprisingly narrow: 70 feet across at sea level and no more than 81 feet wide at cliff top. That narrowness, combined with peculiar tidal patterns, made the canal a tough sell and it took a decade to get traffic up to a steady stream—only to have World War I kill business for the next few years.
After the first war, shipping returned, but it soon became clear that when traffic was too heavy, the canal was prone to landslides. To handle this, the canal was closed on and off for months at a time over the next few decades as the walls were stabilized, and it finally seemed secure by 1940. Sadly, a year later, caught in the crossfire between German and British forces, the canal was damaged badly by explosives, yielding blockages that would not be fully resolved until the US Army Corps of Engineers cleared the route in 1948.
Though the canal still has the virtue of saving vessels a 430-mile detour around the Peloponnese, it is now too narrow for the current crop of ocean freighters. Best for more modest vessels, it has become the ideal route for cruise ships, whose delighted passengers enjoy prime views of the isthmus gliding by as they relax on deck.
Meet the Tyrants: 10 Things to Know About Corinth's Power Family
The first tyrant was seventh-century BC Cypselus, who was born into an aristocratic family related to the ruling Bacchiadae.


The Bacchiadae heard a prophecy that this newborn would someday rule their kingdom and sent assassins to kill the baby; reportedly, none of the killers could do it because he was too cute.


The baby was smuggled out of his house in a chest, which was kept by his mother knowing he would someday rule. (It later became a tourist attraction, described in a second-century travel guide.)


Sheltered in youth, he emerged as an adult during unrest, when Corinthians were unhappy with the Bacchiadae, and he convinced disgruntled soldiers to help him depose the ruling family.


He immediately built temples to Apollo and Poseidon to curry favor with the gods and ensure their continued protection. That worked: he ruled 30 years and when he died of natural causes, his mantle passed to son Periander.


Periander was one of the Seven Sages of Greece (according to classical tradition) and he was wise enough to open a mint to strike Corinthian coins (though not enough to pay for a canal).


Wise though he may have been, Periander was harsh, and threw his wife down a flight of stairs in a rage, killing her; worse, he defiled her corpse, according to Herodotus, who wrote, "Periander baked his bread in a cold oven."


When his youngest son Lycophron complained about the murder, Periander exiled him to Corcyra, but when it came time to choose a successor, Periander realized his only other son was too stupid to rule.


Periander invited exiled Lycophron to return but he agreed only if his father took his place in exile; the Corcyrans, hearing this, murdered the son rather than be saddled with his dad.


With no other choice, Periander eventually passed on the tyrant mantle to a nephew, Psammatichus, who simply didn't have the family touch: he ruled only three years before being peacefully deposed.
Walk the landscape of the ancients when you visit Greece and sail the Corinth Canal during your Mediterranean Cultures & Islands: A Voyage from Barcelona to Athens Small Ship Adventure.