Where in the World?
Posted on 7/11/2017 12:32:00 PM in Travel Trivia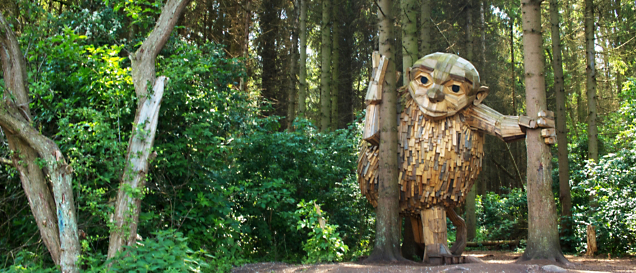 Copenhagen's Giants are intended to promote recycling and an overall sense of caring for the environment.
Question: Where in the world did urban shipping pallets, shacks, and fences get transformed into giants who want you to play hide and seek?
Answer: Vestegnen, Copenhagen, home of the Forgotten Giants
"In the forest, it is lovely to play hide and seek

And if you find me we can play together…"
So begins the poem that accompanies a unique treasure map in Vestegnen, the western edge of Copenhagen. Those who follow the rhyme and hand-drawn illustration discover the Forgotten Giants, oversized wooden sculptures of fanciful beings that are seemingly hidden in each of six different natural settings.
Danish artist Thomas Dambo created the massive recycled wood creatures as a way of drawing attention to the benefits of recycling and care for the planet. He has created similar outdoor sculptures in 25 countries worldwide. But his hometown project is his most ambitious: a three-year undertaking that required hundreds of wooden pallets, abandoned shacks, and torn-down fences, as well as the cooperation of the local government and dozens of volunteers.
The "hiding" of the giants was part of the point: Dambo chose locations that tourists never visit and even city dwellers don't think to explore. Finding the loveliest spots in otherwise unsung neighborhoods, he created an attraction that lures people to see the beauty waiting beyond the most familiar destinations. "We often have a way of choosing the beaten path and the main roads," he explains, and his works helps to fight that instinct.
With the final giant installed this past fall, his giants are "hidden" no more. Locals fell in love with the sculptures quickly, and subsequent coverage from Lonely Planet, Travel + Leisure and ABC, among others, has yielded an increasing number of travelers from all over. That's just what Dambo hoped for. As he puts it, "I hope my art will inspire people to see the big potential in recycling and taking better care of our planet."
Meet the Giants
Overlooking a swamp in Albertslund, Little Tilde peers out between two trees, her tail curled on the ground. Not fearsome but a bit fearful, she is shyest of the bunch, clutching a log to protect herself.
Thomas on the Mountain is sprawled out on the hillside, his enormous feet stretching toward Kongsholm Parken below. Built on a now-wooded former landfill at Vallensbaek Mose, Thomas welcomes visitors to stretch out on his legs.
The first hint of a troll under the bridge at Ishøj is a big hand that appears to reach up through the railing. Peek below and there is Oscar, with his bedhead of brambles, trying to pull himself up.
Hilltop Trini is the most contemplative. Perched in Hvidovre above sheep-filled pastures and lakes, Trini rests a cupped hand on her knee, waiting for a giant butterfly (or ordinary human) to rest inside.
In Rodøvre, in a little vale where vagrants used to camp, Sleeping Louis is rolled on his side. You can almost hear snores from his giant schnozz, and his gaping mouth allows room for a human to crawl inside and camp out.
Bearded Teddy Friendly has no legs—just feet that peek out beneath his torso. But with his comically extended arms, he looks eager to help people cross the water at Hakkemosen Lake, which many are discovering for the first time thanks to his presence.
Experience the creativity of Denmark for yourself on our Grand Baltic Sea Voyage, and enjoy time to seek the giants yourself on our Copenhagen pre-trip extension.