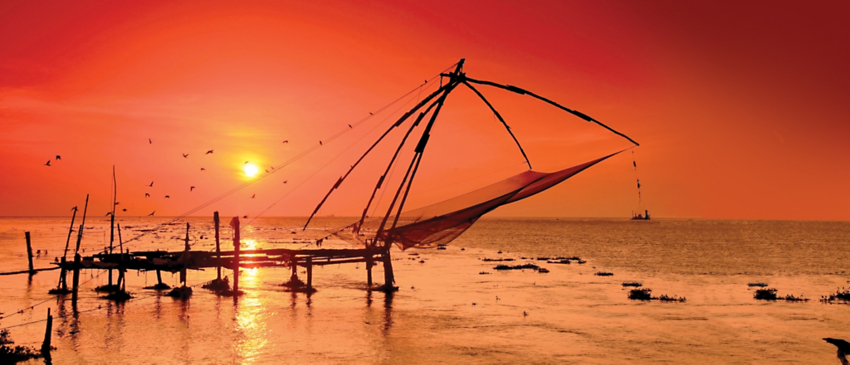 Question: Where in the world are giant nets that swing in the breeze threatened by a tiny change in the water below?
Answer: At the cheena vala nets of Cochin, Kerala, India
Cheena vala, massive fixed-position fish nets stretching 20, 30, even 50 feet across, are as iconic to Cochin as castles are to Austria. Imported from China 700 years ago, each cheena vala has its base set into the shoreline, with a cantilever suspending a weighted net over the water. The rig, which looks like a cross between a king-sized hammock and a billowing sail, requires up to six men on ropes to operate.
The cheena vala are practical working tools but for decades they have been attracting visitors eager to witness the process. As the net is lowered into the sea and then reeled back up, hand-over-hand, there is something hypnotic and timeless to the motion. By the dawn of the 21st century, Cochin's nets were the most photographed site in the state of Kerala. But time marches on: the cheena vala are beginning to disappear, their numbers dwindling by a third in the past five years alone.
Authorities in Kerala have identified part of the problem: climate change. Anthropogenic warming heats up ocean water, from which cyclones draw sustained energy. Cochin University of Science and Technology researchers note that the Indian Ocean is getting hotter nearly twice as fast as the global average. A seemingly small increase—a mere half degree in temperature—means that superstorms once deeply atypical are now predicted to hit the coastline with increasing regularity. In addition to causing destruction of homes and loss of life, such storms further erode Kerala's diminishing shoreline, which has decreased by 45% this century, erasing prime territory for the cheena vala.
Even in good weather, the warming seas have hurt levels of phytoplankton, which is key to the marine food chain, so that fish are swimming elsewhere in search of food, while the remaining fish struggle in more acidic water. Harvests of key staples (fish like sardine, mackerel, and bream) have plummeted, leading fisherman to abandon their nets and head out to sea, or to find new kinds of sustenance income entirely.
The state of Kerala cannot bring back the fish or cool down the waters, but it has taken a preemptive stance to preserving many of its existing environmental resources (see below). Sadly, there is no quick fix at the coast. For the onshore fisherman who are sticking it out, and those who wish to witness this tradition, the cheena vala remain for now, but time and tide alike are against them.
9 Things to Know about Eco-Friendly Kerala
25% of India's plant species are found in Kerala, 1,200 of them endemic to the state.


Wildlife includes 118 species of mammal (among them elephants, tigers, and the giant grizzled squirrel), 173 reptile species (ruled by the king cobra), and 151 species of amphibian (20% of which are endemic).


500 species of birds (including myna and hornbills) fill the sky over Kerala, while 190 species of fish (including the stinging catfish) navigate its waters.


Nearly a quarter of Kerala is forested, spanning tropical, subtropical, and temperate forests, both evergreen and deciduous.


After logging began to take a toll on parts of the Nigiri Biosphere Reserve (which spans parts of three states), Kerala moved to prohibit clear felling in its territory and protect the forest, which is a UNESCO World Heritage Site.
Kerala signed on to the Ramsar Convention, which conserves vital wetlands globally. Locally it protects three vast wetlands (Lake Sasthamkotta, Ashtamudi Lake, and the Vembanad-Kol) from exploitation.


To further protect its resources, Kerala became the first Indian state to create Biodiversity Management Committees in every local government, including nearly 1,000 villages and 60 cities


Kerala's eco-friendly policies and embrace of nature earned it the #1 ranking on the national survey of Cleanest States in India.


Clean living means longer life: Kerala's life expectancy at birth, averaging 75 years, is the highest in India (where the national life expectancy at birth is only 68).
Discover this biodiversity hotspot for yourself when you join O.A.T.'s post-trip extension to The South of India: Kerala & Cochin on our Heart of India adventure.