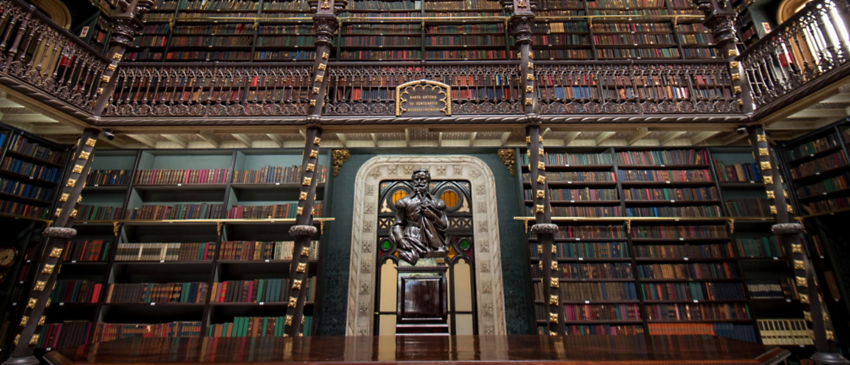 Question: Where in the world did a culture club keep relocating because it bought so many books it always ran out of room?
Answer: Rio de Janeiro's Royal Portuguese Cabinet of Reading
For 300 years before the 1808 arrival of Napoleon in Brazil, the land had been a Portuguese colony under imperial rule. Unnerved, the royal family consolidated its power in Rio, and by 1821 formally declared Brazil a Portuguese Kingdom once more. The locals resisted, proclaiming their independence in 1822 and then fighting for it. But not all the residents of Rio agreed with the shift toward a new Brazilian identity. A trio of Portuguese ex-pats who didn't want to give up their original heritage formed a cultural club dedicating to preserving Portuguese literature in Brazil.
They began gathering all the books they could, quickly amassing more than 20,000 volumes, which seemed like a vast trove at the time. Acquisition soon became obsession, with tens of thousands of books a year being added, and the trio swelling in number until it was a cadre of like-minded enthusiasts. Three times, their book collection outgrew their rented spaces and they determined that they would build a full-sized library worthy of their grand collection. Not at all subtle in showing their allegiance, they had the entire façade carved from limestone in Lisbon and shipped over.
When the doors opened in 1887, visitors gasped upon seeing the three-story interiors: 350,000 books rose to the ceiling on all sides, housed in wood fixtures carved with all the flourishes of the late 15th-century Manueline era, the Portuguese Age of Discovery. The choice of design aesthetic, architectural style, and content all together made it clear that while the empire might have ended, its most loyal subjects were not ready to move on.
The collection, the largest of its kind outside of Portugal, now has nearly 400,000 volumes, but no one is looking to move it again. This royal "cabinet" is considered a jewel in both crowns.
Beyond the Bookshelves: 7 Gems to Discover in Rio
Escaderia Selarón ( R. Joaquim Silva, S/N - Centro) is as eye-popping as the royal cabinet, an outdoor staircase that Chilean artist Jorge Selarón spent 23 years tiling and re-tiling with colorful materials from 60 countries around the world.


Outlined with Easter Egg-colored houses, Largo do Boticario (Rua Cosme Velho 900) is an 18th-century plaza, where neoclassical buildings long abandoned by humans have become increasingly occupied by tropical plant life.


Ignore the grim exterior of Rio de Janeiro Cathedral (Av. Chile, 245 - Centro), which has been said to resemble a nuclear plant, and step inside to find four vivid-hued stained glass windows ribboning the full 200-foot rise to the ceiling.


When Portugal's days of empire in Brazil were numbered, it threw an epic 5,000-guest final party at The Palace on Ilha Fiscal (Guanabara Bay), a pale green neo-gothic beauty reflected in Guanabara Bay and now a cultural center with rotating exhibits.


Leave the modern bustle behind with a stroll on the small Ilha de Paqueta (Guanabara Bay) where horse carriages and bicycles are the default modes of transport. With quaint shops, cobblestone streets, and ocean views, it's transporting.


Christopher Fair/Feira de São Cristóvão (Pavilhão de São Cristóvão - Bairro de São Cristóvão) is a window into life in northeastern Brazil, with hundreds of shops selling rustic foods, cachaça, and clothing, often accompanied by forro music.


Rio's Botanical Garden (1008 - Jardim Botanico) is an emerald wonderland, with 6,500 plant species spread among garden plots, greenhouses, and tree stands. Capuchin monkeys and marmosets may join you on your stroll.
Witness the long-lasting influence of Portugal amid the vibrant culture of Rio on our new Exploring South America: Rio, Buenos Aires, Patagonia & Chilean Fjord Cruise Small Ship Adventure.