Where in the World?
Posted on 9/12/2017 12:01:00 PM in Travel Trivia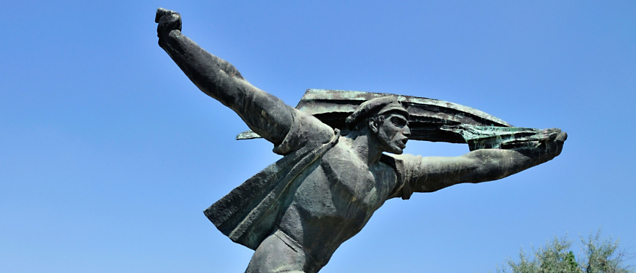 Now exiled to a park just outside Budapest, these former monuments to Communism now stand as a thought-provoking reminder of the past—and a celebration of human spirit.
Question: Where were Stalin's boots made for walking … right out to the suburbs?
Answer: Budapest, Hungary
By the end of the Communist era, you could hardly walk through a Budapest neighborhood without bumping into one tribute or another to the glories of Soviet socialism. And the father of them all was the Stalin Statue.
The 25-foot-tall replica of the Soviet dictator, made even more imposing by its three-story base, was a "birthday present" from the Hungarian Communist Party when Stalin turned 70 in 1951. The statue outlasted the man (who died two years later) but not by much: it was torn down by angry citizens in the October Revolution of 1956.
It would take another 33 years for the Communist regime itself to be toppled in Hungary, and when it was, some wanted to get rid of all the related monuments. But the city decided that it was important to recognize the Communist era without aggrandizing it or holding it up for praise. A contest was held to choose a design for a park full of relics of the Communist period. In 1991, the General Assembly unveiled the winning plan for Memento Park by Hungarian architect, Ákos Eleőd.
The park is in the suburbs, about 20 minutes from the heart of the city, the kind of place you have to choose to visit instead of stumbling onto it. Among the 42 monuments are depictions of Lenin, Marx, Engels, and a raging Soviet soldier that use to glower down at the city from its highest point.
There's no way the park could have ignored Stalin but no one was in any hurry to re-erect his massive likeness. Instead, a plinth inside the gates is topped with just the boots. The fact that they are empty is supposed to remind visitors both that Stalin is long gone and that Communism was brought down by the revolutionary spirit of the people.
As the architect said, the park is about not only the oppression but about the freedom that follows. In his words, "Only democracy can provide an opportunity to think freely about dictatorship. Or about democracy…"
Stalin is gone but Budapest remains full of unusual monuments. Here are some of the memorable characters immortalized in the city:
A Gaggle of Deities: On Gellért Hill, the Garden of Philosophy (Orum utca and Szirom utca
Gellérthegy) is chockablock with gods, spiritual leaders, and famous religious writers. The heart of the site is a group that isn't usually seen together: Buddha, Jesus, Lao Tse Tung, Gandhi, and Akhenaten.


Dismembered St. Stephen: Clenching a handful of jewels, the right fist of St. Stephen has been displayed for centuries in his namesake cathedral (V. Szent István tér 33). Lopped off of his disinterred corpse in 1083 when he was canonized, it's now known as "the Holy Right," and leaves the cathedral only once in a year in its own parade.


An Ottoman Dervish (not Whirling): Amid all the cathedrals in a city historically majority-Christian, you might be surprised to find a Muslim tomb. For 150 years, ending in 1699, Hungary was Ottoman Empire territory. One of the few icons of that era which remains is the statue of Gül Baba, a Turkish dervish, poet, and warrior who died during the early months.


Man Staring at a Melon Rind: Hungary's most famous poet, Attila József, took his own life at 32, but lived long enough to become their equivalent to our Robert Frost: a people's poet whose work is taught in every school. His monument (idosebb Antall Jozsef rakpart) shows him in a scene from a poem in which the narrator is seated by the Danube, coat flung off. His look is brooding as he stares at a melon-rind floating in the river, prompting a reverie.


Bella Lugosi as Dracula: German artist Hartmut Zech likes to make sculptures of famous people and then sneak them into public sites. In 2003, he quietly added a bust of Hungarian-American actor Bella Lugosi, in his role as Dracula, to an alcove on Vajdahunyad Castle (Vajdahunyad vára City Park). The castle authorities decided not to remove the sculpture, which looks surprisingly at home there, and it has remained part of the fixtures ever since.


Columbo and his Dog: No credible link has even been found between Peter Falk, known best as Detective Columbo on American TV in the 1970's, and Miksa Falk, a famed 19th-century Hungarian activist with the same last name. No matter: the possibility of distant relations was enough to earn Columbo and his dog a spot on a popular pedestrian lane (Falk Miksa Street).


A Happy Reagan: The 40th president of the U.S. is frozen in time, looking victorious as he permanently strides across Liberty Square (Szabadsag Ter) in statue form, an honor afforded him for his role in ending the Communist era in Europe.


You: At Hungary's For Sale Pub (2 Vámház körút, Budapest, 1093), feel free to immortalize yourself. Every inch of space from the seatbacks upward is covered with drawings, notes, poems, business cards, and an endless array of ephemera from visitors, who are encouraged to leave their mark without waiting for the judgment of history.
Revel in three days to experience the history and culture of Budapest on our Romantic Blue Danube: Budapest to Prague River Cruise.