Question: Where in the world are massive basalt towers home to thousands of diving birds?
Answer: The Bird Cliffs of Alkefkellet in Svalbard, Norway
Under the endless Arctic summer sun, the basalt cliffs of Alkefkellet in Svalbard, Norway fill with a chaotic scene of 60,000 pairs of breeding Brunnich's guillemots. These black and white-colored birds nestle in the cliff terraces and dive into the Arctic waters below, putting on quite the show for birdwatchers who cruise along in boats. This bird city is considered one of the world's greatest wild places to watch seabirds as they swoop and squawk at one another.
Alkefkellet is a massive basalt mountain cliff several miles in length with fantastic towers, peaks, and pinnacles that stand up to 330 feet tall. Its name literally translates to "mountain of the guillemots" or "bird mountain". The cliffs face the Hinlopen Strait in the Svalbard Archipelago, and the water surrounding it is deep enough for boats to get an up-close look at the raucous activity of the bird colony.
Want to Learn More About This Destination?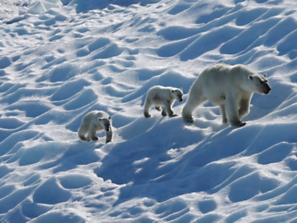 Svalbard, A Journey to the Top of The Earth
Witness the icy wonderland of the Arctic, from its massive crystalline icebergs to rare animal species that call it home, including friendly puffins and polar bears.
The Brunnich's guillemots, also known as the thick-billed murre, which call Alkefkellet home during the summer months are known for their extraordinary diving capabilities. They are one of the world's strongest birds, diving up to hundreds of feet underwater to catch fish, squid, and crustaceans. They are also known for their large and dense breeding colonies on rocky cliffs which can reach up to one million birds.
On the cliffs of Alkefkellet the birds fly about in a frenzied fashion but never seem to bump into one another. Boating visitors can also spy a smaller number of gulls, kittiwakes, and Arctic foxes who hunt for fallen chicks among the cliff terraces. Sometimes meltwater from glaciers creates small waterfalls that cascade down edges of the rocks. Whether or not you are an ornithologist, the mesmerizing scene at Alkefkellet is a wild wonder to behold.
A Few Fast Facts on Brunnich's Guillemots:
Brunnich's guillemots are named after the Danish zoologist, Morten Thrane Brunnich, who studied and published the details of many Scandinavian birds for the first time.


The birds live only in the polar and sub-polar regions of the northern hemisphere. Their large colonies are found primarily in the Arctic but also in coastal Canada and Alaska.


They have black heads, necks, and wings with white plumage on their bellies and a long, pointed bill. They walk with an upright, penguin-like posture on land.


After diving deep beneath the ocean, guillemots can stay underwater for up to four minutes in search of food.


While they are underwater, they flap their wings to propel themselves and use their feet as rudders to steer. Their wings are long and narrow to help them with "flying" underwater.


Because they eat a diet of primarily fish and crustaceans, their population is sensitive to overfishing and the availability of fish in the ocean.
Get an up close look at the Bird Cliffs of Alkefkellet by zodiac during our New! Arctic Expedidion: Untamed Norway & Svalbard Small Ship Adventure.