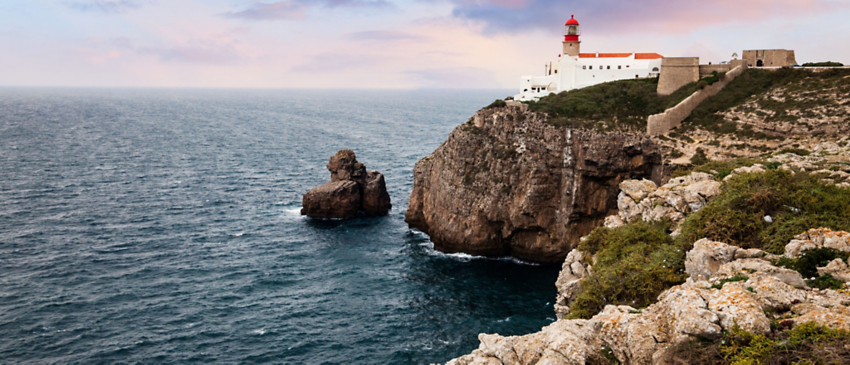 Question: Where can you find the most southwesterly point in Europe, windswept and remote enough to be dubbed "The End of the World"?
Answer: Sagres, Portugal
The charming fishing village of Sagres is cherished by locals and visitors alike as a quiet refuge from the energy of Portugal's Algarve region. But just a couple miles outside of the village, nature asserts itself with energy of its own.
On the peninsula of Cabo de Sao Vicente, a relentless wind pitches angry seas against jagged, nearly vertical cliffs. For Portuguese early sailors, the lighthouse here was the last glimpse of their homeland they'd see before entering uncharted waters: This was the end of the known world. Even the ancient Romans were struck by the cape's visual drama, believing that Cabo de Sao Vicente—to them, Promontorium Sacrum ("Sacred Point")—was the spot where the sun plunged nightly into the sea.
Fortunately for sailors, a safe harbor exists just south of the cape at Sagres Point, where a ship could wait for favorable winds before attempting to round treacherous Cabo de Sao Vicente. The importance of this promontory was not lost on Prince Henry the Navigator—but in the early 15th century, as he prepared to launch the voyages that would begin the Portuguese Age of Discovery, the point lacked the resources to support his ambitions. Frequent pirate attacks had driven away most of the population. Henry set about repopulating an abandoned village with scholars and cartographers—in fact, some believe that this may have been the location of Henry's legendary School of Navigation, though this has never been proven. Henry spent much of his later life at Sagres, dying there in 1460.
Little remains of what Henry built on Sagres Point—most of it was overtaken by a 16th-century fortress that was damaged by an earthquake in 1755 and restored in the 20th century. Even the giant, 100-foot compass rose here is unlikely to date back to the time of Henry the Navigator; it was also restored in the 20th century—and now contains an incorrect number of petals.
But what Sagres Point may lack in authentic monuments, it more than makes up for with its stunning geography. In glimpsing these cliffs from ship or shore, it's easy to appreciate the bravery—and trepidation—of those early explorers, who set forth from the "end of the world" into a vast unknown.
Sagres is just one of the historic ports you'll discover with Grand Circle Cruise Line on Classic Cities & Moorish Traditions of Iberia and Morocco.