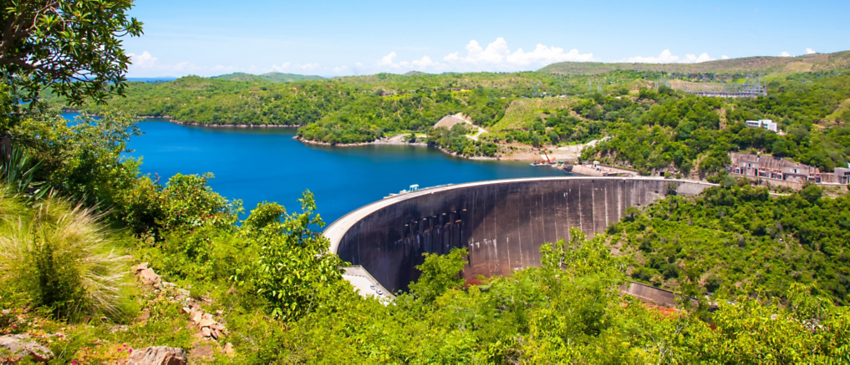 Question: When Zimbabwe flooded the Kariba Gorge to make the nation's biggest lake, what unexpected side effect shook people up?
Answer: It caused nearly 160 earthquakes
It is called Africa's Inland Sea and that is certainly what it looks like. At 2,300 square miles, Zimbabwe's Lake Kariba is truly vast. Rich with freshwater aquatic life, home to hippos and crocodiles, and ringed by a shoreline teeming with elephants, lions, and waterfowl, it has been a national treasure since it was created. That's right: it's man-made.
From 1958-1963, Zimbabwe authorities building a new dam at the end of the Kariba Gorge prepared the bed of the gorge for conversion into a lake. When the dam was completed, the Zambezi River flooded the gorge, creating the world's largest man-made lake and reservoir. But the displacement of 200 billion tons of water was literally earthshaking: scientists reported an immediate boom in seismic activity.
In the first three years, seismologists recorded 159 tremors in the area. It became clear that the flooding had re-activated existing faults, some dating back to Precambrian times. In fact, the construction period saw a total of 20 earthquakes greater than a 5 on the Richter Scale, and the largest earthquake in Zimbabwe's history, registering a 6.3, occurred in Kariba soon after the official opening in 1963. The local Tonga people were sure it was sign from the gods. (See below.) In the years since, dozens more tremors have registered, but none on such a dramatic scale.
Shaken but not stirred, Lake Kariba went on to become a popular idyll for nature-lovers, first for Africans, and now for global travelers who can't tell at a glance that it's a human creation.
9 More Facts About Lake Kariba
The architect was a globetrotting French engineer, Andre Coyne, who built 70 dams in 14 countries.


The lake takes its name from the word Kariva (also Karinga), which in the local dialect refers to a rock at the mouth of the gorge.


Readying the new lake meant providing wildlife to call it home; 6,000 animals (including big game, birds of prey, and freshwater fish) were relocated to the lake from elsewhere in Zimbabwe.


The Tonga people were forced inland, and believed that Nyaminyami, their river god, would one day wreak havoc and destroy the wall.


Despite its vast width, the lake is fairly shallow: its median depth is 90 feet (and its deepest spot is just over 300 feet).


Lake Kariba is a major fishing destination for Africans: it is stocked with 40 kinds of fish, including kapenta, tiger fish, tilapia, bream, catfish, and Vundu.


Tiger Fish are most prized; though they only weigh in at 8-9 pounds, they are so agile, it is considered a real feat of skill to catch them—and the annual International Tigerfishing tourney offers up serious bragging rights.


The National Parks system supports crocodile farms along the lake but requires that 10% of all hatchlings be released into the lake, which has yielded a continual increase in their numbers.


Though the Tonga people couldn't reclaim their land, they have transformed the western end of the lake into a hotspot for selling their wood carvings and woven baskets, which are now in demand worldwide and support them economically.
Experience the majesty of Lake Kariba on your Southern Africa Safari & Lake Kariba Cruise: South Africa, Zimbabwe & Botswana adventure.