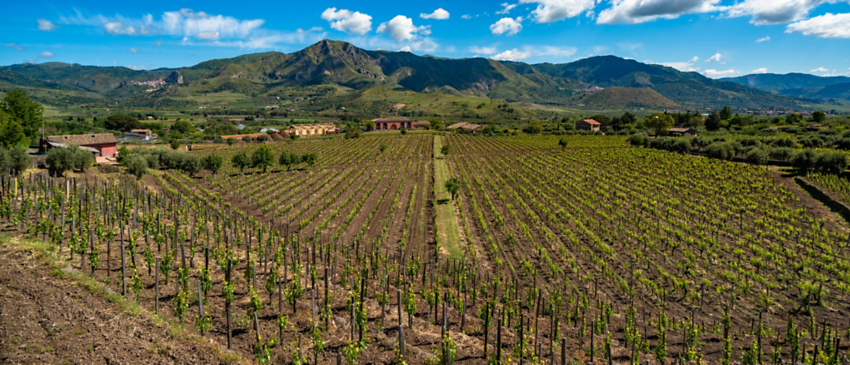 Question: What makes Sicily a hotspot for exceptional wine production?
Answer: Mount Etna's volcanic activity
While living along the slopes of a volcano might seem like a curse, it's more like a blessing for people living by Mount Etna in Sicily—especially those who love wine. The wine produced here has rich complexities and aromas unlike anywhere else in Europe due to a combination of minerals deposited by millennia of volcanic activity.
Mount Etna is the highest volcano in Europe and one of the most active worldwide. Its several eruption points and frequent lava flows have created the diverse and rich soil perfect for the production of one-of-a-kind wines. Etna also stands nearly 11,000 feet high above the nearby Ionian Sea which causes a wide range of microclimates. With its nutrient-dense soils and various atmospheric conditions, Mount Etna has been a playground for winemakers for nearly 3,000 years.
Want to Learn More About This Destination?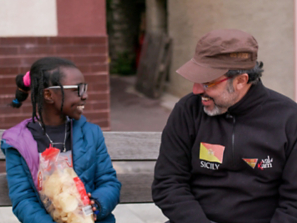 ReelEarth: A New Beginning in Sicily
Learn about a Sudanese refugee family's attempt to start a new life in the town of Sant'Angelo in this ReelEarth film.
However, the job of producing and harvesting grapes isn't and has never been easy on the slopes of Etna. Summers are scorching hot and winters can pummel with snow and rain. The topography prevents mechanized harvests, meaning everything is done by hand along the sloped terrain.
During Italy's industrialization, most of the old terraced vineyards of Etna were abandoned because of this. With their high production costs and low yields, winemaking was all but lost. But by the 1990s, a new generation of winemakers took over the abandoned vineyards and revitalized the region. They meticulously studied the unique vines which have existed for centuries. Combined with the traditional winemaking customs of the area, these new viticulturists turned Etna into one of the world's biggest wine trends.
The area surrounding Mount Etna has been designated as a Denominazione di Origine Controllata (DOC), an Italian classification for protecting wines. The designation spans 2,000 acres and is home to 289 wine producers who meticulously create wines of varying terroirs.
More Mount Etna Fun Facts:
Mount Etna is set upon the subduction of the African and Eurasian tectonic plates—the fault that formed Mount Vesuvius and subsequently destroyed Pompeii.


It has more than one active center with two different types of eruptions occurring. Some eruptions occur from the craters at its summit, but more common explosions are ones from the northeast, central, and southeast vents.


Coming from the Greek word Aitne, Etna's name translates to "I burn." In Greek mythology, Aitna was the goddess of the volcano. It's also believed that Zeus buried a hundred-headed monster Typhon beneath it and his restlessness caused the eruptions.


The Roman God of fire is also believed to have lived here. According to the Roman myth, Vulcan used the base of the mountain for metalworking. As the god of fire, he was considered the manufacturer of arms, iron, and armor, and the red-hot lava flows were from his metalwork.


The mountain is referred to by many different names. In mainland Italy, it's known as Mongibello or Montebello which means "beautiful mountain." Sicilians also refer to it as Mungibeddu.


It's seen from nearly anywhere on the 460-square mile island. And despite the power Mount Etna imposes, more than 25% of Sicily's population lives upon the mountain's slopes—and have been since as early as 12,000 BCE.


The biggest eruption, which occurred in 1669, killed 20,000 people. Over the course of three days, Etna began to rumble and produce gas. Lava began to spill out of Mount Etna and ash was reportedly seen over 100 miles away.


In the last 20 years, Mount Etna averages about one eruption per year, and they are relatively harmless.
Discover the historic slopes of Mount Etna during our Sicily's Ancient Landscapes & Timeless Traditions adventure.