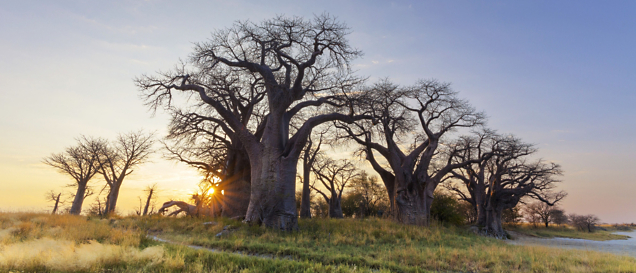 Africa's iconic baobab trees are uniquely adapted to survive in their sometimes harsh environs.
Question: What plant rises 100 feet, is as wide as a school bus is long, contains enough water to fill a swimming pool, and can serve dinner for 40?
Answer: The African Baobab Tree
Known as the Tree of Life, South African baobabs are famous for their size, their versatility, and for their endurance. Baobabs can reach 100 feet, the height of a 9-story building, while their trunks can spread out to a monstrous 36-foot diameter. These massive bases are full of caverns for holding water—a lot of water. Like a survivalist, a baobab is always prepared for catastrophe: One tree can hold up to 31,000 gallons of water at a time, far more than it needs, so that future droughts won't kill it. This is important because a baobab can live for thousands of years.
Predating recorded history, the trees are integral to local life. Baobabs have fire-resistant bark which can be used for building supplies, clothing, and ropes. Its fruit, known as monkey bread, is high in vitamin C. As if that wasn't enough, the older trees also provide room for shelter inside the tree. When an aging baobab passes the millennium mark, it stops acting as a water tank and dries out, with hollows big enough for humans to camp in. One South African village even built a restaurant that could seat 40 people at once inside a baobab.
While many people head to Africa in search of wildlife, the baobab is reminder that the flora is every bit as fascinating as the fauna. In fact, South Africa is one of the world's designated "six floral kingdoms" and it contains three biodiversity hotspots. Here are just a few examples that explain why:
Tree Fuchsias: Tree fuchsia isn't actually in the fuchsia flower family at all, but it's similarly eye-catching with long tubular flowers in vivid colors. Famed for luring hummingbirds and sunbirds, tree fuchsia has become all the rage for decorative gardens. But long before Africans started capitalizing on the aesthetics, the trees were sought for their leaves, which are used in traditional Zulu religious rituals for summoning ancestors and combatting witchcraft.


Cape Chestnut: The 75-foot tall Cape Chestnut is a gaudy showgirl in the winter, covered with a lush mantle of pink blossoms. But its secret is that it's not just ornamental: it's crucial to the well-being of 15 distinct species. Cape Chestnuts are the primary home for the Cape Parrot, the only parrot endemic to South Africa, as well as cinnamon doves, swallowtail butterflies, and a dozen insect species that co-exist on each tree.


King Protea: The national flower is named "King" for its crown-like petals, and "Protea" after Proteus, a god who could take many forms. That's fitting because South Africa is home to 81 varieties of protea, the largest of which sports a blossom wider than a dinner plate.


Lithops: Many an eye has been fooled by lithops, the "living stones." The plant is composed of two thick leaves that lie nearly flat on the ground, taking on the color of the geology around them and appearing to be rocks. That makes them memorable enough, but there's more: In the few months when they are in bloom, they don't flower—they glow in the noontime sunlight.


Crane Flower: With bird-of-paradise flowers giving off a heady perfume, the six-foot-tall Strelitzia ensures its own longevity by making a memorable impression. Sunbirds are attracted by the aromatic nectar pooling within the bright sheath of petals; when the birds land, their weight spreads open the sheath and coats their feet in pollen, which they carry to the next plant.


Everlastings: Syncarpha are the flowers that just won't quit. Nicknamed "everlastings" in English and "sewejaartjies" ("seven years") in Afrikans, the double-daisies are known for being hardy: blossoms last for two or three months before they are picked; when harvested and dried, the paper blooms remain intact for years.
Experience the biodiversity on display when you enjoy our South Africa Safari & Swaziland: Kruger National Park, the Garden Route & Cape adventure.