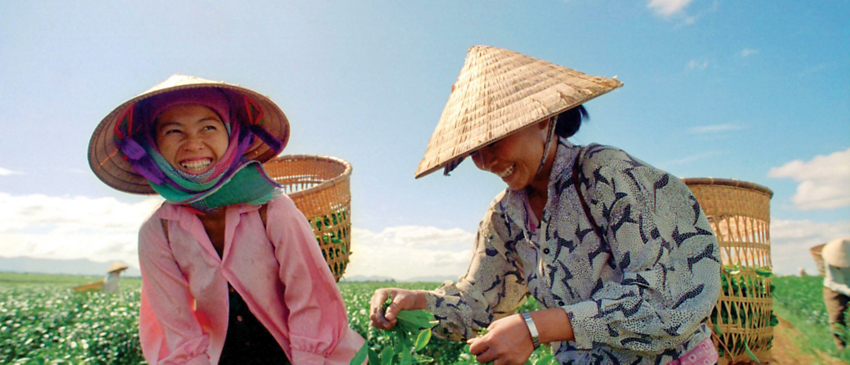 Question: How come cone-shaped hats made from bamboo are so common in Vietnam?
Answer: A goddess inspired them
Throughout Vietnam men and women don cone-shaped hats made from bamboo—whether they are harvesting rice in their paddy fields, hawking vegetables in a local market, or boating the long coastline. Known as non la, the traditional hats are worn proudly from North to South, but where did they come from?
Much like many Vietnamese traditions, the hats are rooted in a legend. According to the origin story, during times of unfavorable, rainy weather, a goddess would descend from the sky wearing a giant hat made from round-shaped leaves. Each time, the woman and her large hat protected Vietnam's people from the rain and dispelled the clouds back into the sky. While she was there, she taught farmers special secrets for growing rice. And when she vanished, the Vietnamese people built a temple to commemorate the rain-shielding goddess who saved them. People also began wearing large cone-shaped hats made from leaves like hers to protect themselves from both the rain and the sun.
Since that story emerged thousands of years ago, the conical hats became daily essential for many in Vietnam. It also evolved from a hat made of leaves to one made from dried-out bamboo or straw. Women typically wear a broad-rimmed version of the hat while men wear one with a higher cone and smaller rim. There are more than 50 different varieties of the hat with styles varying for the upper class, military, children, and based on region. For example, the Tay people of Northern Vietnam wear a hat that is a distinctive red color while people in Hue traditionally wear one that is thinly shaped.
Each conical hat requires painstaking precision to make, therefore they are typically created in villages with hundreds of years of experience. Bamboo is separated into very thin strings, then submerged in water to prevent breaking and tearing. The palm is cleansed with sand, then separated, and ironed. Sewing and decorating the hats requires sewing small and intricate stitches along the strips.
When traveling in Vietnam, you may spot someone using the non la for a variety of different purposes, including as a basket for the market or as a fan on hot days. This symbol of Vietnam also makes for a perfect keepsake to memorialize a trip to the country.
9 More Facts on Traditional Dress in Vietnam:
While Vietnam's history dates back more than 4,800 years to the ancient Hong Bang Dynasties, most traditional Vietnamese clothing that exists today began in the 18th century.


There are also 54 different ethnic cultures in Vietnam, who each have their own unique traditional dress. Across cultures, most clothing consists of bright colors and vibrant patterns.


The most popular costume in Vietnam is the ao dai, which consists of trousers and a long two-flap dress over it. This tradition dates back to 1774 when Lord Vu Vuong of the Nguyen Dynasty announced a uniform dress for both men and women. In the 1930s the piece was modernized and given the close-fitting style that it is today.


The ao dai is a symbol of elegance and beauty in Vietnam. It is an honored national costume worn by students and during weddings and other celebrations.


Another symbol of beauty in Vietnam is the ao yem which is comprised of a diamond piece of cloth covering the chest and held together by two strings around the neck and back. The material and colors of the ao yem vary based on class and occasion—for example, brighter colors are typically worn for special occasions.


The traditional dress of the Hmong ethnic people of Vietnam is very different from any others. Their clothing consists of a black or blue shirt, a colorful skirt with many layers, bright pants and headscarves, and lots of beads and jewelry.


In the mountains of the north, ethnic tribes commonly wear costumes of long skirts and pants with indigo-colored vests often embroidered with animals and flowers.


Ethnic tribes of the north also wear a traditional dress called an ao tu than, which means "dress of four parts". It's made from four panels of fabric and a long sash in the front. It's also usually worn with a large, flat hat.


In the south and the Mekong Valley, women also wear a simple blouse with a scoop neck and buttons in the center called an ao ba ba. This is often accompanied by the non la.
Get an in-depth look at the culture of Vietnam, including clothing, during our comprehensive Inside Vietnam adventure.