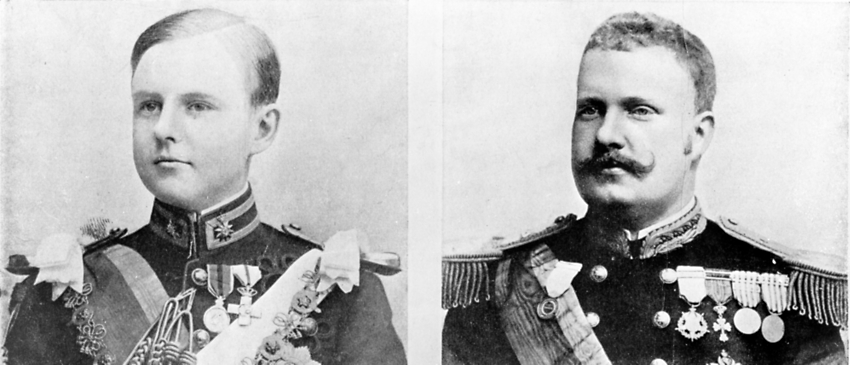 Question: Which unfortunate monarch's reign lasted a third of an hour and was spent entirely slumped over?
Answer: Luis Filipe of Portugal
For someone not quite 21 when he died, Dom Luis Filipe of Portugal sure racked up a lot of titles. Son to King Carlos I, he was immediately dubbed Price of Beira, Duke of Varcelo; as he grew up, he added Prince Royal of Portugal, Duke of Braganza, Marquis of Vila Viçosa, and Count of four separate holdings. His name alone was plenty complex: Luís Filipe Maria Carlos Amélio Francisco Víctor Manuel António Lourenço Miguel Rafael Gabriel Gonzaga Xavier Francisco de Assis Bento. With so much invested in one young man, it is not surprising that he was expected to do great things.
He got his first taste of leadership when he was temporarily the regent—not King, but acting head of the nation—at age 20, while Carlos I was abroad. Upon his father's return, Luis made his first state visit overseas, becoming the only member of the royal family to ever visit the Portuguese colonies of Africa. Naturally, these experiences were grooming him for the eventual day he would succeed his father. But no one expected that time to come so soon or the way that it did.
Luis was riding with his mother, father, and younger brother in an open carriage when two assassins opened fire. First, they killed his father, and then took aim at not only Luis, the heir, but Manuel, who was next in line after him. King Carlos died on the spot but Luis lived, sprawled across his seat, bleeding from chest and head wounds, as the carriage raced toward safety. By Portuguese law, he was the default King during this galloping ride, but there was no time for the formalities of signing a decree or declaring his reign. And as his rescuers were lifting him from the carriage, a mere 20 minutes later, he died in their arms. Literally, his only act was king was existing—and, sadly, he didn't do even that for long.
Timeline of Tragedy: Before and After Luis Felipe's 20-Minute Reign
King Carlos I succeeded his father, King Louis I. As scion of the wealthiest family in the nation, the fact that Carlos had a good eye for administration did not overcome his sense of disdain for those facing economic woes. This made him the target of revolutionaries in 1906.


Over the next two years, Carlos installed and propped up João Franco, a premier who soon revealed himself to be a dictator. Franco tried to dissolve the parliament, while censoring the press and jailing opponents. This not only further enraged the poor; it infuriated members of the parliament who began plotting a coup.


Franco drafted a law allowing the expulsion of anyone deemed to have subverted the public order—without trial—a move so bold that even Carlos knew better. He signed it anyway but, in so doing, complained, "I sign my own death sentence."


By late 1907, a mix of Portuguese politicians and revolutionaries trained in France were meeting in Paris to sketch out details of the attack. Two little-known men were selected for the task, so that it would appear to have been the work of rogue gunmen.


After the first assassin shot Carlos, the queen stood up in the carriage and tried to fight him off with a bouquet of flowers, which was the only thing she had with her. Ignoring her, the gunmen shot Luis Filipe, who fell in his seat. Young Manuel shielded his mother, received a wound to the arm, and then used his handkerchief to hold his brother's head together on the ride.


Just 19 years old, Manuel assumed the throne and ruled for two years, but was overthrown in a coup. He surrendered the crown and fled to England, and was replaced by Teofilo Braga, a writer and champion of democracy. Manuel was the last King and Teofilo the first President, as the monarchy became a republic.


The Lisbon Regicide, as the attack was known, has been a much-debated part of Portuguese history. Books, movies, and plays about the royal family and their dramatic deaths were especially popular in 2008, as the centenary of the attacks approached, but when it came time to celebrate the formal 100th anniversary, members from the ruling government party refused to attend and wouldn't let any military personnel participate, saying that these particular dead should not be honored, that they had earned their fates with their crimes against the nation.
Discover more fascinating history of Portugal and Spain with O.A.T. during Northern Spain & Portugal: Pilgrimage into the Past.