Take My Fish, Please
Posted on 7/18/2017 12:32:00 PM in Travel Trivia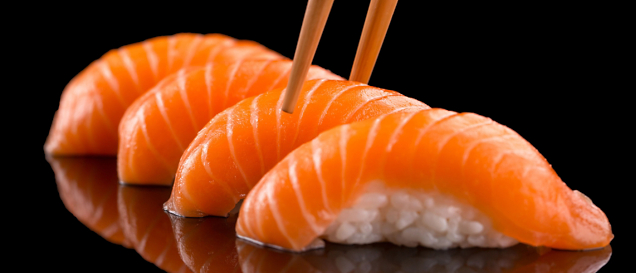 To us, this salmon nigiri may look perfectly traditional—but it's actually anything but.
Question: What world-famous Japanese dish only exists because of Norway's nagging?
Answer: Salmon sushi
In a nationwide survey of Japanese consumers, the most popular sushi flavor among all women surveyed, and second-most popular flavor overall, was salmon. This might not seem surprising to Americans who are used to seeing salmon sushi on menus here. But if it hadn't been for a crisis of plenty in Norway, the Japanese wouldn't have ever considered the dish at all (and, in turn, the rest of the world wouldn't have discovered it either).
Just a half century ago, no one in Japan would have dreamed of eating raw salmon, because the local variety was so full of parasites, it had to be almost overcooked to be safe. But in the 80s, Norway had a huge surplus of salmon, so much that the catch was going to just rot on the docks if they couldn't find new markets—and someone hit upon the idea of selling it to fish-loving Japan. Bjorn Eirik Olsen was tasked with making the pitch, but his first presentation to the sushi industry execs was a bust: since it wasn't Japanese salmon, they complained that it looked, smelled, and was shaped wrong. The up side was that it could be served raw—but none of them planned to.
Olsen persisted and talked prepared foods giant Nishi Rei into buying 5,000 tons of salmon for cheap to sell as grocery store samples. That did the trick. Seeing salmon in grocery stores made it seem acceptable to consumers, who in turn asked their sushi shops why they didn't carry it. Within a few years, plastic salmon sushi pieces had joined the standard decorations of sushi shops and that's when Olsen knew it had really arrived.
In fact, because of its fatty texture and mild flavor, salmon made sushi accessible to more people around the world, and is considered a major reason that sushi went global. NPR news described it as "a gateway fish." While some purists, like Shimao Ishikawa of the famed Jewel Bako restaurant, still refuse to eat it, the chefs all make it because the bottom line matters—and the bottom line here is that Norway was right: salmon sushi sells.
1,000 Years of Sushi in Japanese Culture
According to Japanese folklore, an old woman who hid her rice pots among osprey nests returned to find that scraps of fish eaten by the birds had fallen into the rice, which had fermented. The fermentation made the fish last and was tasty, so she began doing this intentionally.
The official first sushi (funa-sushi) was made 1,000 years ago when funa (golden carp) were packed in salted rice and left to ferment for a year as a preservation process. Like caviar today, this was considered a delicacy, and served only to the wealthy for centuries.
The long fermentation process yielded a tasty but stinky treat. Twelfth-century Japanese writer Konjaku Monogatarishū recorded how odorous sushi was, and historians say the smell was like vinegar mixed with blue cheese and raw fish.
In 1824, Hanaya Yohei opened the first sushi stall. He added vinegar and salt to rice to quickly achieve the tang of fermentation, and pressed fresh fish (which didn't need preservation) to the rice by hand. This "fast food" sushi could be prepared in minutes, which revolutionized the industry.
Sushi used to be an outdoor food, with countless pushcart vendors competing in Tokyo during the early 1920s; but in the rebuilding after the 1923 earthquake that killed 140,000 people, sushi moved inside, with sit down restaurants becoming the standard.
In 1958, a Japanese sushi restaurant owner, who could not afford enough servers to keep up with customer demand, invented conveyer belt sushi (or sushi-go-round) in which diners gather around a conveyer belt that delivers plates of choices in rotation.
The first sushi restaurant in the world to be awarded Michelin's prestigious 3-star designation was a ten-seater in a basement attached to a subway station; Sukiyabashi Jiro later became the subject of the movie Jiro Dreams of Sushi.
Sushi-quality bluefin tuna is so prized that a 500lb tuna set a record for most expensive fish ever when it sold for $1.8 million in 2013. (That's $3,600 a pound, or $225 per ounce, if you were wondering.)
In 2014, sushi swept the nail art world. Manicures painted to resemble various kinds of sushi and sushi ingredients became a craze that spread all over Japan via social media.
Four million viewers watched Yuka Kinoshita, YouTube's "Gluttonous Beauty," successfully attempt to eat an entire 200-piece sushi buffet in 2014. In a 2016 video she fails in her attempt to eat two monstrous pieces back to back: an unagi (eel) sushi the size of a loaf of bread and a sushi hand roll the size of a crock pot.
The world's only two international sushi-making contests take place in Japan: the World Sushi Cup (won in 2016 by a Brazilian Chef) and the Global Sushi Challenge (whose current titlist is Japanese).
Get caught up in fun, flavorful, and funky traditions in the land of the rising sun when you enjoy Japan's Cultural Treasures.