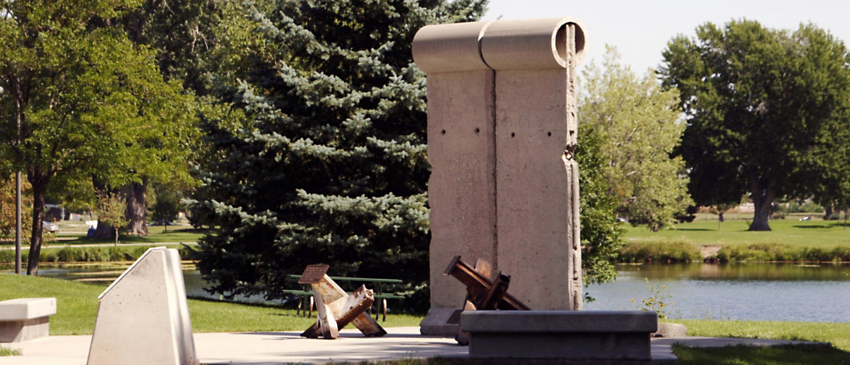 Question: What historic monument to democracy is at the heart of Rapid City, South Dakota? (Hint: It's not Mount Rushmore)
Answer: The fallen Berlin Wall
Rapid City, South Dakota is best known as the gateway to nearby Mount Rushmore, the rocky quartet of presidents 23 miles away. But there's also a powerful monument right in the heart of downtown: a piece of the Berlin Wall.
Berlin Wall curators (who were touring pieces of the wall around the globe) brought a section to Rapid City in 1996. During that visit, one of the curators stayed with a local named Dale Clement, a Black Hills Corporation executive. The wall was a big draw and, after the tour ended, Clement called the curator to convince him (with a mixture of goodwill and his own cash) that the city would make a great place for a permanent exhibit.
City parks manager Lon Van Deusen thinks Rapid City is a logical home for the wall. As he told the local ABC news affiliate at the 25th anniversary of the wall's fall, Mount Rushmore is "a shrine to democracy" and the fallen wall symbolizes the embrace of democracy in Germany. Moreover, its setting is Memorial Park, built as a tribute to the lives lost in the devastating Rapid City flood of 1972. To Van Deusen, placing the wall here, in a locale already established as a memorial, honors the many Germans who died behind the wall or while trying to cross it.
Clement shrugs off such serious talk. As he told the local newspaper, "It was just a neat thing for us to have out here." Not everyone agrees: Vandals have covered the wall with graffiti more than once. The city has restored the walls each time, but it's worth noting that graffiti was part of the wall's original life as well, so a little spray paint may only add to its authenticity.
6 More Unexpected Finds in Rapid City
Life-sized presidents: All the U.S. presidents are immortalized in bronze statues around the city, each done in its own style, including a hat-tipping James Monroe and George W. Bush flashing a thumbs-up. The latest figure, Barack Obama, won't arrive till spring 2019.


An alley gallery: From Sixth to Seventh Street between Main and St. Joseph streets, Art Alley is an ever-changing display of works by street artists and professionals alike. At times, every surface (from walls to dumpsters to telephone poles) is covered with graffiti, paintings, sculptures, and installations.


Depression-era dinos: Opened in 1936, Dinosaur Park is full of replicas that do a poor job of depicting ancient species with any accuracy but still offer a pretty good glimpse at how dinosaurs were understood at the time of the park's creation. The concrete and iron-pipe sculptures are kept painted their original hues, so that you see exactly what visitors saw in the Depression era.


A house that defies physics: At Cosmos Mystery Area, nature seems off-kilter—laws of gravity are defied outside and inside a wooden house whose walls and floors seem to tilt crazily.


A complete Norwegian chapel: A precise replica of the wooden Borgund Stavkirke in Norway, the Chapel in the Woods is a triple-high stave church built in medieval style as a nod to the state's history of Norwegian immigration.


Competing ghosts: The Alex Johnson hotel is known for not one but three ghosts: the Lady in White who roams around the eighth floor (from which she is said to have leapt to her death); a little girl playing tricks on guests; and original owner Johnson himself, who naturally has free reign of the place.
Get to know the unique delights of Rapid City, South Dakota, when you join Grand Circle Travel for The Great National Parks: Yellowstone, Grand Teton & Mount Rushmore.