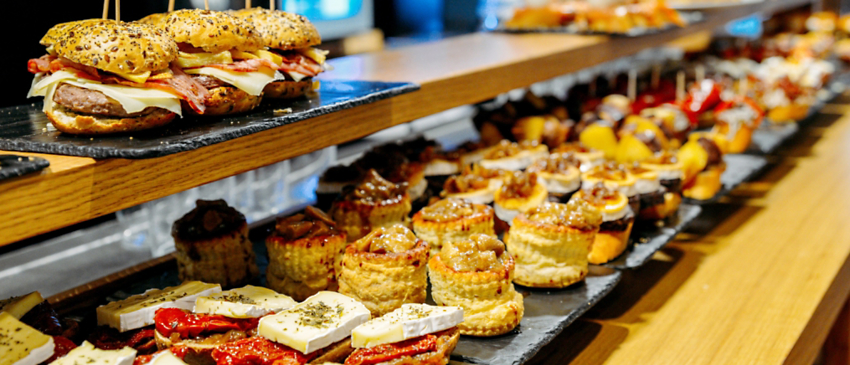 Question: In Spain's Basque Country, where would you have to go to truly experience gastronomic delights like a local?
Answer: Txokos, members-only food clubs
In the autonomous Basque Country on Spain's northern coast, food is the most vibrant manifestation of local identity. In 1975, after 40 years of oppression, the Basque people finally broke free from the dictatorship of Francisco Franco and were open to express their culture through language, art, and cuisine.
With its rich variety of fish in the Cantabrian Sea and the fertile farmlands and vineyards inland, Basque Country wins many global food superlatives, including having the most Michelin stars per capita in the world. However, for those born and raised in Basque Country, they savor their eats not at prestigious restaurants but through txokos, members-only food societies. These exclusive clubs bring like-minded people together to enjoy a delicious Basque meal.
The word txoko loosely translates to "cozy corner" which describes the hidden communal rooms where the gastronomic groups gather to cook, eat, drink, and enjoy each other's company. A volunteer chef from the group will gather fresh local ingredients and prepare dishes such as bacalao (salted cod) or marmitako (a fish stew with potatoes, peppers, and tomatoes).
The gatherings are affordable alternatives to the expensive and acclaimed restaurants that continually pop up in big Basque cities like San Sebastián and Bilbao. Some groups have a rule that each meal must cost no more than 20 euros as the members often come from different economic backgrounds.
Membership ranges in size from about 80 to 100 people and is often based on who you know or passed down from one generation to the next. The clubs follow strict rules, pay monthly fees, and elect a president. Today there are more than 1,500 different txokos in Basque Country with more than 50,000 members total. Traditionally, the clubs were men-only, but today, more and more women are getting in on the selective groups. Some larger txokos have also opened their doors for cooking demonstrations and to share a meal with outsiders.
During a typical gathering, members reflect on old times with childhood friends, watch sports matches, express religious beliefs, debate politics, and more. They are a place of equality, trust, and friendship where individuals express their Basque culture proudly and freely.
More about the Food Culture of Basque:
Basque cuisine was pioneered by chefs Juan Mari Arzak and Pedro Subijuana, beginning in the late 1970s. They combined inspiration from French Nouvelle cuisine along with local ingredients and traditions, creating a culinary movement that put Basque Country on the worldwide food map.


The cuisine relies on high-quality ingredients from the sea and local farms. Everything from fish to meats, cheeses, produce, and wines are harvested right from within their communities.


Fish and seafood dishes are some of the most popular and include grilled, baked, stewed, and sautéed dishes. One of the most expensive seafood dishes is angulas, made with baby eels. It can cost up to 1,000 Euros per kilogram.


Seafood dishes are often paired with classic sauces that reflect the colors of the Basque Country flag. A red sauce is made with onions and dried sweet red peppers; a green sauce is made from parsley, peas, and asparagus; and a white sauce is made from salted cod, garlic, and olive oil.


Another iconic dish is pintxos which is the Basque version of a tapa. It is traditionally served on a slice of bread with a toothpick, and it gets its name from the stick that holds the tapa to the slice of bread.


Meals are typically accompanied by red and white wines from the region. Red wines are made in the famous Rioja wine region, while txakoli, a light and refreshing white wine is produced near the coast.


Another popular drink is hard apple cider. It's served in siderias (cider houses) and is traditionally poured from a bottle held above the head to a glass below.


Dig into the acclaimed local cuisine of Basque Country during our Northern Spain & Portugal: Pilgrimage into the Past adventure.