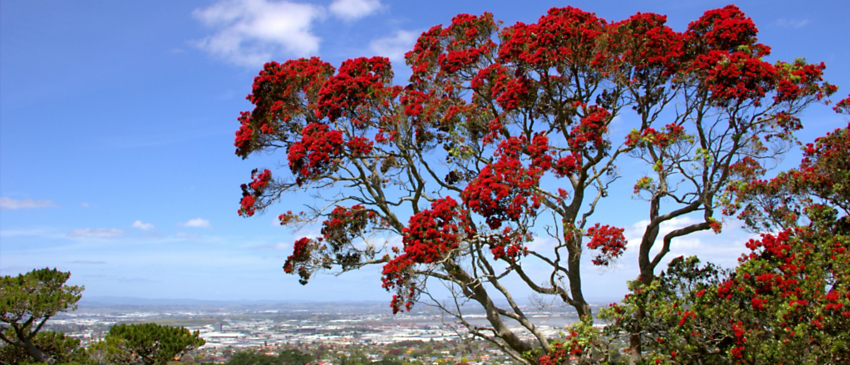 Question: What symbol did European settlers adopt as the "Christmas tree" of New Zealand?
Answer: Red-and-green pohutukawa trees
Before there was Christmas in New Zealand, there were pohutakawa trees, known for their brilliant red flowers that burst into bloom in December and January. They were already beloved by the Maori people, who say the flowers are the blood of a warrior who leaped into the sky to avenge his father and fell back to earth. A specific tree on Cape Reinga is considered the starting point of Maori souls on their journey to heaven.
When arriving British settlers began celebrating Christmas in New Zealand, it was only natural that the red-and-green pohutukawa would be adopted as a holiday symbol. As early as 1833, missionaries held Christmas services beneath these trees, and in 1857 a Maori elder included what he called "the settlers' Christmas tree" in his decorations for a feast between the two cultures. Now the pohutukawa graces Christmas cards and is immortalized in Kiwi carols, one of which says it fills hearts with aroha (loving spirit).
Unfortunately, the invasive possums of the North Island loved the trees too. Introduced by Australians in the 19th century, their numbers boomed to 30 million over the next century. As the size of this interloping species increased, the number of pohutukawa declined by as much as 90%. That was a problem because the trees, which can live for a millennium, provide erosion control for the coastal soil, and habitats for island wildlife.
Fortunately, in 1990, an initiative called Project Crimson was launched to replant the trees, protect existing stands, reduce the possum population, and educate the public. Nearly 30 years later, the project has been a resounding success, for the Kiwi Christmas tree is no longer endangered. If you visit during New Zealand's summer, you're still able to witness its beauty and feel the aroha yourself.
Making Merry in New Zealand: 11 Things to Know About Kiwi Christmas
Since it is the peak of summer, Christmas dinner is usually eaten outside, often a barbecue or hangi (pit-cooked meal).


Christmas is celebrated again by many Kiwis in July, when it is actually winter; a lot of businesses decorate for Christmas in both seasons.


The first Christmas was held offshore, aboard Abel Tasman's ship in 1642, as Tasman's crew rode out a storm and dined on roast pork (plucked from the ship's hold).


In 1769, James Cook wanted to hold a Christmas dinner for his crew, but as they had no goose, they shot and killed a large gannet for their "Goose Pye," which was accompanied by so much wine that the crew was laid up with hangovers the next day.


Since 1905, Santa parades have been a major tradition, though the first one advertised both Mother and Father Christmas. To outdo each other over the years, competing sponsors have had Santa arrive by train, elephant, and even parachute.


Christmas party games were big in the mid-20th century, including the now-dated "Light the Cigarette Race," which involved running to your partner and lighting their cigarette, then racing back to the start, which was promoted as a health benefit!


In 1960, the Farmers department store erected a 60-foot five-ton Santa in Auckland which became an instant icon. Though it has moved locations since, it is now maintained by the city government as a cultural heritage object.


The biggest Christmas song of the 1960s was "Sticky Beak, the Kiwi," about a kiwi that orders Santa to fire Rudolph and let him lead the sleigh instead.


In 1981, singer-songwriter Kingi Ihanka re-wrote "The 12 Days of Christmas" as "A Pukeko in a Ponga Tree," a Maori-influenced, Kiwi-specific rendition that became widely popular.


The 2001 song "Christmas in New Zealand" became a smash hit a second time in 2016, as a fundraiser for earthquake relief, with lyrics about cricket on the beach, jandals, and barbecues.


If you visit New Zealand at Christmas, be sure to wish the locals "Merry Kirihimete!"
Discover more about Kiwi culture and their neighbors to the west on O.A.T.'s Australia & New Zealand: An Adventure Down Under adventure.