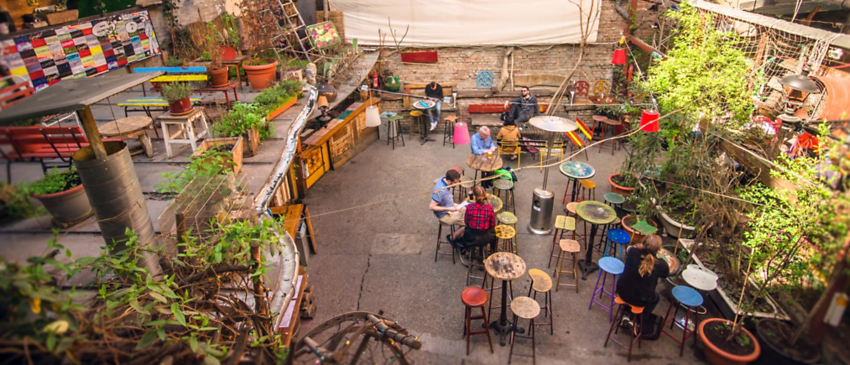 Question: Where in Budapest does junk from a flea market get transformed into a major tourist attraction?
Answer: The city's "ruin bars"
Budapest's seventh district, the once-thriving home of the Jewish Quarter, was decimated by the World War II deportation of thousands of its residents. The neighborhood never recovered, its streets becoming ever more dilapidated over the decades. The husks of old abandoned buildings were literally turning into ruins.
Enter Ábel Zsendovits and a few of his friends in the early 2000s. They had the idea of taking a low-rent space and decorating it on the cheap with cast-off furniture and mismatched décor, as a way to keep costs low. That allowed them to serve drinks for their friends and neighbors at prices none of the fancy tourist bars could match. It was a no-frills way to gather community and foster the Bohemian spirit that permeated the district—and a welcome alternative to the upscale wine bars and hotel restaurants that defined the city.
Their first stab was Szimpla Café and its popularity with the locals was so overwhelming that they expanded to a bigger space, a condemned building complex which they renamed Szimpla Kert (Kazinczy u. 14). It was not only a big hit with the artsy crowd, but Budapest natives of all stripes flocked to the no-pretenses bar to let their hair down. It launched a trend that has transformed the city: ruin bars. Not just in the seventh district now, these colorful watering holes are typically found in abandoned apartments, tunnels, old courtyards, and alleyways. They are decorated with vintage furniture and bric-a-brac, prioritizing good cheer over taste.
As demand rose, the variety of ruin bars grew exponentially; some now feel less scrappy and more polished, while others are better for dancing with clubgoers than chatting over a beer. (See below how to pick the best ones for a visit.) Collectively, they've become among Budapest's most iconic tourist attractions; one local newspaper declared that they rank third in popularity, just behind Castle Hill and the Chain Bridge. But Zsendovits doesn't love all his imitators equally. He thinks that community—not clubbing—should be the focus. He makes sure Szimpla Kert keeps setting the right example: with events including farmers' markets, film screenings, and other social gatherings to draw people together.
Our Tips for the Best Ruin Bar Experience
Some of the most well-known ruin bars (such as Instant, Corvin Teto, and Anker't) have become so focused on the party scene, you might do best just leaving them to the club kids. The best ruin pubs open at lunch or late afternoon, so you can enjoy a drink and have a bite at leisure before the kids start their all-night fun. Here are five that fit the bill:
Fogasház, the House of Teeth (Akácfa u. 49-51) doesn't look much like the old dentist office it once was. With bicycles hanging from the ceiling, a ping pong table, and rotating art exhibits, it's fun and funky, but quieter than some of its peers.


Doboz (Klauzál u. 10) boasts a sculpted giant (monster? robot? alien?) climbing a 300-year-old tree that rises three stories in the courtyard of an old apartment complex. Go during its evening hours (you might catch fire twirlers on the balconies) but be advised that by 9 or 10, it transforms into a throbbing dance bar.


Grandio (Nagy Diófa u. 8) is where young hostelers start and end their ruin bar rounds by night, but by day, it's a locals' favorite. With its rock floor courtyard, and café tables and chairs nestled among a dozen trees, it's a perfect place for unhurried conversation and a cheap pint.


Mazel Tov (Akácfa u. 47) brings the neighborhood full circle, serving up Jewish delicacies and community activities by day, before transforming into a club with a live DJ by night. It bills itself as an entertainment garden, with dripping vines and string lights dressing up exposed brick.


Puder (Ráday u. 8) looks like it raided every flea market in the city while looking for lamps. A riot of color, just about every surface is brightly decorated. Diners can order from a higher-end food menu than in most ruin bars and can enjoy their repast while listening to live music.
Pro-tip: Never go bar-hopping solo in Budapest. Travel with a friend and politely refuse the offer of friendly strangers who suggest joining you at their favorite bar (with a big bill in store). It's one of the oldest scams in Budapest.
Discover the ways Budapest keeps reinventing itself when you visit with Grand Circle Cruise Line during Eastern Europe to the Black Sea.