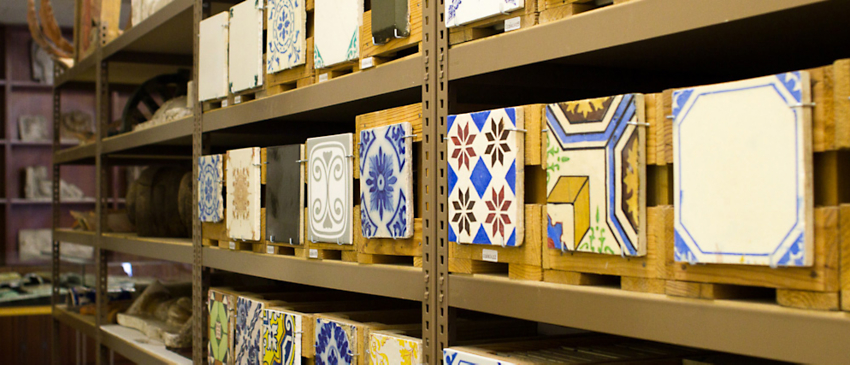 Question: In what bank are you not allowed to deposit or withdraw money but only shiny blue and white tiles?
Answer: The Banco de Materiais in Porto, Portugal
You may not be able to take out money at Portugal's Banco de Materiais but you can witness something nearly as valuable: Portugal's famed azulejo tiles. These ceramic glazed tiles create dazzling mosaic murals and cover everything from subway stations to churches, parks, palaces, and street signs throughout Portugal. However, after facing years of decay and theft, a unique public works project—a bank—was opened to collect, protect, and share these quintessential pieces of Portuguese heritage.
Mostly blue and white but sometimes maroon or gold, the azulejo tiles create ornate floral patterns and scenes from Portuguese history across building facades. Their popularity boomed in Porto during the 18th and 19th centuries, becoming a treasured feature of Porto's architecture. However, when the city fell into disarray in the mid-20th century following the World Wars, many of Porto's azulejos were damaged, lost, or stolen and sold to private collectors. Since then, the city has seen a major revival in the preservation of authentic azulejos, and for nearly 25 years, Porto has been working to recover and safeguard them.
In 2010, the Banco de Materiais (Bank of Materials) was opened with this exact purpose. Much like an actual bank, azulejos can be both deposited and withdrawn here. Those that are deposited are usually saved from decaying buildings or are stolen tiles recovered by law enforcement. Sometimes the fire department will even assist in collecting them off of buildings at risk of collapsing and transport them to the bank. Once the tiles are dropped off, they are carefully studied by employees, cataloged, and preserved in wooden boxes.
Then, when building owners are repairing a damaged façade of azulejos, they can go to the bank and withdraw matching tiles free of charge. If the bank can't find an exact match, they'll set them up with a good reproduction. Since it opened, the Banco de Materiais has given away more than 14,000 tiles. It also serves as a museum with hundreds of tiles on display for visitors to marvel at—for each tile on display, there are thousands of others carefully stowed away. It's become a place for studying the traditional techniques used to create the tiles, and it even hosts workshops for building owners to learn about tile restoration.
As a result of this publically-funded project, there is a much greater emphasis on conserving original materials rather than discarding them. The bank has turned the problem of decay and theft of azulejos in Porto into an opportunity for the preservation and appreciation of these special pieces of Portugal's history.
The Best Places to See Azulejos in Porto:
Porto Cathedral: Lining the dark Gothic cloisters of this historic Roman Catholic church are murals made from bright blue and white tiles. Created between 1729 and 1731, the mural is said to be inspired by the Song of Solomon from the Old Testament.


Sao Bento Station: This is not your average train station—Sao Bento station in downtown Porto has an extraordinary grand terminal covered in 20,000 azulejo tiles. The walls tell the history of Portuguese history from the formation of the Portuguese kingdom to its colonial empire and New World discoveries.


Carmo and Carmelitas Churches: What looks like one giant baroque church from the front is actually two separate buildings with a very thin house in between. And on the exterior of the Carmo Church there is a magnificent mural of tiles with ornate floral designs and biblical scenes.


Chapel Almas de Santa Catarina: This church also known as Capela das Almas—which means "Chapel of Souls" is another exceptional example of Porto's azulejos. The entire exterior of the church is covered in 15,000 tiles which depict scenes from the martyrdom of Saint Catherine of Alexandria.


Casa da Musica: This music hall in Porto is young compared to the other azulejo-clad buildings in Porto, and it features a much more modern style. Finished in 2005, the building is in the contemporary architecture style with thousands of tiles to admire in the inside hall.


Church of Saint Ildefonso: Located Porto's historical center—a UNESCO World Heritage Site—this church features a façade of elaborate tilework completed in 1932. The artist, Jorge Colaco, used about 11,000 tiles to tell the story of the Spanish Saint Ildefonso.
Take a visit to the Banco de Materiais to see the beautiful tiles and learn more about their history during Northern Spain & Portugal: Pilgrimage into the Past.