"In Friendship and Good Relations"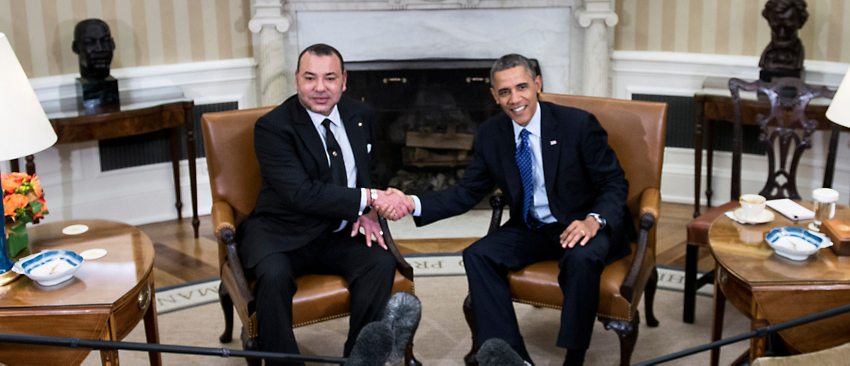 Question: How did a Union soldier mocked by Confederates end up causing a near riot … in Morocco?
Answer: He drew his sword on the crowd outside the American embassy of Tangier.
When the U.S. Civil War was playing out back at home, some of our allies around the world were at odds about whether and how to entertain Confederate diplomats. Morocco, our nation's oldest friend, had less trouble taking sides. In 1862, when American consul James de Long overheard two Confederates mocking the American flag, he asked Moroccan police to arrest the men, which they did.
In turn, Confederate diplomats rounded up all the neutral consuls from other countries they could, including Britain and France, to pressure Morocco to release the men. As Europeans overall were more sympathetic to the rights of the Confederates than Morocco, European ex-pats began to mass outside the jail. When they jeered the commander in charge, Josiah Creesey, he brandished his sword, intending to scare them off. It had the opposite effect: First they booed and then they started pelting him with rocks until he retreated inside.
To avoid more riots, the detained Confederates were spirited out of the jail and bundled onto a ship bound for a Boston prison. But the French intercepted the ship en route, when it docked in Spain, and refused to let it proceed. When word of the kerfuffle reached Abraham Lincoln—beleaguered from handling the actual Civil War—he immediately ordered the two Confederates released and told the Union consul in Tangier to pack his bags.
While that ended this particular dust-up, the Confederates lost the larger argument: Mohammed IV, the King of Morocco, issued a decree that "... the Confederate States of America are fighting the government with whom we are in friendship and good relations ..." and ordered that not only the Confederacy's diplomats but its vessels be turned away thereafter. The King chose wisely; the Union prevailed and U.S.-Moroccan relations, already good, were cemented even further.
Old Friends are Gold: Highlights from 232 Years of Friendship with Morocco
In the late 18th century, Sultan Mohammed III singlehandedly transformed Morocco's role in world trade from afterthought to major player, establishing relationships with dozens of nations.


In 1773, while the conflict between the Colonies and Britain remained unresolved, Mohammed III saw the writing on the wall and began making overtures to the independence leaders.


In 1777, the sultan added the United States to the list of nations with open access to its ports; this was the first time the United States had been recognized formally as a sovereign nation.


In 1786, Thomas Jefferson and John Adams signed the American Treaty of Friendship (also known as the Treaty of Marrakesh) with Morocco.


After taking office in 1789, President George Washington wrote gratefully (and a bit apologetically) to Morocco, saying, "This young nation … has not, as yet, had time to acquire riches by agriculture or commerce. But … we shall gradually become useful to our friends."


In 1906, when European powers threatened to engage Morocco in war, Teddy Roosevelt intervened and convinced the other nations to grant Morocco more autonomy.


During World War I, Moroccan soldiers fought alongside U.S. Marines in France.


In 1943, Morocco hosted Franklin D. Roosevelt, Winston Churchill, and Charles de Gaulle for four days of strategy sessions for the Allied Forces in Europe.


Over the course of three decades, King Hassan II traveled to Washington for personal meetings with Presidents Kennedy, Johnson, Carter, Reagan, Bush Sr., and Clinton.


In 2005, Morocco ratified a Free Trade Agreement with the U.S. (one of only 20 countries to do so).


In 2010, the two nations' nuclear security forces conducted joint operations in Morocco to encourage prevention of radiological incidents and to prepare for potential emergency responses.


232 years after the Treaty of Marrakesh was signed, it remains the longest unbroken treaty in American history.
Discover how truly that friendship endures when you visit our oldest ally during O.A.T.'s Morocco Sahara Odyssey adventure.