Fighting for whose homeland?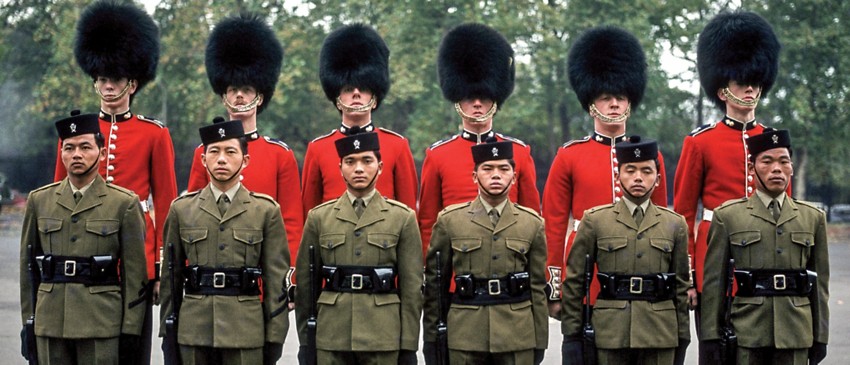 Question: Why did Britain require its best soldiers—including the queen's personal guards—to retire in Nepal until just a few years ago?
Answer: Because those soldiers were Nepali Gurkhas.
Since the early 19th century, when the British army suffered terrible losses at the hands of Nepal's small but stubbornly brutal defensive forces, the most admired soldiers in the United Kingdom have not hailed from England. Instead, Nepalese Gurkha soldiers—recruited after a peace deal in 1815—became the heart of Britain's fighting spirit, embodying their fearlessness with the slogan, "Better to die than be a coward."
Their contributions cannot be overstated. 112,000 fought during World War II, and thousands more have since served in Hong Kong, Malaysia, Borneo, Cyprus, the Falklands, Kosovo, Iraq, and Afghanistan. In fact, when Prince Harry did a tour in Afghanistan, he was stationed with a Gurkha unit. Yet despite serving Britain faithfully, for most of that time, retiring Gurkhas were not allowed to remain in England; instead, they were sent back to Nepal, often with ribbons and metals in hand.
It took until 2009—nearly 200 years after they first began to serve the Queen—for that to change. Military officers, human rights officials, and celebrities backed a campaign by Absolutely Fabulous actress Joanna Lumley, herself the daughter of a Gurkha soldier, to allow the Gurkhas residence after service. In the years since, residency has been granted for their children up to age 30 as well.
Sadly, that was only part of their struggle: Gurkha soldiers receive roughly half of the pension earned by their British peers (and some receive as little as 5%), an inequity upheld by British courts just last year. For Britain's bravest, the battle continues.
8 Fascinating Facts about Gurkha Soldiers
28,000 young men apply to be Gurkhas each year, but the competition is steep: with only 200 or so slots, less than one percent of applicants will get in.
The finalists are winnowed by a grueling 40-minute run uphill while carrying 70lbs of rocks in backpacks attached to slings tied around their foreheads.
Each Gurkha is armed with a traditional Nepali kukri, a supremely sharp 18-inch long knife.
Early tradition required that if the kukri did not draw blood in battle, the Gurkha had to cut himself with it before returning to camp.
In keeping with their local traditions, Gurkhas practice animal sacrifice whenever they are not stationed in Britain, and the kukri is used for this purpose.
Gurkha endurance is legendary. Britain's biggest ultramarathon, the 62-mile Trailwalker race from Portsmouth to Brighton, is won every year by Gurkha teams which finish in around 8 hours, about 2/3 the time it takes their British counterparts.
Their minds are just as strong. The average Gurkha speaks his primary caste language, Nepalese, and English, and most also speak Hindi, making them a rare military force whose soldiers routinely speak four languages.
Of the 3,500 Gurkhas in active duty, two each year are tasked with the highest duty: they serve at all state events as the Orderly Guards of her majesty, the Queen, an honor for which only Gurkhas may apply.
Discover the rugged land and enduring culture that produces the highly esteemed Gurkhas when you enjoy Nepal & the Mystical Himalayas.