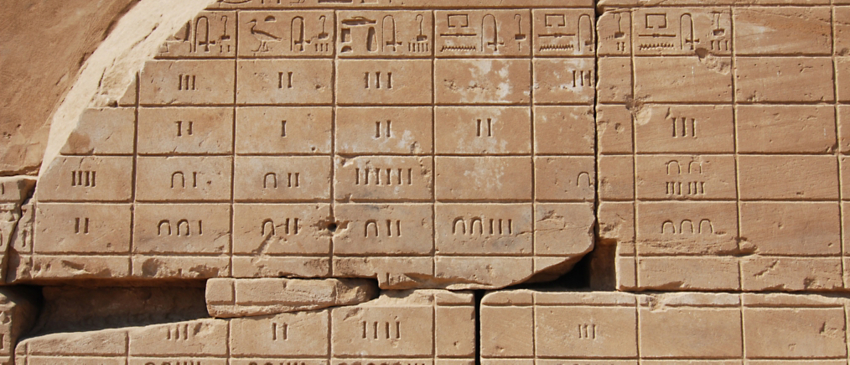 Question: How many days of your year should you credit to the ancient Egyptians?
Answer: All 365 of them.
Egyptians have always been on the cutting edge. Their inventiveness in architecture, agriculture, and fashion still influence us today. But you might not realize one effect that ancient Egypt has on your daily life: you have them to thank for the calendar itself.
The first calendar in use in Egypt was a lunar calendar, created almost 5,000 years ago especially for planning festivals. It divided the year into 12 months, just as we do now, with new moons determining the length of each month. It was good at saying when a moon would appear but bad at measuring the full passage of time and it ran short by 10 or 11 days a year; every few years, they added a 13th month just to catch up.
When the solar calendar was created, it had the same number of months and days as we now observe, but differently configured. Each month was divided into three 10-day units (akin to weeks) known as decans; people worked 8 days and took the final two off, essentially their weekend. At the end of the 12-month cycle, five days were added to celebrate the respective birthdays of Osiris, Horus, Seth, Isis, and Nephthys. Adding those holidays to the 360 regular days brought the annual calendar to 365 days for the first time in history.
The only missing piece was a leap day, which meant that every year, six hours went unaccounted for, a process that eventually put the calendar off track. Ptolemy III tried to issue a new calendar to correct this in 239 B.C. to no avail. Eventually, this was solved by the Julian calendar, which had leap days, but still had a long-range math problem, and its replacement, the Gregorian calendar, which fixed it. But even with the tinkering for leap days, the Gregorian calendar kept the Egyptian pattern of 12 months and 365 days, the rhythm we live by even now.
9 More Egyptian Inventions Still in Use
Strike! Pharaohs let off steam with the original bowling, using stone balls with finger holes and tall, carved pins.


Sailboats originated on rivers, not seas—specifically the Nile, where Egyptians made boats of papyrus with cloth sails to speed the transport of goods.


Ancient Egyptians made a liquid concoction of vegetable gum, soot, and melted wax that was the precursor to ink, and they soon expanded their ink from black into color.


In 3,500 BCE, the rich found a way to distinguish themselves: men and women alike started wearing high heels, allowing them to literally look down on the poor.


Egypt introduced math using systems of 10, as we do now, nearly 5,000 years ago.


The curved sickle revolutionized agriculture after Egyptians started inserting stone blades 4,000 years ago.


Local police forces didn't use to exist (law enforcement was limited to military men, royal guards, or private security for the wealthy) until New Kingdom Pharaohs created police forces armed with wooden staffs and police dogs.


The first beer as we know it was a light, easy-to-pour Egyptian improvement over its fermented Mediterranean predecessors, which were too thick to sip from a glass.


Ancient Egyptian beer came with a bonus: bone analysis of consumers reveal that it contained tetracycline, one of the most common antibiotics in use today.
Witness the inventiveness of this storied culture during your Ancient Egypt & the Nile River adventure.