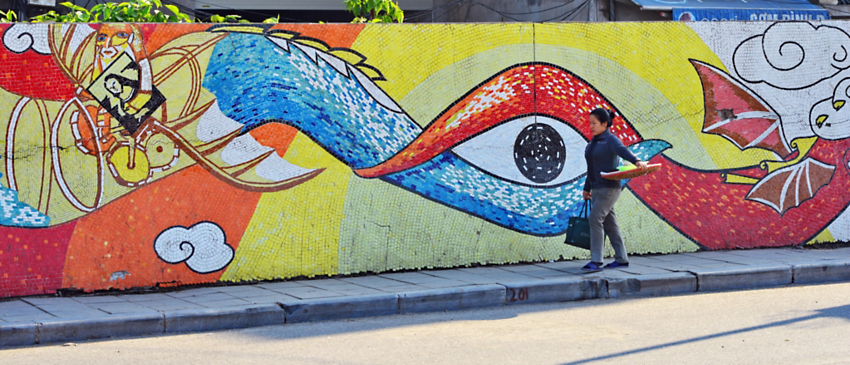 Question: In Hanoi, Vietnam, what began as one artist's colorful antidote to a dreary morning commute?
Answer: Ceramic Road: the world's longest ceramic mosaic mural
Arts journalist Nguyen Thu Thuy had to pass by Hanoi's lengthy Red River dyke every day on her way to work. Eight hundred years old and shored up with concrete, the dyke walls were vital for flood protection, but the dreary grey expanse cast a gloomy pall over her commute. Thuy decided to do something about it. She entered a contest to celebrate Hanoi's millennial anniversary with a proposal that would transform the dyke into a work of art: a massive ceramic mosaic mural.
Her idea not only won, but caught the fancy of artists and officials alike. Joining with the Hanoi government, the Ford foundation underwrote part of the cost, and foreign embassies from Germany to South Korea pitched in. Thirty-five artists well-versed in the varying styles of the Phung Nguyen, Dong Son, Ly, Tran, Le, and Nguyen eras worked on 21 individual sections. One hundred adult workers and 500 children helped install the ceramic tiles, which were made at Bat Trang, a village famed for porcelain. In 2010, after three years of steady effort, the result was unveiled: the four-mile Ceramic Road.
Thuy wasn't content yet. Yes, her route to work was now more inspiring, but she was aiming for a bigger audience than herself. To draw global attention, she submitted Ceramic Road to the Guinness Book of World records. An adjudicator was dispatched to measure its dimensions and confirmed the mural as the world's largest ceramic mosaic. As a result of the acclaim, Thuy's commute is now different in yet another way: She shares the path with visitors who have come to admire the view.
Where to Get Your Art Fix in Hanoi
The stunning 45,000-square-foot Vincom Center for Contemporary Art (72A Nguyen Trai, R3-B1 Royal City, Thanh Xuan) transforms the lower well of a shopping center into a hub of cutting-edge work by living Vietnamese artists, as well as works by foreigners like Yoko Ono, whose Wish Tree is a focal point.


For conceptual art, the L'Espace Centre Culturel Français de Hanoi (24 rue Trang Tran Tien), is the go-to for fascinating installations, public art events, and performance art.


For historic arts, the Hanoi Museum of Fine Arts (66 Nguyen Thai Hoc St) boasts 2,000 pieces across three floors, with holdings ranging from the Stone and Bronze Ages to the heyday of lacquerware.


For the work of women artists, explore the holdings of the Vietnamese Women's Museum (36 Ly Thuong Kiet, Hang Bai, Hoan Kiem), where female-created art work (including textiles, pottery, jewelry) is joined by displays of their contributions to the military and commerce.


For traditional goods, 54 Traditions (36 Ly Thuong Kiet) is the place to discover authentic textiles and objects made by ethnic minority artisans of Vietnam's north and central regions, and antique treasures of the Viet majority.


For contemporary sculpture, the Green Palm Gallery (39 Hang Gai Street) specializes in both paintings as well as statuary, with its ever-changing collection featuring stone, lacquer, and fiberglass sculpture.


For environmental art, step into the world of Dao Anh Khanh, a surrealist painter and performance artist inspired by nature; he incorporates that inspiration into his physical surroundings at his studio outside Hanoi (7, 462 Ngoc Thuy Road, Gia Lam ), which boasts tree-houses, a sculpture waterfall, and an art "dungeon."
Discover the vivid creative life of Hanoi on O.A.T.'s Inside Vietnam adventure.