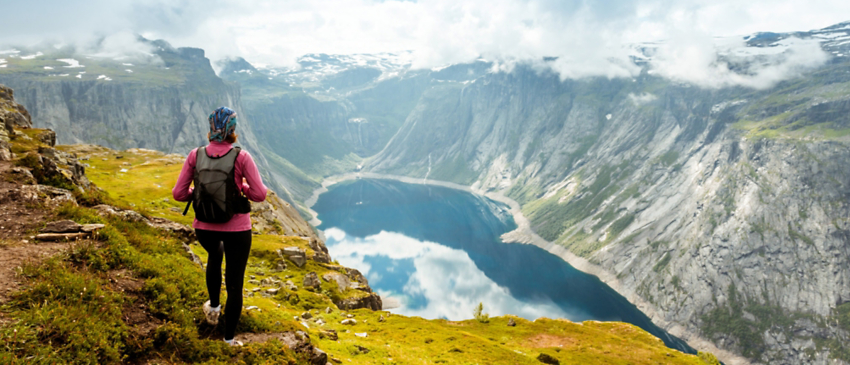 Question: What country loves to practice something called friluftsliv—the process of immersing yourself in nature?
Answer: Norway
With glaciers, fjords, mountains, and miles of coastline, the landscape of Norway lends itself to an active, outdoor lifestyle—and Norwegians make use of it tenfold. While the popular Nordic concept of hygge is all about finding cozy comfort indoors, friluftsliv is another deeply engrained practice all about embracing the outdoors.
Pronounced "free-loofts-liv," the word directly translates to "free air life" and involves connecting with nature through any sort of activity to relax, reduce stress, and get exercise. The expression was popularized in the 1850s by Norwegian playwright and poet Henrik Ibsen who used the word to describe the importance of spending time in remote locations for spiritual and physical wellbeing. Since then, the term has been used more broadly to describe anything from running in the woods to commuting by cross-country skis or joining friends at a lakeside cabin.
In the winter, friluftsliv is often practiced with skiing, dog-sledding, or heading out into the forest to watch the Northern Lights. In the summer, some popular activities are fishing, sailing, harvesting berries, or relaxing by a bonfire. Norway sees a few weeks with 24 hours of daylight in the summer which makes activities like midnight whale watching or sea kayaking unmatched.
Even simple things like listening to the birds sing, seeing greenery, or journaling in nature are all acts of friluftsliv. For both Norwegian adults and children alike, there is a great sense of pride in the natural environment, and they choose to spend as much time as possible within it. Friluftsliv encourages seeking a real connection with nature no matter whether it's sunny or snowing.
Norway has consistently ranked as one of the happiest countries in the world, and there's no question that their bond with the outdoors plays a big role. Perhaps this summer, you'll choose to make like the Norwegians and embrace the great outdoors as much as possible.
What Else Makes Norway such a Happy Country?
The Allemannstret Law: Also known as the right to roam, this law is closely linked with friluftsliv, and entitles everyone the freedom to use any land for hiking, skiing, biking, camping, canoeing, and more without worrying about trespassing. As long as you respect the land, you can enjoy it anywhere.


Gender equality: Norway holds the gold standard for gender equality in nearly every industry—from engineering to business. It ranks only second behind Iceland in the world gender gap report, and it has woman Prime Minister, Erna Solberg.


Work-life balance: Work-life balance in Norway is of utmost importance. The government mandates generous paid time off, maternity, and paternity leave with many living by the motto: working to live, not living to work.


Low unemployment rate: Norway also boasts an extremely low unemployment rate compared to other countries, making it extremely efficient and productive. Additionally, the poverty rate is extremely low and the average wage is high, making the gap between poor and rich significantly smaller than in other countries.


Honesty and integrity: Honesty, trustworthiness, and integrity are some of Norway's most prized values. It's considered one of the least corrupt countries in the world and has one of the most trusting relationships between politicians and the general population. Politicians are transparent and people trust them like their own families.


Social programs: Norway has some of the most comprehensive social programs in the world which means there is less locals have to worry about on a daily basis. This includes free education through college, health care, and childcare.


High-life expectancy: Thanks to an active lifestyle, a diet full of Omega-3 fatty acids from the local fresh salmon, and a robust healthcare system, Norwegians have a great life expectancy (82 years on average).


Participate in friluftsliv when you immerse yourself in the beauty of Norway during our Fjord Cruise & Lapland: Norway, Finland & the Arctic Circle.