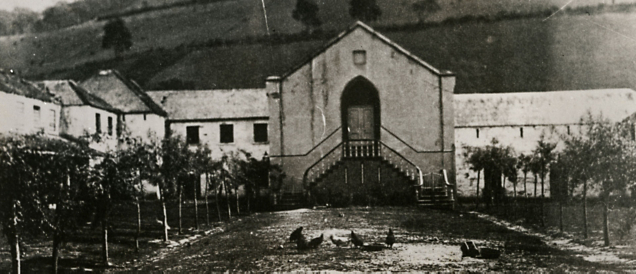 Unpleasant working conditions at the Cascades Female Factory prompted an unusual protest that ruffled Tasmanian Governor Franklin—and amused his wife.
Question: What risqué display so "horrified and astounded" a Tasmanian Governor that he vowed never to return—even as his wife and companions laughed at his embarrassment?
Answer: The mass "mooning" of Tasmanian Governor Franklin by female convicts
In 1838, when Governor Franklin of Van Dieman's Land (now called Tasmania) arrived with his wife and their retinue for a visit to the Cascades Female Factory, he was expecting a demonstration of how Australia's women convicts were being rehabilitated through forced labor. Instead he discovered that the women (mostly convicted of minor offenses like petty theft and prostitution) rightly resented their restrictive conditions: long hours, cramped quarters, bans on singing or dancing even in free time, and punishments like being forced to wear iron collars.
Governor and Lady Franklin attended a religious service in the factory chapel led by Reverend William Bedford, the inmates' chief tormentor. When the Reverend finished his last line, all 300 women turned at once, bent over, lifted their skirts and flashed him with their bare buttocks. As if that sight alone wasn't startling enough, on cue, they all smacked their bare cheeks at once, producing a sound described in contemporaneous reports as "a not very musical noise."
Franklin was said to be so upset at this display that he vowed never again to visit Cascades. His dismay was only further exacerbated by the fact that Lady Franklin and her friends burst out laughing at his reaction, a rare moment of solidarity with women they otherwise believed to be beneath them. When the Governor's entourage departed, Factory authorities were left with no way to respond to the rebellious act. Because the mooning happened all at once, ringleaders couldn't be identified, and because it involved all 300 inmates, there were not enough resources to punish everyone involved. In this case, the staff was simply outwomanned.
10 Fun Facts About Tasmania
Tasmania is named for someone who never set foot there. Abel Tasman spotted the island from a ship but couldn't be bothered to go ashore. He sent the ship's carpenter to plant a flag.
Despite Tasmania being a true four-season country, Hobart is the driest of Australia's eight capital cities; it gets only half the precipitation on average of Brisbane or Sydney.
The national animal no longer exists. Gracing the Tasmanian coat of arms is the Thylacine, a carnivorous marsupial that looks like a tiger crossed with a dog. The once plentiful creature ate so many sheep that Tasmanian farmers hunted the species into extinction.
Tasmania is home to trees more than ten times older than the country itself. Celebrating its 375th anniversary this year, Tasmania is in its infancy next to the indigenous Huon Pines, which live 4,000 years on average; one stand in the west has trees now roughly 10,000 years old.
Famed cinematic swashbuckler Errol Flynn was a native of Tasmania, where he was born and raised. He didn't apply for American citizenship until 1942, after he had become a Hollywood star.
Though Tasmania is only 185 miles wide at its broadest, the island's coast, if unfurled into a straight line, would be 3,000 miles long.
The Tasmanian Devil, a fierce-looking meat-eating marsupial, is not just a cartoon creation but a real animal, now found in the wild only in Tasmania.
Forget Provence: the world's largest lavender farm is in Tasmania, with 120 acres of uninterrupted lavender.
Tasmanian rainwater is considered so good that Australia shipped it to athletes at the Rio Olympics.
The first brewery in Australia was Cascade Brewery, within walking distance along the Hobart Rivulet from the Cascade Female Factory. Governor Franklin, a teetotaler, didn't like the brewery either. However, though he banned whiskey distilleries in his tenure, he never successfully outlawed beer and Cascade Brewery remains in operation to this day.
Discover the colorful history Tasmania for yourself during the pre-trip extension of Australia & New Zealand: An Adventure Down Under.