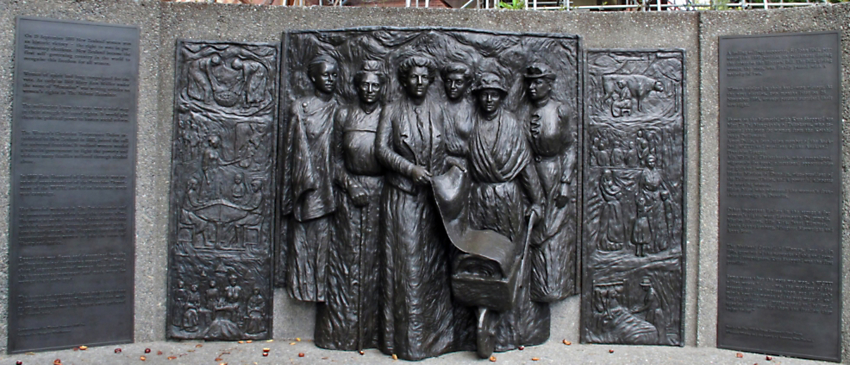 Question: Which commoner bumped the Queen of England off the front of the $10 bill in New Zealand?
Answer: Kate Sheppard, women's suffrage activist
Liverpool native Kate Sheppard didn't initially set to win women the right to vote in her adopted homeland of New Zealand. What she wanted to do first was make women safer at home, which is why she joined the Women's Christian Temperance Union (WCTU), founding the first Christchurch chapter in 1885. Alcohol abuse was rampant at that time and WCTU saw that women and children were the greatest victims. Other inequities—work conditions of barmaids, guardianship after a divorce--were also on her radar, and she became a writer, speaker, and political activist to fight for change.
As she once said in a speech, "We are tired of having a 'sphere' doled out to us, and of being told that anything outside that sphere is 'unwomanly.'" One respondent wrote to his local paper that women like Sheppard were "meddling in masculine concerns of which they are profoundly ignorant."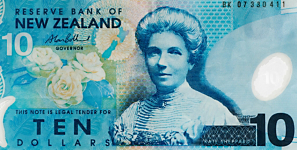 It soon became clear to Sheppard that women could only advance if they had a legal say in their own matters, and she began her campaign for their right to vote. It took until 1890 to get a woman's suffrage amendment added to the electoral bill before the House of Representatives. It passed its first-round vote handily but when it came to the final vote, it lost by seven. That fall, during election season, Sheppard questioned every single member of parliament about his stance on the issue, increasing pressure for a new vote. With the support of Premier John Ballance in 1891, she presented a petition with over 10,000 signatures calling for a new electoral bill. The bill passed—only to be thwarted a second time by an amendment crafted just to doom the vote.
Sheppard was undaunted and began amassing national support for her amendment. In 1893, she again pressed Parliament for a vote. It was the first major debate under the new Premier, Richard Seddon, who opposed the bill, which might have doomed it once again. But Sheppard and the WCTU came prepared with an 800-foot-long petition bearing 31,000 signatures, which they dramatically unrolled in the chambers of Parliament. Seddon publicly said he had no choice but to go along with the will of the people, while actually strong-arming legislators behind the scenes to vote no. His tactics backfired and some of the original opponents of suffrage voted yes to spite him. The bill passed, making New Zealand the first nation with universal suffrage.
Seddon would not be the last head of state to be bested by Sheppard. Almost a century later, when New Zealand redesigned its currency in 1990, they chose her to grace the cover of the $10 bill. She bumped no less than Queen Elizabeth from the banknote, where she is joined by a trio of blooming camellias, the national symbol of woman's suffrage.
15 Key Moments in the Life & Legacy of Kate Sheppard
After her family moved to Christchurch to start over upon the death of her father, 24-year-old Sheppard met and married a shopkeeper who was active in local politics.


She waited until she was in her 30s to have a child, an unusual thing at the time, giving birth to son Douglas in 1880.


She was never one to stick to the hearth: she was active as a fundraiser for Trinity Congregational Church, secretary for its Ladies Association, and helped manage the YWCA.


At 38, she joined the international WCTU after hearing a traveling speaker who advocated for prohibition.


In addition to WCTU leadership roles first in Christchurch and then nationally, she founded the Christian Ethical Society, a mixed gender discussion club that tackled marital relations among other topics.


In her forties, she became a public speaker, framing the need for women's suffrage against a backdrop of all oppression, saying, "All that separates, whether of race, class, creed, or sex, is inhuman, and must be overcome."


After the first failed vote on women's suffrage, she wrote a women's rights column in The Prohibitionist under the pseudonym "Penelope," which reached 20,000 readers per issue.


In the first election after suffrage was granted, nearly 70% of eligible women in New Zealand cast their votes, defying naysayers and proving Sheppard right.


Just before her 50th birthday, Sheppard became President of the National Council of Women of New Zealand, advocating for access to contraception and the right to divorce.


She made it a mission to encourage women to free themselves from social constraints individually, suggesting they give up the corset, take up cycling and other physical hobbies, and pursue interests outside the home.


She edited The White Ribbon, the first Kiwi newspaper owned, published, and written entirely by women.


At age 62, she was named Vice-President of the International Council of Women, an honorary role to acknowledge her accomplishments.


At age 87, a year after the first woman was elected to Parliament, Sheppard died, having outlasted two husbands, her son Douglas, and her only grandchild.


In 1993, on the anniversary of the passage of women's suffrage, the Kate Sheppard Memorial was unveiled in Christchurch.


In 2005, an acclaimed television series naming New Zealand's Top 100 History Makers ranked her #2 of all time.
Experience the nation Sheppard fought so hard for on O.A.T.'s Enhanced! Pure New Zealand adventure.