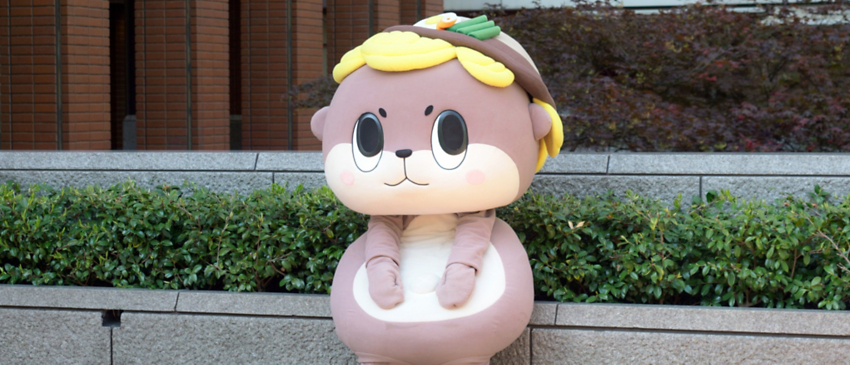 Question: Where did a fake otter in a pink turtle hat ruin the career of one real otter and sully the good name of another fake one?
Answer: Japan, land of the yuru-kyara
Before we begin the saga of the evil fake otter based on a sweet real otter and the innocent (other) fake otter who was caught in the crosshairs, you must understand something about Japan: the country is obsessed with mascots, known as yuru-kyara. Some are cute (or kawaii), some are unsettling, and some are downright frightening. They represent brands, prefectures, and causes. Would you be more likely to get screened for hepatitis if a dancing elephant-liver hybrid encouraged you? We know we would.
More on our favorites below—but now, we focus on Chiitan, an adorable real-life otter whose viral videos so enamored the people of Japan, they earned her the title of "Honorary Tourism Ambassador" in the southern Japanese city of Susaki. Since Japan can't get enough of absurdly cute mascots, Chiitan the Otter was as good a candidate as any to inspire a new one—but Chiitan in yuru-kyara form did not do her namesake any favors.
This Chiitan, sporting a pink turtle as a hat, was in no way sanctioned by the real Chiitan—or any actual human associated with her. Which should go without saying, considering the havoc the rogue mascot wreaked upon the unsuspecting city of Susaki. Videos of her stunts went viral on social media: tipping over a car, swinging a weed whacker, removing a baseball bat from a locker with a threat to visit your house. While rogue Chiitan never actually harmed anyone, Susaki officials were not amused. They retaliated by declining to renew the real Chiitan's ambassador contract when it expired, effectively firing the poor creature.
But Chiitan's reign of terror had one more victim: another otter mascot named Shinjokun—who is, in fact, the official yuru-kyara of Susaki. Many people wrongly mistook rogue Chiitan for Shinjokun—despite the fact that they can be clearly identified by their millinery: where Chiitan wears a turtle, Shinjokun prefers an overturned bowl of noodles. While Shinjokun would never be complicit in such unsavory acts (he apparently takes his job very seriously), he was guilty by association, simply for being another giant otter in a city too small for two.
As of this writing, the story is ongoing. Rogue Chiitan continues to post videos of her unsettling antics, failing badly at sports, falling into a fountain, wasting large amounts of plastic wrap, and playing darts with another mascot. There is, however, a somewhat happy ending: Shinjokun still holds his post as the official yuru-kyara of Susaki. After a thorough investigation, he was cleared of all wrongdoing and his good name was restored. The real Chiitan, however, remains unemployed.
Mascot Mania: Our Favorite Yuru-Kyara
Tsukihashi Wataru represents Kyoto's Togetsukyo Bridge. While the bridge-like appendage protruding from his back makes sense (kind of), the rest of him looks like a Halloween ghost.



Kan-chan, described by her creators as a "gentle penguin girl," is not so much a penguin as she is a furry pink enema. Representing a pharmaceutical company, she's making bowel care cute again.



Gosshi is a yellow carp wearing fishnet stockings and high heels. She's the mascot of Goryokaku Park, which is home to a 19th-century fort—so the carp, obviously, is possessed by the soul of a dead soldier.



Ishio-san celebrates granite production in Sakuragawa City as a sentient stone lantern—which looks more like a trash can in a conical hat.



Madori-kun knows you want to buy real estate from a wrestler with an apartment floor plan for a head.



Toilet-kun (because of course there's a toilet) wants the people of Yokohama to know exactly what to do with their toilet in the event of a disaster.



Oidenasu-kun might be overpromising the attractions at Nasu Animal Kingdom, unless it really is home to an eggplant-headed dog.



Shinobi-chan, a scantily clad pink ninja, would not be so strange if she represented anything other than accounting.



Sanzocook, mascot for Mt. Norikura Snow Resort, proves that nothing whets the appetite for skiing like a one-eyed bird with his head sandwiched in a burger bun.



Hantama-kun, however, begs to differ. He lures skiers to Hunter Mountain Shiobara Ski Resort as half of a hard-boiled egg.


Seek out Japan's many mascots when you join O.A.T. for Japan's Cultural Treasures.