A Posthumous Honor
Posted on 10/10/2017 12:00:00 AM in Travel Trivia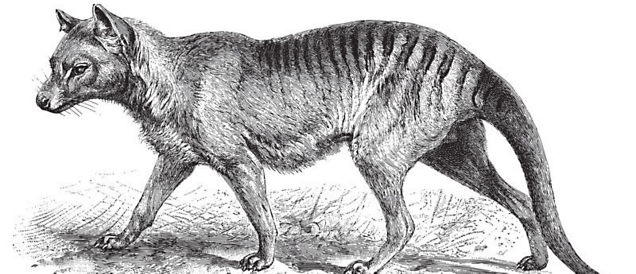 Behold the thylacine: perhaps the only animal on Earth to become the official symbol of the country whose people intentionally eradicated it.
Question: Which wild creature, once hated for decimating Tasmania's flocks, became its beloved official symbol? (Hint: It may be bloodthirsty, but it's no devil.)
Answer: The Thylacine
List all the marsupials you learned about in school. It's a safe bet that Australia's wallabies, wombats, koalas, and kangaroos most likely to spring to mind. Munching away on plants and insects, and nurturing their babies in their pouches, they are often held as cuddly and harmless in the popular imagination (a perception based mostly on wishful thinking). But have you heard about the bloodthirsty thylacine?
The biggest of a now mostly extinct class—carnivorous marsupials—the thylacine were the size of large dogs and famously ravenous. With their dark stripes, they called to mind slender tigers, but with pouches that made them partly resemble kangaroos. 46 sharp teeth and jaws that could open impressively wide made them eating machines, and they were known doggedness in pursuing prey.
The "blood eaters," as they were known, especially loved sheep and consumed so many that Australian hunters finally eradicated them from the mainland in the 1920s. In Tasmania, the thylacine persisted for another a few more years, chomping their way through flock after flock, despite there being a well-publicized bounty on their heads. The bounty was almost beside the point: only 2,000 bounty hunters ever collected their rewards, while many thousands more thylacine were killed by farmers just eager to be rid of them.
By 1930, wild thylacine were so rare that extinction seemed certain. That year, one was seen prowling the farm of Wilf Batty, and the farmer made it his mission to kill it. Batty eventually succeeded and posed with the corpse for a widely published photo of the "last" wild thylacine. But three years later one more was spotted and captured. Named Benjamin, it lived three more years before it died at the zoo, and it too became known as the "last." (Was it? See below.)
The passage of time rehabilitated image of the once-feared predator. Tasmanians have come to embrace the creature as a symbol of their singularity and fierceness. Today, thylacine are the state symbol, emblazoned on its coat of arms and government logos, its currency, as well as Tasmanian cricket uniforms, license plates, and even submarines. All these tributes keep alive the memory of what the Tasmania Parks & Wildlife Service calls "one of the most fabled animals in the world."
10 More Facts about the Memorable Thylacine
There were thylacine for at least four million years, with fossil evidence dating back to the Miocene era, and ancestors of the species date back 23 million years.


Drawings of thylacine started appearing about 3,000 years ago as petroglyphs in Australian rock art.


The first European settlers in Tasmania variously called it a "wild beast," a "tiger cat," and a "dog-headed opossum."


Unlike other marsupials, both male and female thylacine had pouches: the males for their own anatomy to rest in and the females for carrying newborns.


Because its skeleton was so similar to a dog's, thylacine specimens were included on the final exams for English zoology students to see if they would misidentify it; students rarely made that mistake because an actual dog would be too commonplace to appear on the exam.


Its olfactory bulbs were poorly formed, which is unusual for a predator, so it relied on sound and sight rather than scent for hunting.


It chased its prey by running on all fours, but if it was scared it would rear up and hop on two legs like a kangaroo.


When it felt provoked it would open its maws and emit a sound that began as a growl and turned into a hiss known as a "threat yawn."


Thylacine have become the Tasmanian Loch Ness monsters. Photos and videos of purported thylacine have appeared off and on since 1973, most recently in 2008, but the evidence has been ruled inconclusive every single time.


After a rash of sightings in early 2017, Bill Laurence, one of Australia's most prominent scientists, agreed to conduct an extensive hunt for proof that the mystical creature yet lives. The hunt goes on in both Tasmania and at the opposite end of the continent, in Queensland.
Discover just how unique Tasmania is—and keep your eyes peeled for the thylacine—on the pre-trip extension of Australia & New Zealand: An Adventure Down Under.