A Map Before its Time
Posted on 9/19/2017 12:01:00 PM in Travel Trivia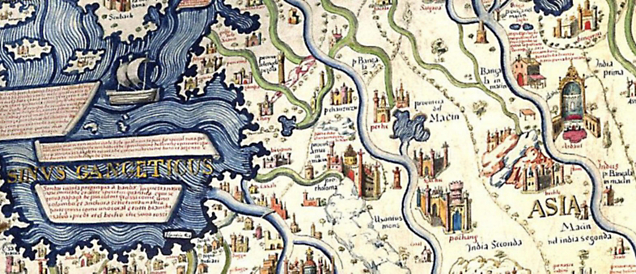 This portion of Fra Mauro's map depicts the mainland of Asia, including India—purported land of alchemy and seven-headed serpents.
Question: Who was the "chosmographus incomparabilis" who made a composite map of the globe 600 years before Google Earth?
Answer: Fra Mauro, the mapmaker monk of Venice
Before he became a monk, Fra Mauro was a Venetian merchant sailor and soldier who explored as far away as the Middle East. But when he settled into monastic life in Venice, he didn't leave the wanderlust behind. Venice was both the hub of mapmakers and the crossroads of the sea trade, so Mauro began distilling his travels—and those of others—into clear, colorful maps. Portugal's King Alfonso was so taken with the monk's work that he commissioned a mappa mundi (complete map of the world).
One little problem: monks aren't allowed to travel.
Fra Mauro was not dissuaded. For several years, he cornered visitors as they came to Venice, gathering tall tales from Arab traders, explorers who had been to the Arctic circle, and sailors who'd blown off course around the tip of South Africa. He didn't accept their geographical details at face value, but instead compared them to the nautical charts, written histories, and other records in the vast library he'd amassed at the monastery. He made individual maps based on each account then began to overlap them, until he had a mental image of the whole earth without gaps.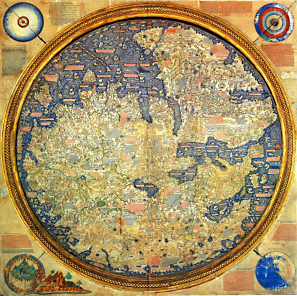 When he began to ink the map onto vellum, working with a team of copyists following his models, it contained locations that had never before been recorded and sea routes which had not appeared on a world map, accompanied by some 3,000 notes based on the stories he'd heard. The tales were often incredible (see below) but the land portion of the map was groundbreaking in its fullness and accuracy. His map was the first to show that you could circumnavigate Africa and also that Japan is a series of islands, not part of mainland Asia.
What's more, Mauro's estimate of the circumference of the globe, based on adding up the estimates of his subject's travels, was impressively close to the truth. Translated to our terms, he suggested roughly 26,000 miles—just over a thousand miles off from the actual distance. In recent years, NASA compared the Mauro map to similarly-oriented view of earth from space and described the accuracy as "stunning."
Upon Mauro's death, Venice issued a commemorative medal in his honor, proclaiming him the "chosmographus incomparabilis" (incomparable cosmographer). Six centuries later, satellite and drone images have yielded composite maps exceeding anything the monk could have imagined, yet they also prove just how much he got right without ever having left the ground.
Separating Fact from Fiction on the Monk's Map
Most Western maps at that point had a location mark for the Garden of Eden, which Mauro (as a monk) didn't dare omit, so he moved it off the map and tucked it onto the corner of the page as a speculative location


He described England as having been populated by giants who were later defeated by Greeks who had survived the Trojan war


Scotland is described on the map as home to people of "easy morals"


Though he got the shape of Norway wrong, he correctly claimed that there were giant white bears, identifying the polar bears found in the Svalbard Archipelago of the Arctic Circle


Despite rightly describing how to circumnavigate Africa, he also said there were birds big enough to carry away elephants


According to his illustrations, India was home to giant seven-headed serpents and to an island steeped in alchemy (though he claimed not to believe it)


He included drawings of islands near Africa that he called Nebila and Mangla, based on the rumored gender-specific Island of Women and Island of Men, though no such islands existed


Despite those fanciful inclusions, he omitted a common feature of most competing maps—the location of Noah's ark—saying he had not yet met a traveler who had seen it
Map your discoveries in Italy and beyond on our Undiscovered Adriatic: Eastern Italy, Venice, Puglia & Malta Small Ship Adventure.