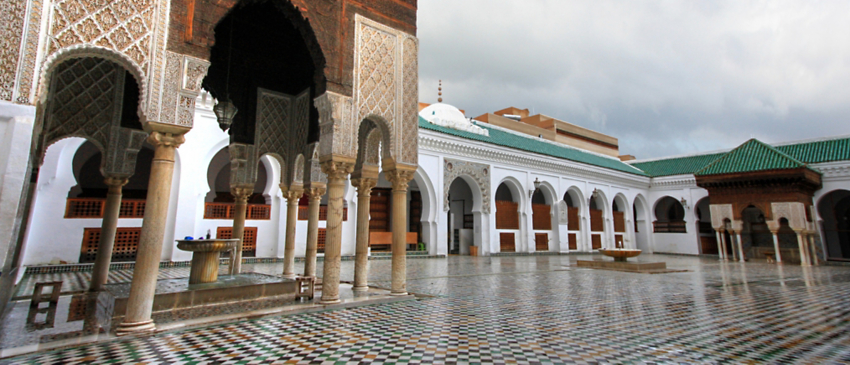 Question: Where will you find the world's oldest continually operated library, founded by a woman who was forbidden by law to study there?
Answer: Fez, Morocco, home to the library of Al-Qarawiyyin
When Islamic heiress Fatima El-Fihriyathe was deciding what to do with her new wealth in the ninth century, she chose an unexpected route: She founded Al-Qarawiyyin University and Mosque. She envisioned a place for scholars and philosophers to meet, study, and debate the issues of the day. One catch: Islam would not allow female students like her to enroll. But apparently, an exception was made for the university's founding woman, as she attended classes and was even awarded a diploma (which is still housed at the school).
After her death, the collected books of the university professors and visiting scholars grew so much over the centuries that a formal library was established in 1359. Its collection was serious and historic even then, including a tenth-century bio of Muhammed and an even older Koran. With each passing year, the collection became ever more valuable and its contents rarer. Eventually, Morocco ordered the library closed to all but approved scholars.
The lessened use was accompanied by lessened caretaking. Humidity, water damage, and lack of insulation left the library in serious physical decline. Fortunately, the Moroccan government realized that it was on the brink of losing a treasure, and, in a move that honored Fatima El-Fihriyathe, they hired a female architect, Fez-born Aziza Chaoun, to oversee renovations in 2012. A new tile roof, new sewage system, the addition of air conditioning, and even solar panels were all part of her re-modeling, yielding a building both more structurally sound and more manuscript-preservation-friendly.
The public is now welcome to enter one wing of what remains the world's oldest continually operating library. Among more than a millennium's worth of literature, you'll find the original Arabic texts read by ancient philosophers who studied there, like Maimonides and Ibn Rushd, and algebra texts as old as algebra itself. No wonder Time Magazine just named the library one of the "100 World's Greatest Places."
So You Think You Know Fez: 10 More Fun Facts
Fez started with a feud: 800 Spanish refugee families settled first in the 9th century, followed soon after by 2,000 Tunisian families, and they fought with each other until the Almoravid sultans took over, and subjugated both


By the 12th century, Fez had 200,000 residents, making it the largest city on earth by population.


The Jewish Quarter (mellah) of Fez is the oldest mellah in all of Morocco, and was established 580 years ago.


The famous blue gate to the medina is actually only blue (the city's official color) on one side; if you enter from the other side, it is green (the color of Islam).


For hundreds of years, the Fez hat with which Morocco is synonymous was made only in Fez and only by hand by artisans who did nothing else.


The Musee des Armes of Fez has one of the largest weapons stockpiles in the world outside a military site, containing 8,000 swords, daggers, shields, Berber weapons, and fighting implements.


The city is home to more than 400 mosques, over 200 in the medina alone, and non-Muslims may not enter a single one of them.


Tucked inside the medina, the Chouara Tannery is the world's oldest continually operating leather tanner, having opened a millennium ago.


Fez is also home to the one of the world's oldest timepieces, the Dar al-Magana "water clock," which was completed in 1357.


To this day, the entire medina is car-free, its 10,000 alleys too narrow for automobiles, but you will occasionally see motorbikes darting along paths still trod by mules.
Experience the ancient and modern delights of Fez on O.A.T.'s Morocco Sahara Odyssey.