A Healthy Appetite
Posted on 11/14/2017 12:00:00 AM in Travel Trivia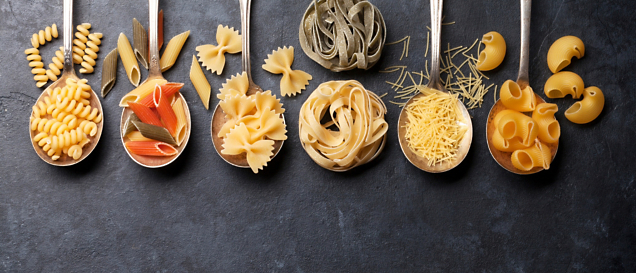 The key to enjoying pasta without completely derailing your diet? Balance small portions of carbs with an abundance of protein and vegetables.
Question: Which country has the healthiest people on earth despite them also being the biggest consumers of a food group long considered bad for you?
Answer: Italy, the world's biggest pasta consumer
After the low-fat craze of the 80s and 90s, the new millennium saw the crowning of another dietary villain: carbohydrates. Suddenly, low-carb diets were the craze, and pasta was off the table, under the premise that it offered up empty calories with too few nutrients. While this belief swept much of the West (and yielded trends like the paleo diet), one country shrugged it off: Italy, the home of pasta.
Italians consumer on average 57 pounds of pasta each year—that's more than a pound a week per person. But instead of this harming them, their diet seems to be working. In the Bloomberg Global Health Index (which factors in life expectancy and health risks ranging from smoking to high blood pressure), Italy ranks #1. And that's not all. Italians live into their 80s on average and National Geographic tapped Sardinia as a Blue Zone, home of one of Earth's nine longest-lived populations. The ultimate longevity prize even goes to an Italian village, Acciaroli, where a whopping 10% of the population is over 100.
With more food scientists now arguing that there's no need to be so fearful of carbs after all, health-conscious folk are looking to see what can be learned from pasta-loving Italy. Most attention focuses on the Italian version of the Mediterranean diet: fresh fish, vegetables, fruit, nuts, and olive oil. A diet with less red meat, almost no animal fats for cooking, and a paucity of processed foods yields a stark contrast with American patterns.
But does this approach translate outside of Italy? Experts think so. Recently, the New England Journal of Medicine finished a five-year study of the diet as tested on 7,000 Spanish subjects who increased their weekly intake of olive oil and nuts. They were found to have significantly lower rates of stroke and heart diseases than their countrymen who didn't try out the diet.
If you ask an Italian, however, they'll likely tell you that the secret isn't what they eat or don't eat, but what they drink. The tradition of a little bit of red wine every evening has been shown to have benefits for the heart and is even said to help decrease binge drinking. Or, in their words of an old saying, "Due dita di vino e una pedata al medico!" (A little wine chases the doctor out the door!)
5 Mediterranean Diet Delights & Where to Find Them
Saor in Venice: Get the entire Mediterranean diet (vegetables, fruits, nuts, olive oil, and fish) in a single dish when you try classic saor: sardines fried in olive oil and then doused in a vinegary marinade of onions, raisins, and pine nuts.


Risotto de Go in Burano: "Go" is the Burano nickname for the humble goby fish, which is the featured ingredient in the local risotto. Unlike many recipes, there is no cheese or butter used in this risotto: its creaminess comes entirely from the fish itself, which is joined by healthy doses of garlic, onion, and celery.


Red wine in Ravenna: The region around Ravenna is home to 35 designated wines, the most popular of which are Sangiovese varieties (some of which have been served here for 600 years). These blends are said to be healthy thanks to their procyanidins, antioxidants which depress rates of cardiovascular disease.


Seafood spaghetti in Tremiti Islands: One reason pasta hasn't harmed Italians is portion control; they don't just fill up on the starch. And in this classic Tremitese dish, the spaghetti can barely even be seen, as the standard recipe calls for a mere 12 ounces of long pasta to be buried beneath 2 full pounds of mussels, clams, shrimp, and eel meat.


Olives and olive oil in Monopoli: Monopoli is in Puglia, home to 40% of all olive oil made in Italy—and a whopping 240,000 olive groves. In Monopoli, try olive oil flavors—such a lemon-infused—or just order small bowls of vivid green cured olives (perhaps stuffed with bitter orange) for snacking. They're addictive, in the best way.
Discover the mouthwatering—and life-extending—cuisine of Italy on our Undiscovered Adriatic: Eastern Italy, Venice, Puglia & Malta Small Ship Adventure.