A Finger Lickin' Good Tradition
Posted on 12/19/2017 12:00:00 AM in Travel Trivia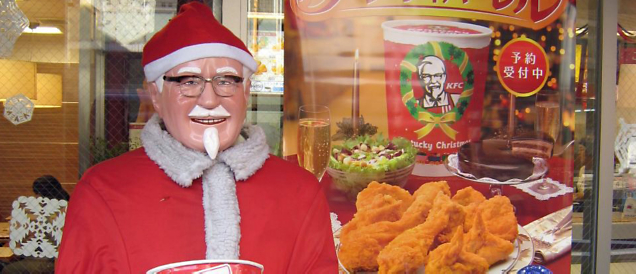 It's definitely easier than cooking a ham.
Question: Where in the world is the traditional Christmas dinner a "party barrel" of Kentucky Fried Chicken?
Answer: Japan
In 1970, Takeshi Okawara had a vision that came to him in a dream: the best way to celebrate Christmas in Japan—a country where the holiday was not especially popular—would be to sell "party barrels" of Kentucky Fried Chicken.
It's not quite as random as it sounds. Okawara was the manager of several KFC franchises and was always looking for new ways to drum(stick) up business. He'd overheard Americans saying how much they missed holiday dinners featuring turkey, a bird pretty much not on Japanese menus, and he naturally substituted the fowl he had on hand. In his dream, the party barrel would provide a whole holiday meal and could be ordered in advance.
The first few years he tried out his plan, his stores could barely keep up. KFC Japan went national with the promotion in 1974, using the campaign slogan "Kurisumasu ni wa kentakkii" (Kentucky is for Christmas), and it exploded. In the years since, the tradition of ordering KFC on Christmas Eve or Christmas day has become part of life, with 3.6 million families ordering the latest incarnation of Okawara's "party barrels" last year.
As the tradition has evolved, you can now order the basic barrel or upgrade to the premium barrel, which comes with wine, Christmas cakes, and more. But you have to be quick: premium barrel orders can sell out weeks in advance. And even the regular meals may require waiting in line for an hour or two on Christmas day.
While a bucket of fried chicken keeps the holiday casual for the Japanese who celebrate this way, it is anything but casual for the franchises themselves. Last year, 1/3 of all KFC sales in Japan occurred in the 48 hours surrounding Christmas, which means that Okawara's dream was truly the gift that keeps on giving.
10 Fast Facts About Christmas in Japan
As only 1% of Japanese are Christian, Christmas isn't a religious holiday in Japan, but a social one, which has only been observed in the past 50 years.


December 25th remains a workday unless it is the weekend.


Buying and giving presents is not highly important, but having experiences with loved ones or friends is. Going to look at holiday lights or going to a favorite restaurant are common.


Next to fried chicken, the most traditional food is Christmas cake, a sponge cake with strawberry cream. (It even merits its own emoji.)


Santa Claus caught on quickly because he is white-haired, and Japan holds its elders in high esteem.


Stone statues of Jizo, patron of lost children, are usually dressed in children's clothes or bibs, but for Christmas, many are adorned with red scarves, capes, or even full Santa suits.


Tokyo goes all out for Christmas lights including what it calls the world's biggest Christmas tree: Tokyo Skytree, Japan's tallest tower, which is illuminated with 500,000 holiday bulbs.


Not to be outdone, the Lake Sagami Christmas display in Kanagawa requires 5 million bulbs, one million on the centerpiece "Light Palace" alone.


In Kyoto, ROHM, a maker of electrics and semiconductors, shows off its skill by illuminating a whopping 80,000 trees at once, a glow that can be seen from space.
Discover the ways east meets west during O.A.T.'s Japan's Cultural Treasures adventure.