Top 10 Journeys for Solo Travelers in 2018
Posted on 9/5/2017 12:01:00 PM in The Buzz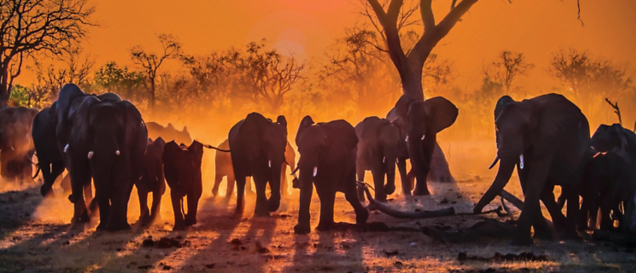 Although they are increasingly at risk, African elephants can still be seen in large numbers during southern African safaris—including Ultimate Africa: Botswana, Zambia & Zimbabwe Safari, our current #1 choice for solo travelers.
Our solo travelers choose to explore independently for different reasons. Some prefer the freedom and self-reflection that comes with traveling alone. Others don't want to put their travel dreams on hold while they wait for the right companion to come along. And many who travel without a spouse prefer to do so with a friend or family member.
Whatever the reason, you're never really alone when you're in a group of like-minded travelers, with a dedicated Trip Leader or Program Director by your side. It fosters a sense of camaraderie and security that makes our travelers feel comfortable going solo. Here's where most of them are headed so far in 2018:
Our Top 10 Solo Journeys
Hwange • Kafue • Chobe • Okavango Delta • Victoria Falls Optional extensions: 4 nights in Thornybush Game Reserve; 4 nights in Cape Town & the Cape of Good Hope
From world-famous Chobe National Park to the lush Okavango Delta, from Africa's spectacular big game to its colorful local cultures—this is the ultimate African safari. Observe elephants in Chobe National Park … enjoy a warm welcome when your small group visits a village near Hwange National Park … feel the rumble of Victoria Falls roaring in the distance … and exchange stories with your travel companions around a fire under a star-filled sky. Experience small lodges and tented camps, game-viewing drives and guided walks with our sharp-eyed Trip Leaders, and local village visits.
Reykjavik • Stykkisholmur • Akureyri • Selfoss Optional extensions: 3 nights in Iceland's Westman Islands; 4 nights in Greenland: Gateway to the Arctic
This O.A.T. adventure showcases Iceland's natural beauty and Viking heritage from a truly Icelandic perspective—through its inhabitants. Meet hardy locals who carve a living from both the land and sea in farming communities and fishing villages. Discover the history of this isolated nation preserved in a series of enchanting medieval tales known as the Sagas. In the beautiful capital city of Reykjavik, witness the creativity of a city that harnessed the power of nature to provide sustainable heat and electricity to its inhabitants. Raft on the Hvita River, watch for whales, and journey to within 40 miles of the Arctic Circle at Akureyri.
Casablanca • Rabat • Fez • Sahara Tented Camps • High Atlas Mountains • Marrakesh • Casablanca Optional extensions: 5 nights pre-trip in Tangier, Chefchaouen & the Berbers of the Rif; 4 nights in Essaouira & Casablanca
Morocco is a classic destination for adventurous travelers—it's practically synonymous with exoticism. We can all conjure visions of camel caravans crossing the blazing orange dunes of the Sahara, and labyrinthine bazaars filled with ornately woven carpets, a rainbow of spices, and hanging metal lanterns. Morocco's proximity to Europe made it an easy draw for American and European writers and artists in the first half of the 20th century, including Paul Bowles, William S. Burroughs, and Henri Matisse. Our solo travelers prove that it continues to inspire today.
Delhi • Jaipur • Ranthambore • Agra • Khajuraho • Varanasi Optional extensions: 8 nights pre-trip in Bhutan: The Hidden Kingdom; 5 nights post-trip in Kathmandu, Nepal or 5 nights post-trip in The South of India: Kerala & Cochin
India is not for everybody—but the sensory overload that might put off a less experienced traveler is exactly what appeals to the adventurous soul. And that's why it's a perennial favorite amongst our solo travelers. Our itinerary goes well beyond the expected highlights of Delhi, Jaipur, and Agra (home to the Taj Mahal). We'll also seek out wildlife—including the elusive Bengal tiger—in Ranthambore National Park. We camp in tent-roof cottages on a private site surrounded by farming villages. And the finale of Heart of India is Varanasi, the pilgrimage site where devout Hindus perform rituals on the Ganges River—a place that encourages soul searching and reflection.
ABOARD OUR PRIVATELY OWNED 89-PASSENGER M/V CLIO
Israel: Tel Aviv, Jaffa, Haifa, Tiberias, Golan Heights • Egypt: Suez Canal, Giza Pyramids, Luxor & Valley of the Kings • Jordan: Aqaba, Wadi Rum, Petra, Madaba, Mt. Nebo, Dead Sea, Bethany Beyond the Jordan • Allenby Bridge Border Crossing • Israel: Jerusalem Optional extensions: 5-night Palestinian Discovery; 4 nights in Jerusalem & Masada, Israel
At the heart of this adventure is a six-night cruise from the Mediterranean to the Red Sea. In small groups of no more than 25, unravel a complex web of faiths during visits to icons like the Church of the Holy Sepulchre and the Mount of Olives … uncover the mysteries of Egypt's Pyramids and Sphinx … and explore the awe-inspiring city of Petra. Throughout your journey, the region's geography will be revealed as you hike, sail, and ride across a diversity of landscapes: from the pastoral slopes of the Golan Heights, to the man-made might of the Suez Canal, and the jagged mountains of sunburnt Wadi Rum, beloved by Lawrence of Arabia.
ABOARD OUR PRIVATELY OWNED 140- TO 164-PASSENGER SHIPS Belgium: Antwerp, Ghent • The Netherlands: Veere, Kinderdijk, Rotterdam, Arnhem, Enkhuizen, Amsterdam Optional extensions: 3 nights in Bruges, Belgium; 3 nights in Amsterdam, the Netherlands; 3 nights in Berlin, Germany
With departures in March and April only, the cruising season for this unforgettable River Cruise is brief—so travelers reserve early for the chance to celebrate the fleeting beauty of springtime. Marvel at over 70 acres of colorful flowers in the world-famous Keukenhof Flower Park, only open from mid-March until mid-May. Delve into the region's extensive WWII history in cities like Arnhem, the Netherlands; get a taste of daily life during a Home-Hosted Visit in Enkhuizen; and enjoy a behind-the-scenes tour of the Kinderdijk Windmills.
ABOARD OUR PRIVATELY OWNED 140- TO 162-PASSENGER SHIPS
The Netherlands: Amsterdam • Germany: Cologne, Koblenz, Rudesheim, Heidelberg, Wertheim, Wurzburg, Bamberg, Nuremberg, Regensburg, Passau • Austria: Melk, Vienna Optional extensions: 3 nights in Bruges, Belgium; 4 nights in Prague, Czech Republic OR 3 nights in Vienna, Austria
Venture through history along the scenic Rhine, Main, and Danube rivers, where medieval architecture beckons from every riverbank ... time-honored wine-making traditions abound at hillside vineyards ... and landscapes seem to spring from the canvases of centuries-old masterworks. Journey on this European River Cruise—our most popular trip for more than a decade—through the Netherlands, Germany, and Austria, uncovering local cultures along the way both onboard and off.
ABOARD OUR PRIVATELY OWNED 140- TO 162-PASSENGER SHIPS
Hungary: Budapest • Croatia: Batina, Osijek, Vukovar • Serbia: Novi Sad, Belgrade • Bulgaria: Vidin, Ruse • Romania: Constanta, Bucharest Optional extensions: 4 nights in Prague, Czech Republic OR 3 nights in Vienna, Austria; 3 nights in Transylvania, Romania
Explore five Eastern European nations—Hungary, Croatia, Serbia, Bulgaria, and Romania—on this Danube to the Black Sea cruise. For many Americans, life beyond the former Iron Curtain was long shrouded in mystery. But today, young democratic nations have opened their arms to Western visitors. Revel in regal Budapest, "Queen of the Danube," and witness the lower Danube's stunning gorges and mighty Iron Gates as you cruise continuously to the Black Sea.
ABOARD OUR PRIVATELY OWNED 50-PASSENGER M/V ATHENA
Croatia: Zagreb, Plitvice Lakes, Split, Hvar, Korcula, Dubrovnik, Gromaca • Montenegro: Kotor, Perast • Albania: Butrint, Saranda • Greece: Corfu, Delphi, Athens Optional extensions: 3 nights in Bled, Slovenia; 5 nights in Ancient Glories: Olympia, Nafplion & Athens
Witness turquoise lakes linked by waterfalls, and whitewashed villages perched on sunbaked cliffs. Soak up the medieval beauty of Dubrovnik. Walk in an emperor's footsteps in Split. Journey to the island that gave Marco Polo his wanderlust. And savor a warm welcome from locals who extend to us a taste of legendary Croatian hospitality. A visit to ancient Delphi and Athens rounds out your discovery on this singular journey of epic beauty.
ABOARD OUR PRIVATELY OWNED 98-PASSENGER M/V CORINTHIAN England: London, Tresco • Wales: Fishguard, Caernarfon • Ireland: Dublin • Northern Ireland: Belfast • Scotland: Barra, Stornoway, Stromness, Aberdeen, Edinburgh Optional extensions: 3 nights in London, England; 3 nights in Edinburgh, Scotland
On this adventure, you'll discover the Isles of Scilly, then follow the coast of Wales to explore fishing villages and mighty castles. Witness Dublin's Book of Kells, and get to know Scotland, sailing from the remote waters of the Hebrides to the far-flung shores of the Orkney archipelago and onward to Aberdeen and Edinburgh. As you meet local people and learn about traditional culture, you'll discover that the sun never sets on the charms of these isles.