Top 5: This Month's Travel Trends
Posted on 3/28/2017 12:01:00 PM in The Buzz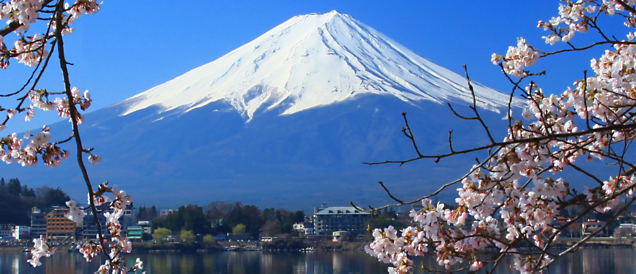 By Mark Frevert, Chief Architect, Overseas Adventure Travel
When we last featured our five most popular adventures in The Inside Scoop, our readers responded so enthusiastically, we decided to make it a monthly feature. It's an important part of my job to monitor travel trends, both amongst O.A.T. travelers and with operators worldwide, so I'm looking forward to sharing updates on a regular basis.
This month proves that some of our longtime favorite journeys are classics for a reason: they're simply must-see places for adventurous travelers. All five of these are perennial favorites that have been in and out of our Top 5 for years.
Our Top 5 Adventures
Tokyo • Hakone • Kanazawa • Kyoto Optional extensions: 3 nights pre-trip in Tokyo; 3 nights post-trip in Hiroshima
Japan happens to be one of Harriet Lewis's all-time favorite destinations, because the Japanese culture is so dramatically different from our own. The people live by a strict code of rules, rituals, and respect—which can be daunting at first, but comforting once you embrace it. The entire country is a fascinating juxtaposition of ancient and ultra-modern—where bullet trains meet Buddhist temples. What other country can count vending machines and toilets amongst its tourist attractions?
Lima • Cuzco • Machu Picchu • Galápagos • Quito Optional extensions: 6 nights pre-trip in the Amazon Rain Forest of Peru or 5 nights pre-trip in Bolivia: La Paz & Lake Titicaca; 5 nights post-trip in Ecuador: The Andes & Devil's Nose Train or 4 nights pre-trip in Colombia: Villa de Leyva & Bogota
"Sustainable tourism" is a buzzy phrase these days—but at its core, all it means is traveling responsibly and protecting our destinations for generations to come. How do we balance our desire to explore fragile places with our responsibility as global citizens to preserve them? Our answer lies with our regional office in Cuzco and local Trip Leaders, who possess both a fierce love of country and an understanding of environmental regulations. Machu Picchu is one of the world's most celebrated manmade wonders, and the fragile ecosystem of the Galápagos has already been threatened by—and saved from—the ignorant missteps of early visitors. To be able to see both on one journey, and to do so with a clean conscience, is an incredible gift.
Casablanca • Rabat • Fez • Sahara Tented Camps • High Atlas Mountains • Marrakesh • Casablanca Optional extensions: 5 nights pre-trip in Tangier, Chefchaouen & the Berbers of the Rif; 4 nights post-trip in Essaouira & Casablanca
Morocco is a classic destination for adventurous travelers—it's practically synonymous with exoticism. We can all conjure visions of camel caravans crossing the blazing orange dunes of the Sahara, and labyrinthine bazaars filled with ornately woven carpets, a rainbow of spices, and hanging metal lanterns. Morocco's proximity to Europe made it an easy draw for American and European writers and artists in the first half of the 20th century, including Paul Bowles, William S. Burroughs, and Henri Matisse. Our travelers prove that it continues to inspire today—at a time when I believe it's more important than ever to experience Muslim culture firsthand.
Delhi • Jaipur • Ranthambore • Agra • Khajuraho • Varanasi Optional extensions: 8 nights pre-trip in Bhutan: The Hidden Kingdom; 5 nights post-trip in Kathmandu, Nepal or 5 nights post-trip in The South of India: Kerala & Cochin
This adventure offers a classic introduction to India—and so much more. A popular tourist's itinerary usually follows the so-called "Golden Triangle," beginning in the capital of Delhi; continuing to the "Pink City" of Jaipur, home to the Palace of the Winds and Jantar Mantar astrological observatory; and culminating in Agra at the Taj Mahal. Our itinerary goes well beyond the expected highlights. We'll seek out wildlife—including the elusive Bengal tiger—in Ranthambore National Park. We camp in tent-roof cottages on a private site surrounded by farming villages. And the finale of Heart of India is Varanasi, the pilgrimage site where devout Hindus perform rituals on the Ganges River.
Bangkok • Luang Prabang • Mekong River Cruise • Vientiane • Phnom Penh • Angkor Wat • Ho Chi Minh City (Saigon) Optional extensions: 7 nights pre-trip in Burma & the Irrawaddy River; 8 nights post-trip in Undiscovered Thailand: The River Kwai, Chiang Rai & Chiang Mai
If you're flying all the way to Southeast Asia, why not see as much of the region as you can while you're there? This adventure touches on four countries, with the opportunity to add a fifth with an optional extension. We spend time in dynamic cities like Bangkok and Ho Chi Minh City (formerly Saigon), and explore the incredible temple complex of Angkor Wat. But the real draw of Southeast Asia is the people—they're truly among the friendliest and most welcoming in the world. The best place to get to know them is off the beaten path, where we've formed relationships in small villages that offer an authentic view of daily life.
You may also like…
The O.A.T. Experience
See what sets O.A.T. apart on all our adventures.
Our Top 10 Travel Trends for 2017
What do our travelers want in a journey?
Kyoto Rising Dawn
Explore a highlight from our #1 trip.