Our Top 5 Solo Adventures
Posted on 4/18/2017 12:01:00 PM in The Buzz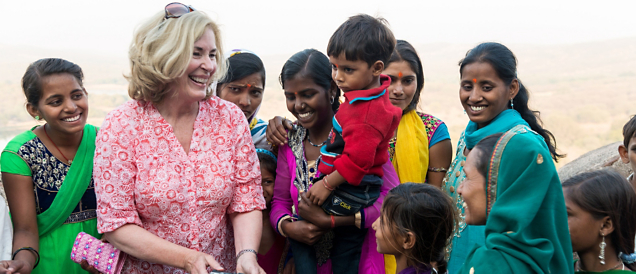 Two out of five O.A.T. travelers explore independently, and of these, 85% are women. Solo travel is on the rise throughout the industry, but we've been solo-friendly for decades—and our travelers have led the charge in a rapidly growing trend.
Why do our travelers go solo? Some have spouses who don't share their travel interests. Others simply prefer the freedom and self-reflection that comes with traveling alone. Whatever the reason, they trust our commitment to helping our solo travelers feel safe, welcome, and well cared for. Our Trip Leaders understand that solo travelers have specific needs—whether it's your first time traveling solo and you need help breaking the ice with your group, or you're an experienced solo traveler looking for unusual adventures during free time. And you'll travel with the comfort of knowing there's a local expert right by your side.
What's more, when it comes to the cost that sometimes comes with traveling solo, we don't believe in penalizing you by charging a single supplement.
So if you've traveled solo with O.A.T. before, thank you—we're looking forward to having you back. And if you've considered traveling solo, but haven't taken the plunge, we hope you'll take that crucial first step. Here's where you'll find most of our solo travelers in 2017:
Our Top 5 Solo Adventures
Delhi • Jaipur • Ranthambore • Agra • Khajuraho • Varanasi Optional extensions: 8 nights pre-trip in Bhutan: The Hidden Kingdom; 5 nights post-trip in Kathmandu, Nepal or 5 nights post-trip in The South of India: Kerala & Cochin
India is not for everybody—but the sensory overload that might put off a less experienced traveler is exactly what appeals to the adventurous soul. And that's why it's a perennial favorite amongst our solo travelers: They're not going to wait for a travel companion to experience this life-changing destination. Our itinerary goes well beyond the expected highlights of Delhi, Jaipur, and Agra (home to the Taj Mahal). We'll also seek out wildlife—including the elusive Bengal tiger—in Ranthambore National Park. We camp in tent-roof cottages on a private site surrounded by farming villages. And the finale of Heart of India is Varanasi, the pilgrimage site where devout Hindus perform rituals on the Ganges River—a place that encourages soul searching and reflection.
Tokyo • Hakone • Kanazawa • Kyoto Optional extensions: 3 nights pre-trip in Tokyo; 3 nights post-trip in Hiroshima
The Japanese culture is so dramatically different from our own. The people live by a strict code of rules, rituals, and respect—which can be daunting at first, but comforting once you embrace it … and also a lot of fun as you're bonding with your fellow travelers. The entire country is a fascinating juxtaposition of ancient and ultra-modern—where bullet trains meet Buddhist temples. What other country can count vending machines and toilets amongst its tourist attractions?
Bangkok • Luang Prabang • Mekong River Cruise • Vientiane • Phnom Penh • Angkor Wat • Ho Chi Minh City (Saigon) Optional extensions: 7 nights pre-trip in Burma & the Irrawaddy River; 8 nights post-trip in Undiscovered Thailand: The River Kwai, Chiang Rai & Chiang Mai
This adventure touches on four Southeast Asian countries, with the opportunity to add a fifth with an optional extension. We spend time in dynamic cities like Bangkok and Ho Chi Minh City (formerly Saigon), and explore the incredible temple complex of Angkor Wat. But the real draw of Southeast Asia is the people—they're truly among the friendliest and most welcoming in the world. The best place to get to know them is off the beaten path, where we've formed relationships in small villages that offer an authentic view of daily life.
Casablanca • Rabat • Fez • Sahara Tented Camps • High Atlas Mountains • Marrakesh • Casablanca Optional extensions: 5 nights pre-trip in Tangier, Chefchaouen & the Berbers of the Rif; 4 nights post-trip in Essaouira & Casablanca
Morocco is a classic destination for adventurous travelers—it's practically synonymous with exoticism. We can all conjure visions of camel caravans crossing the blazing orange dunes of the Sahara, and labyrinthine bazaars filled with ornately woven carpets, a rainbow of spices, and hanging metal lanterns. Morocco's proximity to Europe made it an easy draw for American and European writers and artists in the first half of the 20th century, including Paul Bowles, William S. Burroughs, and Henri Matisse. Our solo travelers prove that it continues to inspire today.
Dubrovnik • Sarajevo • Karanac • Zagreb • Plitvice Lakes • Opatija • Ljubljana Optional extensions: 4 nights pre-trip in Tirana, Albania; 4-nights post-trip in Serboa: Novi Sad & Belgrade
Prior to the Yugoslav Wars, the former Yugoslavia was one of our most popular destinations—but just a year later, Americans wouldn't dare travel to the region. Now, it's so rewarding to see these Balkan nations re-emerging, each with its own proud identity. It really is like seeing history unfold. Our Trip Leaders are encouraged to give an honest portrayal of the past while celebrating the promise of the future. It's a thought-provoking experience that makes for interesting dinner conversation as you unwind at the end of the day.
Hear from our travelers about why they travel solo with O.A.T. in this video: