Top 5: Most Popular Mediterranean Adventures for 2022
Posted on 2/9/2021 12:00:00 AM in The Buzz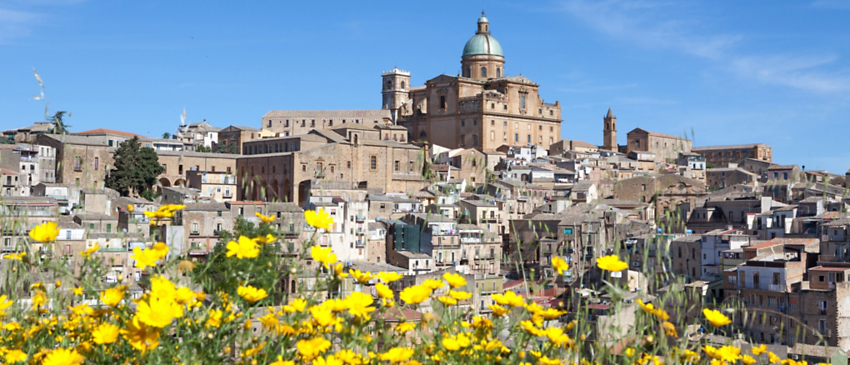 The term "Mediterranean" might conjure seaside charm, sunny weather, and fresh, healthful cuisine—but the region has so much more to offer than blue seas and golden sands. This incredibly diverse part of Europe is home to 21 countries, each with its own unique culture and traditions.
Below, we share our five most popular Mediterranean adventures—including iconic highlights, discoveries off the beaten path, local dishes to try, and people-to-people interactions that are exclusive to O.A.T.
1. Sicily's Ancient Landscapes & Timeless Traditions —15-day O.A.T. Small Group Adventure
Our most popular independent film: The Real Sicily
The Real Sicily
Enjoy Georgio P.'s personal journey from the streets of Palermo to a tiny Sicilian hill town where change takes centuries.
Iconic sights: Visit both the capital of Palermo and the "second city" of Catania, which share a longstanding, spirited rivalry that spans football, cuisine, and even cultural traditions like puppetry. View the twelfth-century Norman cathedral of Monreale, filled with Byzantine mosaics. Go back in time at the spectacularly-preserved Valley of the Temples in Agrigento, built between 510 and 430 BCE. And rumble over the volcanic slopes of Mount Etna in 4-wheel-drive vehicles.
Discoveries on the roads less traveled: Spend A Day in the Life at a family homestead in the province of Ragusa, where we'll learn about life in the heart of the Sicilian countryside and get to know the family who calls it home. Zip along Modica's narrow streets in an iconic, vintage Fiat 500. Travel deep into the Sicilian hinterlands to Piazza Armerina, where we spend the night in an agriturismo surrounded by mountains, forests, and farmland.
Connections with local people: Discuss immigration in Italy at Casa di Maria, Sicily's largest foster family which has grown into an organization that fosters young Italian and foreign children and has been supported in part by Grand Circle Foundation since 2018. Learn about the local Sicilian Mafia, also known as Cosa Nostra, during a conversation with someone who is knowledgeable about the organization. Plus, see what's in the typical cucina Siciliana (Sicilian kitchen) when you sit down for a Home-Hosted Lunch with a Sicilian family in Mazara del Vallo.
Classic dishes to try: Sample street food, including arancini (fried rice balls), a pizza-like snack called sfincione, ricotta-filled cannoli, and a variety of meat and seafood skewers, fritters, and stuffed sandwiches. Famous pasta dishes include pasta alla Norma, with eggplant and tomato; pasta con le sarde with breadcrumbs and sardines; and pasta alla Trapanese, with a tomato-based pesto.
View itinerary
2. Northern Greece, Albania & Macedonia: Ancient Lands of Alexander the Great —18-day O.A.T. Small Group Adventure
Our most popular independent film: Smart Travels with Rudy Maxa: Classical Europe
Smart Travels with Rudy Maxa: Classical Europe
Emmy Award winner Rudy Maxa takes you back to where western civilization all began in ancient Greece and Rome.
Iconic sights: Witness the towering rock formations crowned by the monasteries of Meteora, retreats used by Christian monks while the Ottoman Turks ruled Greece from as early as the 14th century. Hike near the foot of Mount Olympus at the site of Dion, the sacred city of the Macedonians, and the location of the Olympian Games that were held in honor of Zeus and the Muses. Explore the ruins of Butrint, Albania, the site of a Greek colony, a Roman city, and a Byzantine bishopric.
Discoveries on the roads less traveled: Cross into undiscovered Albania to explore the Ottoman-era town of Gjirokaster, and Tirana, whose Communist-era trappings are fading into memory. Enjoy our A Day in the Life experience in the Albanian village of Dhoksat, where you'll meet a goat herder, tour the village, and savor a meal with a local family. Ride a traditional wooden boat through Albania's Matka Canyon, a ruggedly beautiful river gorge. And discover the Republic of Macedonia, a small Balkan nation rich in Greek, Roman, and Ottoman history, including lakeside Ohrid and the capital of Skopje.
Connections with local people: In Kalambaka, meet with artists at an icon-painting workshop to learn about the sacred nature of this artistic tradition. Learn more about the intersection of spirituality and everyday life during a Home-Hosted Dinner with a local family. Enjoy a cooking lesson from a family that owns a local taverna in the small village of Metsovo and taste the results over lunch. Meet with locals to delve into Controversial Topics like the refugee crisis in Greece, domestic violence in Albania, and discrimination against ethnic Albanians in North Macedonia.
Classic dishes to try: In Greece, seek out souvlaki—pita bread with chicken or pork, tzatziki sauce, tomatoes, and fried potatoes—or moussaka, an eggplant-based dish with tomatoes, minced meat, and topped with a white cream sauce. Sample Albanian qebapa, grilled beef and lamb sausages, or perime ne zgare—an appetizer of grilled vegetables, including eggplant, zucchini, tomatoes, onions, and peppers. In Macedonia, try pastrmaylia—a Macedonian bread pie topped with either chicken or pork.
View itinerary
3. Northern Spain & Portugal: Pilgrimage into the Past —17-day O.A.T. Small Group Adventure
Our most popular independent film: Spain & the Basque Country
Spain & the Basque Country
Take a journey through Spain's Basque country, from its coastal marinas to its architecturally-rich city streets.
Iconic sights: Walk along the Camino de Santiago, including the French Way—one of the historic pilgrimage routes recognized on UNESCO's World Heritage List—and spend three nights in Santiago de Compostela, the culmination of the camino. Visit Guernica, devastated by a 3-hour bombing by the German Luftwaffe during World War II, and view the Picasso mural of the same name. Explore Portugal's Douro Valley, where we trace the path of port wine from grape to glass, and discover coastal Porto, one of Europe's oldest cities.
Discoveries on the roads less traveled: Journey into the Basque countryside to explore Ubidea and Otxandio, two off-the-beaten-path towns where matriarchal societies are the norm. Spend A Day in the Life in the quaint Spanish village of Santa Colomba de Somoza, where we'll have a conversation with a local resident at the town hall, meet with young artisans at a craft center supported by Grand Circle Foundation, and get to know a local family over lunch in a traditional Maragato house.
Connections with local people: Visit a family-owned winery for a tasting of txakoli wine, a sparkling dry white that was once just a homemade favorite, and meet the people who make it. We'll also enjoy a Home-Hosted Lunch with a local, middle-class family in Chaves, a rural Portuguese spa town just over the border with Spain. Delve into Controversial Topics including the radical wing of the Basque Independence Party and the complicated relationship between Catholicism and the Spanish monarchy.
Classic dishes to try: In Basque country—one of the world's greatest food destinations—sample tapas-like pintxos; tortilla de txipis, large omelets with candied onions; bonito de norte, a traditional tuna dish; jamon de bellota, an Iberian ham dish; or txangurros (spider crabs), which are typically stuffed with crab meat, onion, tomato, herbs, and bread crumbs. In Portugal, dine on bacalhau (codfish) prepared countless different ways, and don't miss the Francesinha in Porto, a decadent sandwich of thick-cut meat, melted cheese, and sauce.
View itinerary
4. Back Roads of Iberia: Spanish Paradores & Portuguese Pousadas —16-day O.A.T. Small Group Adventure
Our most popular independent film: Smart Travels with Rudy Maxa: Madrid
Smart Travels with Rudy Maxa: Madrid
Join Emmy Award winner Rudy Maxa in the extravagant city of Madrid, "the next thing to heaven."
Iconic sights: Discover Lisbon, the legendary Portuguese capital that has lured traders and settlers for more than 20 centuries. Visit fairytale-like Sintra, situated within a landscape of lush forests and turreted palaces, including—most famously—15th-century Sintra National Palace. View the 6,000-seat Roman theater and adjoining amphitheater of Merida, Spain, a UNESCO World Heritage Site. Marvel at the spectacular setting of Ronda, one of Andalusia's largest white hill towns. Visit the Mezquita, Cordoba's mesmerizing eighth-century mosque and one of the world's largest Islamic buildings. Take in a flamenco demonstration in Madrid.
Discoveries on the roads less traveled: Explore Évora, an ancient Portuguese hilltop town with Roman and Moorish roots. Wander through the Roman-era streets of Carmona, Spain, a picturesque walled town. Spend A Day in the Life at an olive oil mill outside of Úbeda, Spain, where you'll meet with the owners, tour an olive grove and the factory, and enjoy a traditional lunch together. Enjoy eight nights at pousadas and paradores, which are small restored inns in historic monuments—from castles and convents to manor homes and monasteries.
Connections with local people: Enjoy a Grand Circle Foundation visit to the Convent of St. Clare, where local nuns offer their aid to Carmona's poor and homeless. Learn about Controversial Topics including a conversation on racism in Portugal, the morality of bullfighting, and the fate of the Spanish monarchy with local people who are deeply affected by these issues. You'll also sit down for a Home-Hosted Dinner and lively conversation with a Portuguese family in the ancient hillside town of Évora, and visit a traditional artisanal cheese producer in Queijaria Velha.
Classic dishes to try: In Portugal, try different preparations of bacalhau, dried and salted cod; or Acorda a Alentejana, a bread and garlic soup. Savor the bounty of the sea with cataplana, a stew prepared in a copper pot. In Spain, warm up to churros con chocolate and savor the simplicity of a potato and onion omelet called tortilla Espanola. For something a little more adventurous, try caracoles a la andaluza, snails slow-cooked in a rich, spicy broth.
View itinerary
5. Crossroads of the Adriatic: Croatia, Montengro, Bosnia & Herzegovina, and Slovenia —18-day O.A.T. Small Group Adventure
Our most popular independent film: Smart Travels with Rudy Maxa: Croatia and the Dalmatian Coast
Smart Travels with Rudy Maxa: Croatia's Dalmatian Coast
Discover Croatia's Dalmatian Coast—including its crown jewel of Dubrovnik—with Emmy Award winner Rudy Maxa.
Iconic sights: Walk the famous ramparts of Dubrovnik, admiring views of the red rooftops of Old Town and out into the blue Adriatic. Take a boat ride to Kotor, Montenegro, a well-preserved medieval walled town situated at the head of southern Europe's deepest natural bay. In Bosnia & Herzegovina, visit the ancient town of Mostar, famed for its 16th-century bridge. Discover the complex history of Sarajevo, the once-shining example of ethnic diversity that descended into chaos during the Yugoslav wars of the early 1990s. Explore Croatia's famous Plitvice Lakes, a 114-square-mile national park of turquoise lakes, waterfalls, and cascades. Embark on a full-day excursion to Lake Bled, a Slovenian resort area against the backdrop of the Julian Alps.
Discoveries on the roads less traveled: Stay overnight on a family-owned farm in the Croatian village of Karanac. Help out with farm chores, and enjoy a home-cooked meal—one of only two overnight A Day in the Life experiences offered on any O.A.T. adventure. This immersive experience provides an in-depth look into how locals in the region live and work. Drive north of Zagreb to explore the quaint, rural villages of Zagorje, a region of winding country roads, natural springs, and rolling hills—a striking contrast to Croatia's modern capital.
Connections with local people: Discover what life was like during the Bosnian war as we learn about this Controversial Topic through the eyes of a survivor and learn how it continues to impact the daily lives of Sarajevo residents. We'll also sit down for two Home-Hosted Dinners. In Sarajevo, dine with a family that has lived in "Sniper Alley" since before the siege of the city for a perspective of life before, during, and after the war. Later, share a meal in the village of Karanac for an up close and personal view of life in rural Croatia.
Classic dishes to try: Seek out Croatian porki makaruli, sauteed beef and macaroni, and rozata, a traditional Croatian custard crème dessert. End a meal with kadayif, a Bosnian pastry soaked in sweet syrup. In Slovenia, sample local pork sausage, known as krajnska klobasa, or savor jota, a hearty stew made from sauerkraut, kidney beans, potatoes, and garlic. Just make sure you save room for Slovenia's famous cream cake, kremna rezina.
View itinerary