Top 10: UNESCO Intangible Cultural Heritage
Posted on 9/29/2020 12:00:00 AM in The Buzz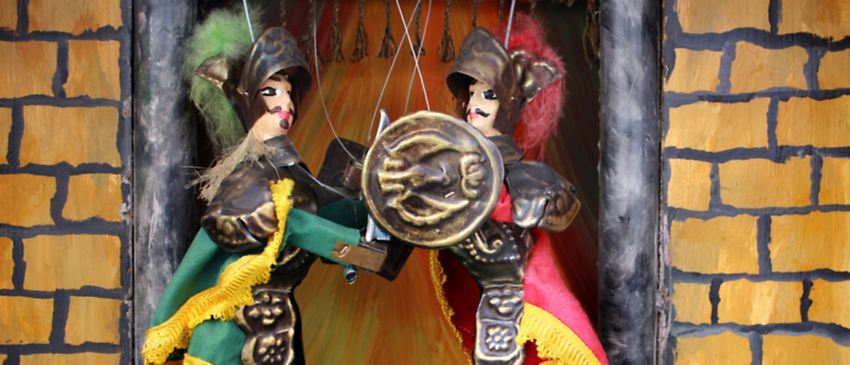 In your travels, you probably already know to seek out World Heritage Sites recognized by the United Nations Educational, Scientific and Cultural Organization (UNESCO), but what about Intangible Cultural Heritage? Created in 2008 and updated each year, this list draws attention to "nonphysical intellectual wealth" that contributes to the cultural heritage of a place—including oral traditions, performing arts, rituals, and craftsmanship—in hopes of preserving them for future generations. Here are 10 you might encounter with O.A.T. in Europe.
10. Greece: Byzantine Chant
Added just last year in 2019, UNESCO describes this 2,000-year-old practice as "a significant cultural tradition and comprehensive music system forming part of the common musical traditions that developed in the Byzantine Empire. Highlighting and musically enhancing the liturgical texts of the Greek Orthodox Church, it is inextricably linked with spiritual life and religious worship." Listen for this form of expression as you explore Orthodox churches and monasteries throughout Greece.
Listen for Byzantine chant with O.A.T. during …
The Aegean Islands, Athens & Istanbul—16-day O.A.T. Small Ship Adventure
Northern Greece, Albania & Macedonia: Ancient Lands of Alexander the Great—18-day O.A.T. Small Group Adventure
9. France: Gastronomic Meal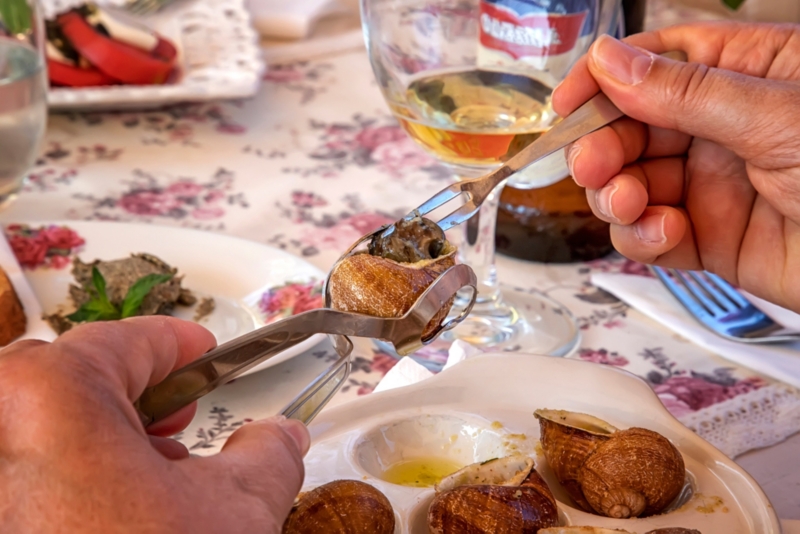 While France is world-renowned for its cuisine, this UNESCO selection focuses not just on the food itself, but also on how the "pleasure of taste" brings people together and strengthens social ties. The format of the meal matters, too: "The gastronomic meal should respect a fixed structure, commencing with an apéritif (drinks before the meal) and ending with liqueurs, containing in between at least four successive courses, namely a starter, fish and/or meat with vegetables, cheese and dessert."
Experience French gastronomy with O.A.T. during …
New! French Impressions: From the Loire Valley to Lyon & Paris—17-day O.A.T. Small Group Adventure
New! French & Italian Rivieras: Marseille, Corsica, Elba & Rome—16-day O.A.T. Small Group Adventure
8. Italy: Processional Structures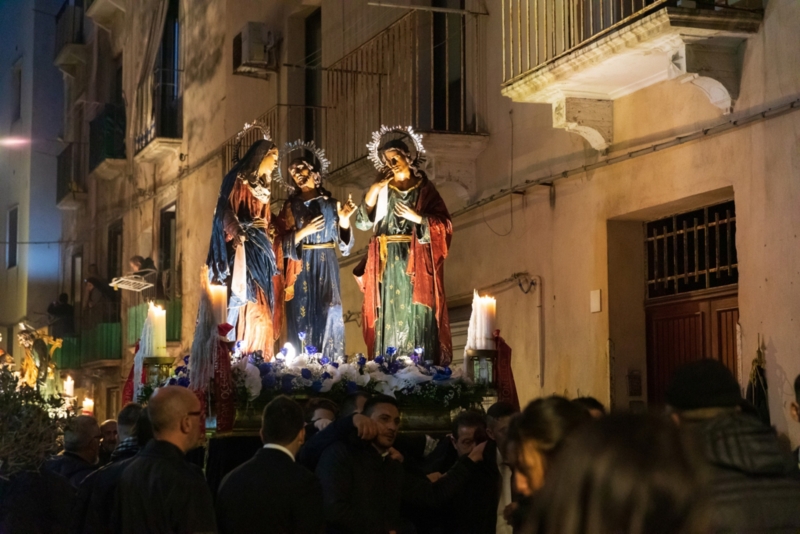 Catholic processions commemorating patron saints take place throughout Italy, and also in Italian-American communities in the U.S. The cultural importance lies not just in the massive, shoulder-borne structures themselves, but also in the many ways the celebrations foster a sense of community. "The coordinated and equitable sharing of tasks in a common project is a fundamental part of the celebrations, which bind the communities together through the consolidation of mutual respect, cooperation and joint effort," writes UNESCO. "The celebrations require the involvement of musicians and singers, as well as skilled artisans who manufacture the processional structures and create the ceremonial clothes and artefacts." If you're lucky enough to visit Italy on the feast day of a patron saint, you might see this tradition in action.
Seek out Catholic processions with O.A.T. during …
Tuscany & Umbria: Rustic Beauty in the Italian Heartland—16-day O.A.T. Small Group Adventure
Sicily's Ancient Landscapes & Timeless Traditions—16-day O.A.T. Small Group Adventure
Northern Italy: The Alps, Dolomites & Lombardy—15-day O.A.T. Small Group Adventure
Undiscovered Adriatic: Eastern Italy, Venice, Puglia & Malta—17-day O.A.T. Small Ship Adventure
Italy's Western Coast & Islands: A Voyage from Rome to Valletta—17-day O.A.T. Small Ship Adventure
New! French & Italian Rivieras: Marseille, Corsica, Elba & Rome—16-day O.A.T. Small Ship Adventure

7. Turkey: Sema Ritual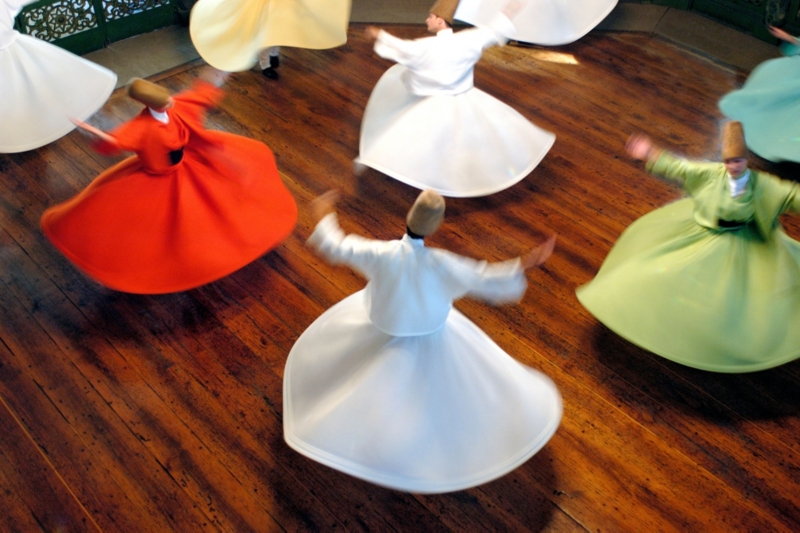 The Semazens, more commonly known as Whirling Dervishes, believe that the fundamental condition of our existence is to revolve. Not so much a dance as a spiritual journey, "the whirlers begin to rotate on their left feet in short twists, using the right foot to drive their bodies around the left foot. The body of the whirler is meant to be supple, with eyes open but unfocused so that images become blurred and flowing." In 1925, the practice was forbidden due to secularization policies, which finally eased in the 1990s. While the ritual was practiced clandestinely, UNESCO posits that the true spiritual significance was lost—and some groups are seeking to reclaim it. With O.A.T., you'll have the opportunity to attend a performance during an optional tour in Cappadocia.
Witness a Sema ritual with O.A.T. during …
Turkey's Magical Hideaways—17-day O.A.T. Small Ship Adventure

6. Czech Republic, Slovakia, Hungary: Indigo Dyeing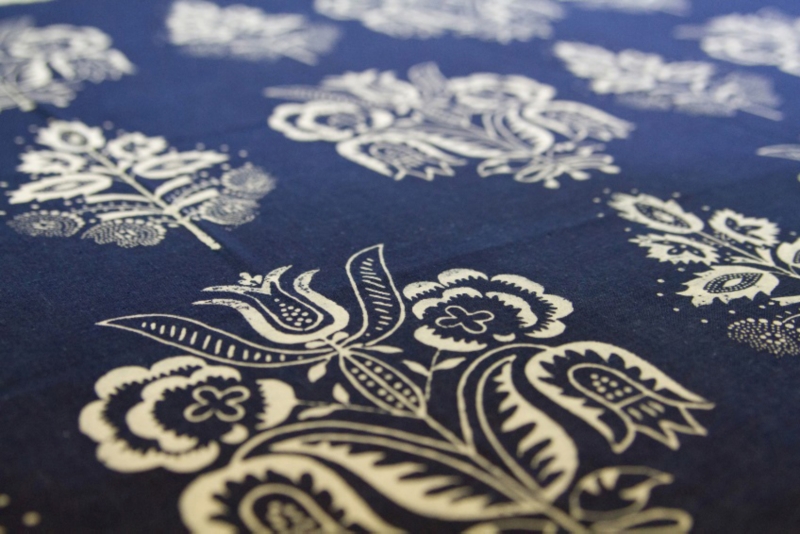 This traditional block printing method has been passed on through generations since the 18th century. Before dyeing, a dye-resistant paste is applied to cloth, so the design remains white and visible after indigo is applied. "To apply the designs onto the cloth, practitioners use hand-crafted blocks that are up to 300 years old, featuring regionally-inspired patterns as well as generic designs or Christian motifs. The representation of local flora and fauna is interrelated with the local culture of the regions." From the spinning of the cloth to the finished product, every step in the creation represents a long-standing family tradition. If you come across an authentic workshop, these textile creations are meaningful souvenirs to bring home.
Seek out indigo-dyed textiles with O.A.T. during …
Jewels of Bohemia: Czech Republic, Slovakia & Hungary—15-day O.A.T. Small Group Adventure

5. Spain: Flamenco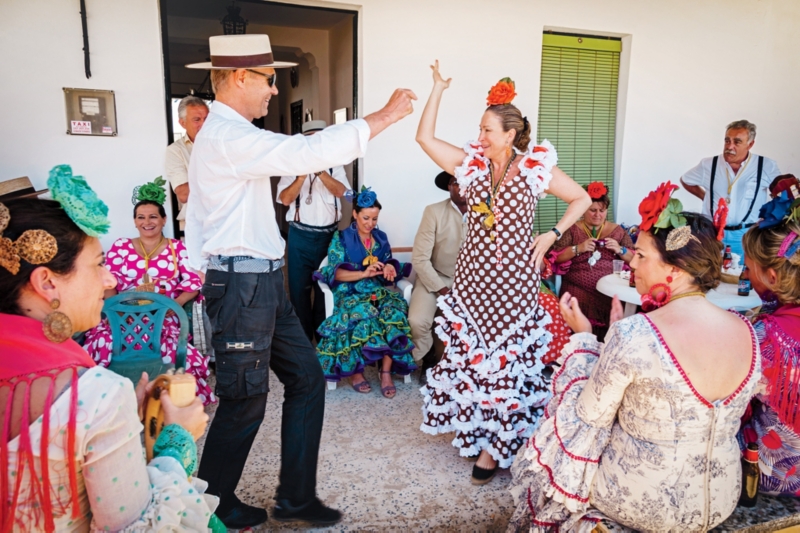 Born in the Andalusian region of southern Spain, flamenco merges dance, song, and musicianship into a passionate form of artistic expression. A solo singer and a guitarist accompany the dancer, who also contributes percussion with castanets, foot-stamping, and clapping. "Flamenco is performed during religious festivals, rituals, church ceremonies and at private celebrations. It is the badge of identity of numerous communities and groups, in particular the Gitano (Roma) ethnic community, which has played an essential role in its development." Depending on your adventure with O.A.T., you'll either attend a performance or take part in a demonstration.
Witness flamenco with O.A.T. during …
Iberian Voyage: Lisbon to Barcelona—15-day O.A.T. Small Group Adventure
Back Roads of Iberia: Spanish Paradores & Portuguese Pousadas—16-day O.A.T. Small Group Adventure
4. Croatia: Becarac Singing
In eastern Croatia, this form of folk music requires quick wit and a flair for improvisation. Within a traditional repertoire of themes, the singers add their own twist to the song, usually involving innuendo and topical humor. "The music conveys community values, but also enables singers to express thoughts and feelings that might be inappropriate if uttered directly or in other contexts. Each lead singer shapes his or her performance according to the context, with the performance lasting as long as the creativity and energy of the singers permit." Becarac is especially popular in Baranja, where we spend A Day in the Life of a Croatian village.
Listen for Becarac with O.A.T. during …
Enhanced! Crossroads of the Adriatic: Croatia, Montenegro, Bosnia & Herzegovina, and Slovenia—18-day O.A.T. Small Group Adventure

3. Ireland: Hurling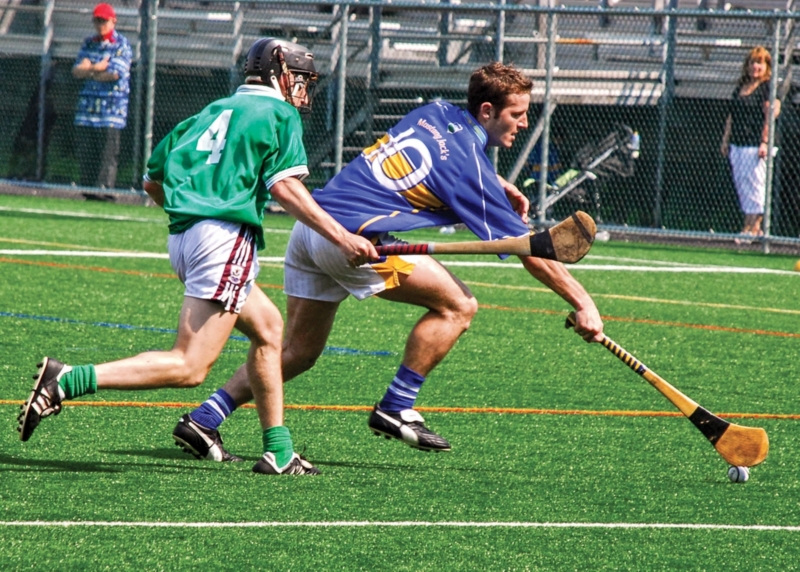 Played by two teams of 15 with a wooden stick similar to a hockey stick, hurling has a 2,000-year history with ties to Irish mythology. "Hurling is considered as an intrinsic part of Irish culture and plays a central role in promoting health and wellbeing, inclusiveness and team spirit. Today, the skills are promoted and transmitted through coaching and games in schools and clubs." On our adventure in Ireland, you'll have the opportunity to visit a sports club in County Clare, where you'll learn about hurling—and practice playing yourself.
Try your hand at hurling with O.A.T. during …
Irish Adventure: Dublin, Belfast & the Northwest Counties—16-day O.A.T. Small Group Adventure

2. Lithuania, Estonia, Latvia: Baltic Song and Dance Celebrations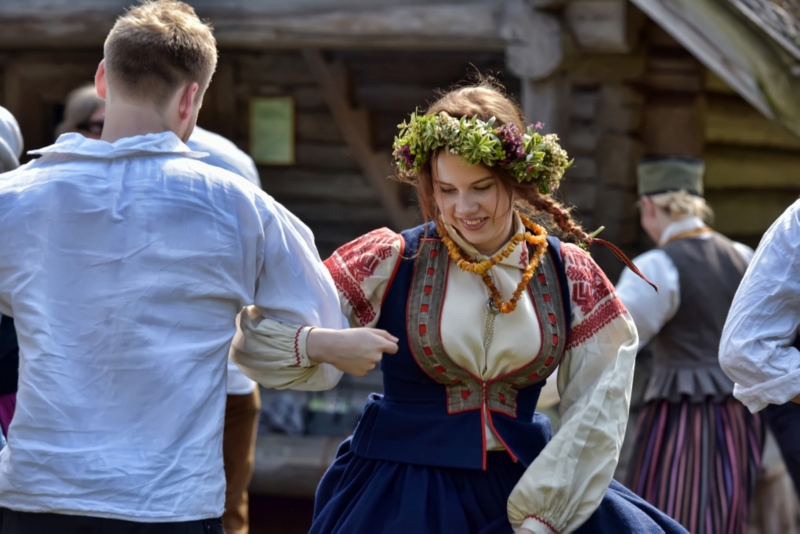 Held every five years in Estonia and Latvia and every four years in Lithuania, these massive song and dance festivals attract tens of thousands of singers to celebrate traditional folk songs and dances. They arrived in the Baltics by way of Germany in the 19th century. "Once the Baltic States gained independence from Russia after the First World War, the celebrations acquired widespread popularity as a means of asserting Baltic cultural identity. In the three countries, special venues and festival sites were constructed to host the events." More recently, the Singing Revolution of the 1980s played a major role in the fight for independence from Russia.
Seek out Baltic song and dance with O.A.T. during …
The Baltic Capitals & St. Petersburg—16-day O.A.T. Small Group Adventure
Grand Baltic Sea Voyage—14-day O.AT. Small Ship Adventure
1. Sicily: Puppet Theater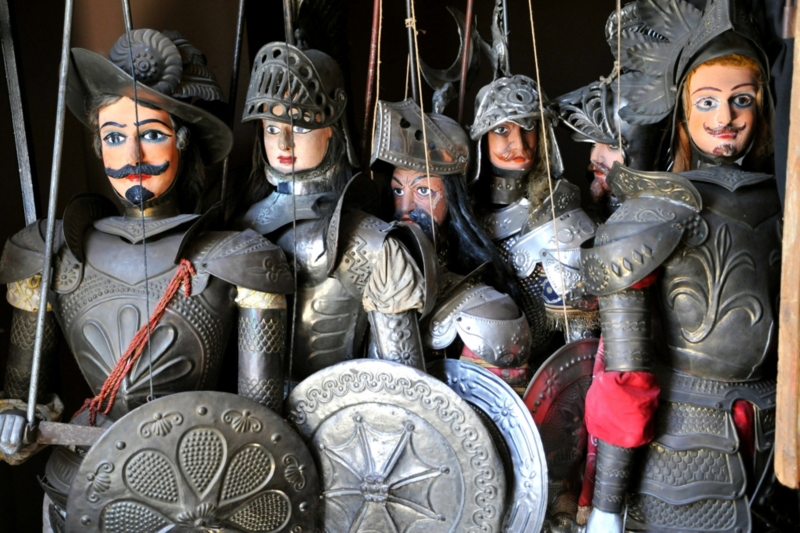 Palermo and Catania each have their own unique school of puppetry—one of many good-natured rivalries between the two towns. Technically performed with marionettes versus puppets (which fit over the hand), performances tell stories that loosely represent history—with folklore and comedy sprinkled in. "These theatres were often family-run businesses; the carving, painting and construction of the puppets, renowned for their intense expressions, were carried out by craftspeople employing traditional methods. The puppeteers constantly endeavoured to outdo each other with their shows, and they exerted great influence over their audience." Ask your Trip Experience Leader about opportunities to experience Sicilian puppetry during free time in both Palermo and Catania.
Seek out Sicilian puppet theater with O.A.T. during …
Sicily's Ancient Landscapes & Timeless Traditions—16-day O.A.T. Small Group Adventure
Italy's Western Coast & Islands: A Voyage from Rome to Valletta—17-day O.A.T. Small Ship Adventure
Undiscovered Adriatic: Eastern Italy, Venice, Puglia & Malta—17-day O.A.T. Small Ship Adventure