Top 10 Trips for Solo Travelers
Posted on 1/2/2018 12:00:00 AM in The Buzz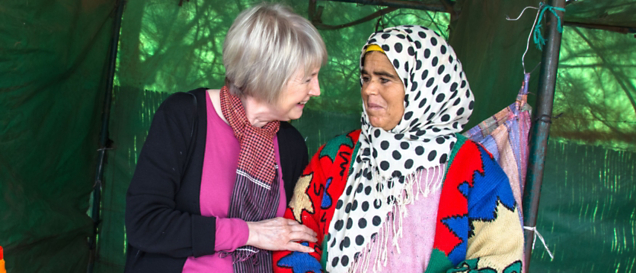 A traveler connects with a local woman at a market in Meknes during Morocco Sahara Odyssey—currently our most popular adventure amongst solo travelers.
Whether they're thinking of traveling on their own or bringing along a friend, our solo travelers know that they'll experience a sense of camaraderie within their group, no matter where they choose to go. With that being said, there are definitely some itineraries that stand out. Check out our current list of trips that solo travelers are reserving now.
Casablanca • Rabat • Fez • Sahara Tented Camps • High Atlas Mountains • Marrakesh • Casablanca Optional extensions: 5 nights pre-trip in Tangier, Chefchaouen & the Berbers of the Rif; 4 nights post-trip in Essaouira & Casablanca
Morocco is a classic destination for adventurous travelers—it's practically synonymous with exoticism. We can all conjure visions of camel caravans crossing the blazing orange dunes of the Sahara, and labyrinthine bazaars filled with ornately woven carpets, a rainbow of spices, and hanging metal lanterns. Morocco's proximity to Europe made it an easy draw for American and European writers and artists in the first half of the 20th century, including Paul Bowles, William S. Burroughs, and Henri Matisse. Our solo travelers prove that it continues to inspire today.
Hwange • Kafue • Chobe • Okavango Delta • Victoria Falls Optional extensions: 4 nights in Private Game Reserve Safari: Quest for South Africa's Big 5;
4 nights in Cape Town & the Cape of Good Hope
From world-famous Chobe National Park to the lush Okavango Delta, from Africa's spectacular big game to its colorful local cultures—this is the ultimate African safari. Observe elephants in Chobe National Park … enjoy a warm welcome when your small group visits a village near Hwange National Park … feel the rumble of Victoria Falls roaring in the distance … and exchange stories with your travel companions around a fire under a star-filled sky. Experience small lodges and tented camps, game-viewing drives and guided walks with our sharp-eyed Trip Leaders, and local village visits.
Japan: Tokyo, Hakone, Kanazawa, Kyoto Optional extensions: 3 nights in Tokyo; 3 nights in Hiroshima
The Land of the Rising Sun welcomes you with elaborate traditions, high-tech wonders, and the iconic beauty of Honshu Island. See Tokyo, ride the Bullet Train past Mt. Fuji, admire the classic architecture of Kyoto, and experience a Day in the Life of a Ashigawa village on this fascinating immersion into Japanese culture, past and present.
Croatia: Dubrovnik • Montenegro: Kotor • Bosnia & Herzegovina: Sarajevo • Croatia: Karanac, Zagreb, Plitvice Lakes, Opatija • Slovenia: Ljubljana Optional extensions: 4 nights in Tirana, Albania; 4 nights in Serbia: Novi Sad & Belgrade
Discover the fascinating heritage of the Balkans while witnessing stunning coastal scenery, exploring ancient walled cities, and experiencing the pride and resilience of the people of these re-emerging nations in the heart of the Balkans. Delve into the many facets of Croatia, from the elegant walled city of Dubrovnik to the seaside resorts dotted with Roman ruins along the Istrian Peninsula. In Bosnia & Herzegovina, discover Sarajevo's long history of multicultural tolerance. In tiny Montenegro, witness bare mountains plunging into the sea at the Bay of Kotor; and journey inland to Slovenia, a forest-clad country of emerald meadows, clear lakes, and the towering peaks of the Julian Alps.
Spain: Bilbao, San Sebastian, Pamplona, León, Santiago de Compostela • Portugal: Douro Valley, Porto Optional extensions: 5 nights in Southern France: Carcassonne & Bayonne; 4 nights in Lisbon, Portugal
As you travel through Spain and Portugal, you'll experience the full breadth of the region's delights, from Bilbao's incomparable Guggenheim Museum to the humble tradition of clam-digging in Cambados. You'll sample the wines of both countries, visiting the places where they're made, and enjoy a Home-Hosted meal with a local family. By exploring villages up to 3,000 years old, visiting five UNESCO World Heritage Sites, and strolling through historic markets, you'll see what makes these two enduring cultures so unforgettable.
Sicily: Palermo, Mazara del Vallo, Piazza Armerina, Ragusa, Catania Optional extensions: 5 nights in Puglia: Italy's Undiscovered Heel; 5 nights in Calabria: Southern Italy's Heartland
Experience the isle's full enchantment on a journey from the bustling streets of Palermo and striking Greek temples of Agrigento to the Baroque beauty of Ragusa and Catania. Hear the rumbling groans of Mount Etna. Witness the splendor of palazzi and villas and visit quaint fishing villages.
Arusha • Tarangire • Oldupai Gorge • Serengeti National Park • Ngorongoro Highlands & Crater Optional extensions: 4 nights in Kenya's Masai Mara Game Reserve; 3 nights in the Foothills of Kilimanjaro, Tanzania; 5 nights in Zanzibar, Tanzania
Travel to Tanzania to explore the world's densest concentration of wildlife, as our expert driver-guides help you seek out the most elusive game. Immerse yourself in the local culture through rewarding visits to schools and villages. At night, retire to unique and varied lodgings, including a four-night stay at our O.A.T. private tented camp in the Serengeti, where delicious cuisine and first-rate service close out each day of discovery.
Lima • Cuzco • Machu Picchu • Galápagos • Quito ABOARD A PRIVATELY-CHARTERED GALÁPAGOS SMALL SHIP Optional extensions: 6 nights in The Amazon Rain Forest of Peru; 6 nights in Colombia: Bogotá & Medellín; 7 nights in Bolivia: La Paz, Lake Titicaca & Uyuni
Travel to Machu Picchu and the Galápagos Islands with O.A.T. to discover two of Latin America's most important destinations. First, follow in the footsteps of the ancients as you walk among the impressive ruins of the "Lost City of the Incas" and experience Peruvian culture in the Andean landscape of the Sacred Valley. Then continue to Ecuador's Galápagos Islands, where you may swim in unspoiled coves with rollicking sea lions as your playmates. You'll also find a living laboratory of Darwin's theory of evolution in these "Enchanted Isles."
9. Heart of India—17-day O.A.T. Small Group Adventure
Delhi • Jaipur • Ranthambore • Agra • Khajuraho • Varanasi Optional extensions: 8 nights pre-trip in Bhutan: The Hidden Kingdom; 5 nights post-trip in Kathmandu, Nepal or 5 nights post-trip in The South of India: Kerala & Cochin
India is not for everybody—but the sensory overload that might put off a less experienced traveler is exactly what appeals to the adventurous soul. And that's why it's a perennial favorite amongst our solo travelers. Our itinerary goes well beyond the expected highlights of Delhi, Jaipur, and Agra (home to the Taj Mahal). We'll also seek out wildlife—including the elusive Bengal tiger—in Ranthambore National Park. We camp in tent-roof cottages on a private site surrounded by farming villages. And the finale of Heart of India is Varanasi, the pilgrimage site where devout Hindus perform rituals on the Ganges River—a place that encourages soul searching and reflection.
Lithuania: Vilnius, Klaipeda • Latvia: Riga • Estonia: Tallinn • Russia: St. Petersburg Optional extensions: 5 nights in Krakow & Warsaw, Poland; 3 nights in Moscow, Russia
Travel to the Baltic capitals and discover the turrets, spires, and winding cobbled streets of Vilnius, Riga, and Tallinn—three capitals that managed to lovingly preserve the timeless elegance of their Old Towns as UNESCO World Heritage Sites. Then cast your eyes to Mother Russia for an in-depth discovery of the wonders of St. Petersburg, the glorious city on the Neva founded by Peter the Great early in the 18th century as a showcase for Russia's imperial might.