Top 10 Most Popular New Trips for 2018
Posted on 11/7/2017 12:00:00 AM in The Buzz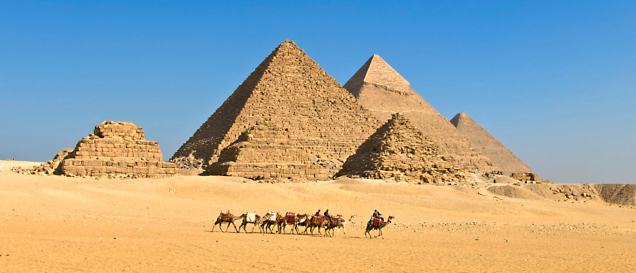 It's clear our travelers have been anticipating our return to Egypt: You'll find two different ways to explore this land of antiquity—by both land and ship—on this list.
As 2017 starts to wind down, we're excited about the adventures that are just around the corner, including a number of new itineraries we'll be offering in 2018. In addition to our much-anticipated return to Egypt, our travelers are also gearing up for some unique experiences in places such as Ireland, Norway, and even Uzbekistan. Check out this list of the top ten new itineraries travelers are jetting off for in 2018.
Top 10 New Trips for 2018
ABOARD OUR PRIVATELY OWNED 89-PASSENGER M/V CLIO
Israel: Tel Aviv, Jaffa, Haifa, Tiberias, Golan Heights • Egypt: Suez Canal, Giza Pyramids, Luxor & Valley of the Kings • Jordan: Aqaba, Wadi Rum, Petra, Madaba, Mt. Nebo, Dead Sea, Bethany Beyond the Jordan • Allenby Bridge Border Crossing • Israel: Jerusalem Optional extensions: 5-night Palestinian Discovery; 4 nights in Jerusalem & Masada, Israel
At the heart of this adventure is a six-night cruise from the Mediterranean to the Red Sea. In small groups of no more than 25, unravel a complex web of faiths during visits to icons like the Church of the Holy Sepulchre and the Mount of Olives … uncover the mysteries of Egypt's Pyramids and Sphinx … and explore the awe-inspiring city of Petra. Throughout your journey, the region's geography will be revealed as you hike, sail, and ride across a diversity of landscapes: from the pastoral slopes of the Golan Heights, to the man-made might of the Suez Canal, and the jagged mountains of sunburnt Wadi Rum, beloved by Lawrence of Arabia.
Milan • Tirano • Franciacorta • Verona • Bressanone (Dolomites) • Bassano del Grappa Optional extensions: 4 nights in Genoa & Cinque Terre; 4 nights in Venice
This scenic region of woodlands, vineyards, and lush valleys is home to an enchanting juxtaposition of Italian and Austrian culture. On this journey, meet fishermen and farm families, see what puts the sparkle in Franciacorta wines, and experience the legends of the Ladins, a unique culture hidden deep in the valleys of the Dolomites. And ride through the majestic Alps into Switzerland aboard the legendary Bernina Express.
ABOARD A HURTIGRUTEN NORWEGIAN COASTAL VOYAGE SHIP
Norway: Oslo, Flam, Bergen, Alesund, Trondheim, Rorvik, Bodo, Svolvaer, Tromso, Kirkenes • Finland: Ivalo, Helsinki Optional extensions: 4 nights in Copenhagen, Denmark; 3 nights in Stockholm, Sweden
An active part of Norway's maritime heritage, Hurtigruten's fleet of 400- to 1000-passenger steamer ships regularly sails into local harbors to deliver supplies and travelers to hard-to-reach towns. In a small group of no more than 25, we'll board this unique mode of transit, cruising along Norway's coast near the top of the world—crossing the Arctic Circle—and stepping ashore to discover small, colorful cities and quiet fishing villages. Sail through majestic fjords, carved by glaciers throughout the Ice Age. Then disembark to explore the Lapland region.
ABOARD OUR PRIVATELY-CHARTERED RIVER-YACHT THE ASIYA Egypt: Cairo, Luxor, 5-night Nile River-Yacht cruise, Abu Simbel, Aswan, Cairo Optional extensions: 4 nights in Jerusalem, Israel; 5 nights in Alexandria, Egypt
Journey back to the days of the pharaohs and experience the romance of the golden age of travel with five nights aboard an elegant classic river-yacht—exclusive to our small group—as we slowly drift along the fabled waters of the Nile. Discover ancient Egypt's enduring legacy, from the treasures of Tutankhamen in Cairo and great temples of Luxor to the remote Valley of the Kings and tranquil enchantment of Aswan—while meeting with modern-day fishermen and fellaheen (farmers). And when we're not cruising, stay in Egypt's most palatial, historic hotels, where you will relive the elegance and glamour of the pioneering days of Egyptian travel.
Ireland: County Clare, Connemara, Donegal • Northern Ireland: Derry, Belfast • Ireland: Dublin Optional extensions: 5 nights in County Kerry: Killarney & Dingle; 4 nights in Dublin, Ireland
Encounter a new side of Ireland's legendary wonders as you explore thousands of years of history along the island's northern coast. Whether it's the stunning Cliffs of Moher and Slieve League rising from the Atlantic; the mysterious Hill of Tara strewn with ancient monuments, like the mythical Stone of Destiny; or the sociopolitical art inspired by the Troubles, the rich history and natural splendor witnessed along the Emerald Isle is sure to captivate you.
South Africa: Johannesburg, Kruger National Park • Swaziland: Mbabane • South Africa: Hluhluwe, Port Elizabeth, Tsitsikamma, Cape Town Optional extensions: 4 nights in Big Five Bush Safari: Entabeni Game Reserve; 3 nights in Victoria Falls, Zimbabwe; 3 nights in Cape Town
Journey into South Africa and Swaziland where you'll explore the open wilderness in safari vehicles ... step into local families' homes in rural villages and cosmopolitan cities ... and let harbor towns charm you along the famed Garden Route. Join O.A.T. on an adventure that takes you into the city streets of Johannesburg and Cape Town; the forests and bush plains of Kruger National Park and Hluhluwe-Umfolozi Game Reserve; and the mountainous kingdom of Swaziland.
ABOARD OUR PRIVATELY OWNED 50-PASSENGER M/V ARTEMIS OR M/V ARETHUSA
Italy: Rome, Ponza, Pozzuoli, Procida, Sorrento, Paestum, Salerno • Sicily: Aeolian Islands, Strait of Messina, Mount Etna, Siracusa • Malta: Valletta, Hagar Qim Temple, Marsaxlokk, Mdina Optional extensions: 5 nights in Tuscany: Florence & Siena; 5 nights in The Langhe Countryside & Lake Orta
Marvel at the treasures on display in the "Eternal City" of Rome, and revel in one of the most romantic gardens—home to ruins and roses—in Ninfa. Then cruise along the sparkling Tyrrhenian Sea from the Italian mainland to cozy harbors and ports to see how the locals live in these hidden gems. Connect with the culture through visits to a local mozzarella cheese farm in timeworn Paestum and the knightly organization that continues to keep watch over Malta's walled capital city of Valletta. Aboard our 50-passenger small ship, you'll experience an authentic side of Italy, Sicily, and Malta you never could have imagined—and make memories you'll never forget.
ABOARD OUR PRIVATELY OWNED 50-PASSENGER M/V ARETHUSA
Italy: Venice • Slovenia: Piran • Croatia: Pula, Rovinj • Italy: Aquileia, Trieste Optional extensions: 6 nights in Ravenna & Padua, Italy; 5 nights in Verona & Lake Como, Italy
Experience the history-steeped gems of the Venetian Republic from Italy to Slovenia and Croatia. Follow the cobbled squares and winding canals of the floating city of Venice, before setting sail on the sparkling Adriatic Sea in the ideal season—when the weather's mild and the summer crowds are thinning out. You'll enjoy exclusive Discovery Series events, including an olive-oil tasting, and feel the warmth of a Slovenian welcome during a Home-Hosted Visit. Walk in ancient footsteps at Roman Aquileia, find inspiration where James Joyce once did in Trieste, ponder more recent history at World War I and II sites, and visit Collio Wine Country for a tasting on a journey worth raising a glass to.
Iceland: Reykjavik, Vik, Fludir Optional extensions: 4 nights in Copenhagen, Denmark; 3 nights in Worlds of Fire: Iceland's Westman Islands
Travel to a wonderland of icy waterfalls, crystalline tunnels, and black-sand beaches dusted with diamantine icebergs. This is Iceland in the winter, a fantasy landscape that never gets too cold thanks to its Gulf Stream position. Short sunlight hours are made beautiful as the low-hanging sun bathes the country in golden light during the winter days, and darkness brings glimpses of the northern lights dancing across the night sky during the long nights. Witness Iceland's iconic natural scenes with a dusting of pure snow; float in comforting, warm thermal pools beneath the stars; and explore a glacier from within its pure blue ice tunnels.
Ashgabat, Turkmenistan • Uzbekistan: Nukus • Khiva • Bukhara • Samarkand • Tashkent Optional extensions: 7 nights in Kyrgyzstan & Kazakhstan; 6 or 7 nights in Tajikistan: Khujand & Dushanbe
Central Asia beckons as one the most ancient and mysterious corners of the globe. Discover Turkmenistan's white-marbled capital of Ashgabat and Uzbekistan's ancient city of Khiva. Then explore the medieval streets of two of the Silk Road's most iconic cities—Bukhara and Samarkand, Tamerlane's ancient capital. In Tashkent, relive the romance of traders laden with precious silks and spices in the historic land where Uzbek hospitality still reigns supreme.
While these are currently our most popular new adventures, we've announced several more for both the 2017 and 2018 travel seasons. You can view the complete list here.