Top 10: World National Parks
Posted on 8/6/2019 12:00:00 AM in The Buzz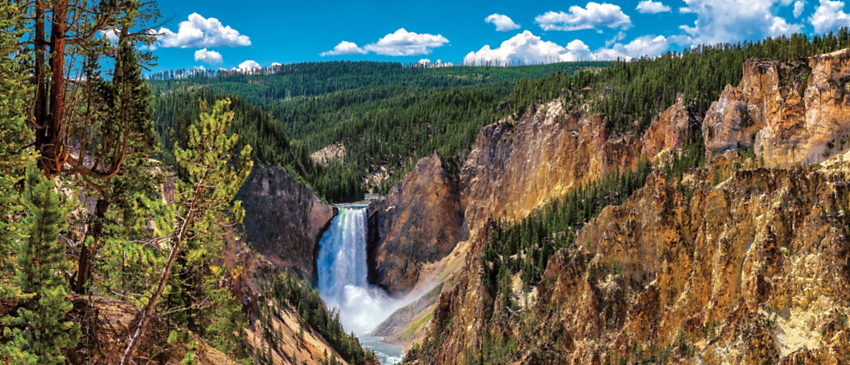 While our very own Yellowstone is commonly hailed as the first official national park, legally protected areas elsewhere on Earth predate it by nearly a century. Still, the historic designation of Yellowstone as "a public park or pleasuring-ground for the benefit and enjoyment of the people" now applies to thousands of natural treasures around the world—many of which you can explore with O.A.T. and Grand Circle. Here are 10 of our favorites.
10. Plitvice National Park, Croatia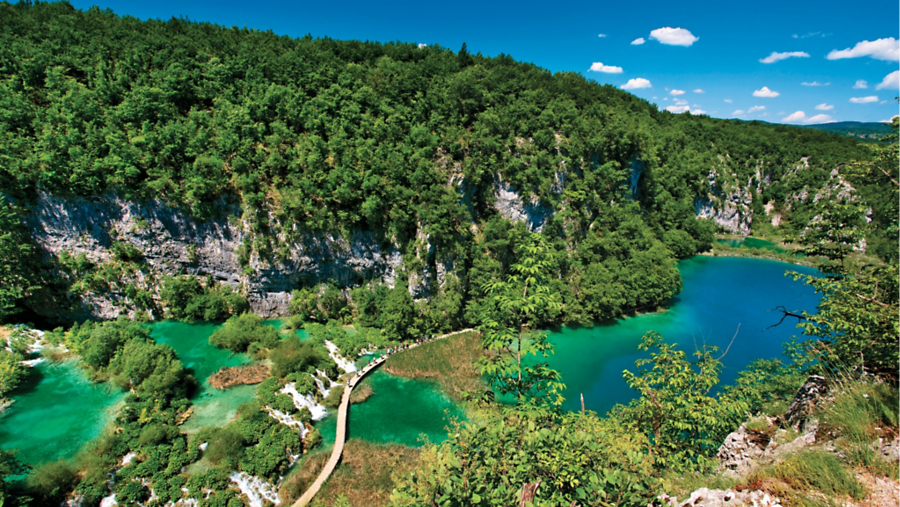 Deep within Croatia's mountainous central region, a stone's throw from the border with Bosnia and Herzegovina, lies one of Europe's most intriguing natural wonders: Plitvice Lakes National Park. Stretching out over 114 heavily-forested square miles, this UNESCO World Heritage Site is comprised of 16 turquoise, green, and azure lakes laced together by waterfalls coursing over limestone ridges. This collection of pools is divided into an upper section—home to the park's largest lake—and a lower section, featuring the tallest waterfall in Croatia. Both can be explored via wooden footpaths that snake over crystalline waters rimmed by beech, spruce, and fir trees, and adorned with tiny rainbows tossed into the air by the cascades' spray.
Explore Plitvice during …
Enhanced! Crossroads of the Adriatic: Croatia, Montenegro, Bosnia & Herzegovina, and Slovenia—18-day O.A.T. Small Group Adventure
Hidden Gems of the Dalmatian Coast & Greece—16-day O.A.T. Small Ship Adventure
9. Uluru-Kata Tjuta National Park, Australia
The Outback, home to flat, arid plains located in central Australia, is also called the Red Centre. This remote location is also considered the heart of Australia's original inhabitants, the Aboriginal people. The word "aborigine" means "from the beginning" in Latin. Indeed, Australia's tribal people, grouped together as aborigines, are among the oldest civilizations on Earth. They are the spiritual caretakers of iconic Uluru—or Ayers Rock—a natural phenomenon in the form of an awe-inspiring 1,142-foot-high natural sandstone monolith. The cave walls are adorned with colorful Aboriginal art depicting kangaroos, frogs, turtles, and the seasons. Uluru, the centerpiece of Uluru-Kata Tjuta National Park, a UNESCO World Heritage Site, projects red-orange hues that glow, as if lit from within as the sun goes down and twilight sets in.
Explore Uluru-Kata Tjuta during …
Australia & New Zealand: An Adventure Down Under—30-day O.A.T. Small Group Adventure
Enhanced! Australia & New Zealand—17-day O.A.T. Small Group Adventure
Melbourne & the Outback pre-trip extension on Ultimate Australia—19-day Grand Circle Travel Tour
8. Ranthambore National Park, India
Located near the town of Sawai Madhopur, Ranthambore National Park is one of the eleven sites chosen for Project Tiger: India's national tiger conservation program and the largest such effort in the world. The park is comprised of more than a hundred square miles of deciduous forest and several large lakes, and until 1970 it was a hunting preserve of the Maharajas. Though it is rare, visitors can spot the Royal Bengal tiger, usually sleeping by day in the tall grass. A recent census showed 26 tigers in the reserve. The park also features lakes that hold crocodiles and a wide variety of water birds in season. More than 450 bird species frequent this area, from crested serpent eagles to painted storks.
Explore Ranthambore during …
Heart of India—17-day O.A.T. Small Group AdventureTravel Tour
7. Chobe National Park, Botswana
Botswana's first-ever national park—and third largest by area—Chobe is made up of four distinct ecosystems that together offer one of the greatest concentrations of wildlife in all of Africa. The park's elephant population alone exceeds 50,000, and is comprised of the world's largest elephants in existence: the Kalahari elephant. Floodplains and woodlands along the banks of the Chobe River are home to giraffe, buffalo, and birds such as spoonbills, Egyptian geese, cormorants, darters, and carmine bee-eaters. Marshes, savannahs, and grasslands attract warthog, zebra, and wildebeest. Lions, leopards, and hippos can be found in and around the park's riverine woodlands and lagoons.
Explore Chobe during …
Ultimate Africa: Botswana, Zambia & Zimbabwe Safari—17-day O.A.T. Small Group Adventure
Out of Africa: Botswana, Zambia, Zimbabwe, Kenya & Tanzania—34-day O.A.T. Small Group Adventure
Southern Africa Safari & Lake Kariba Cruise: South Africa, Zimbabwe & Botswana—18-day O.A.T. Small Group Adventure
6. Fiordland National Park, New Zealand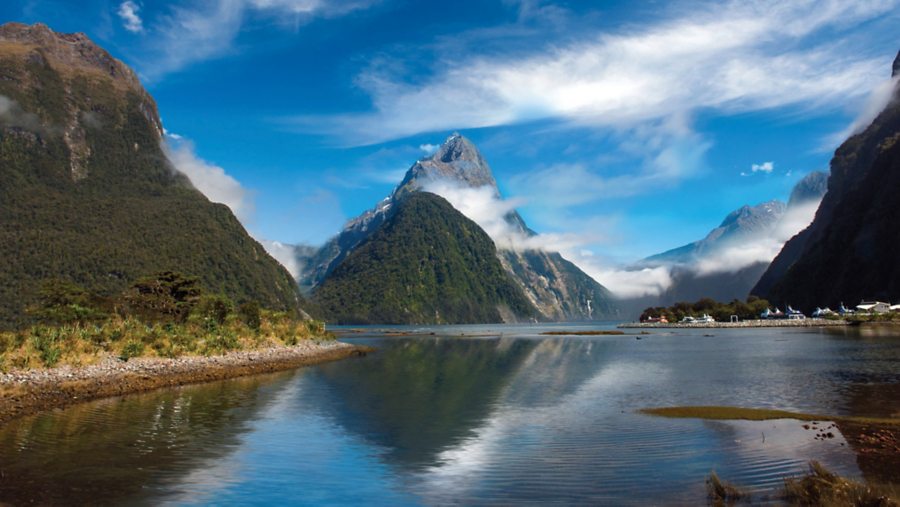 One of the crown jewels of Fiordland National Park on New Zealand's South Island is Milford Sound, which opens up into the Tasman Sea. The sound, actually a fjord, was carved by retreating glaciers that left valleys to be filled in with water from the ocean. Surrounding the fjord are cliffs that rise 3,900 feet into the air, year-round waterfalls, and animal-like mountains. The Elephant, said to resemble the head of an elephant, and the Lion, known for its feline characteristics, both tower over the waterway at over 4,000 feet tall, but the most commanding presence is Mitre Peak: one of the world's tallest at over 5,500 feet high. Fiordland's natural wonders can be enjoyed by boat, kayak, helicopter, or on foot.
Explore Fiordland during …
Enhanced! Pure New Zealand—17-day O.A.T. Small Group Adventure
New Zealand: Natural Wonders North & South—17-day O.A.T. Small Group Adventure
Enhanced! Australia & New Zealand: An Adventure Down Under—30-day O.A.T. Small Group Adventure
5. Göreme National Park & Cappadocia, Turkey
The whimsical landscapes of Cappadocia might have sprung from a fantasy novel. Volcanic eruptions millions of years ago created layers of soft tufa rock that the wind sculpted into thousands of towering "fairy chimneys," a panorama of giant dripping cones, gravity-defying spires, and undulating cliffs, all changing colors with the passing clouds and shifting angle of the sun. Early Christians sought refuge in this sprawling expanse of ancient rock formations, carving out homes, frescoed chapels, and entire underground cities to escape persecution. One of the highlights of Cappadocia is Göreme Open-Air Museum, a Byzantine monastic complex located just outside the village of Göreme. Comprised of a cluster of rock-cut churches, chapels, and monasteries mostly dating from the 10th to 12th centuries, it is also one of Turkey's first UNESCO World Heritage Sites.
Explore Göreme during …
Turkey's Magical Hideaways—17-day O.A.T. Small Group Adventure
4. Galápagos National Park, Ecuador
Peppered in the Pacific Ocean 600 miles off the coast of Ecuador, the Galápagos Islands are an archipelago of 20 volcanic islands, each home to a diverse array of wildlife, flora, and landscapes—from white sand beaches to black and red volcanic rock. Known as the "Enchanted Isles," the Galápagos is home to some of the highest levels of endemic flora and fauna on Earth. Due to not having any natural predators, animals on the island, such as sea lions, marine iguanas, blue-footed boobies, giant tortoises, and others, can be playful or downright oblivious, allowing visitors to get up close and personal.
Explore the Galápagos during …
Ultimate Galápagos Exploration & Ecuador's Amazon Wilds—16-day O.A.T. Small Group Adventure
Machu Picchu & the Galápagos—17-day O.A.T. Small Group Adventure
3. Torres del Paine National Park, Chile
Soaring 6,500 feet over the Patagonian steppe, a trio of granite peaks known as Torres del Paine (Blue Towers) anchors an epic national park of the same name. Once a sprawling landscape of sheep farms, it was declared a national park by Chile in 1959, after sharp-eyed conservators recognized its pristine beauty and natural diversity. Over the course of its 935-square-mile footprint, the landscape evolves from grasslands to dense forest to glacier-cut fjords and valleys. Even the weather is constantly shifting: Chileños like to say you can experience all four seasons in a single day here. Home to ostrich-like ñandús, Andean condors, flamingos, and guanacos, Torres del Paine is now a UNESCO Biosphere Reserve as well.
Explore Torres del Paine during …
The Wilderness Beyond: Patagonia, Tierra del Fuego & the Chilean Fjords—15-day O.A.T. Small Group Adventure
Chile & Argentina: The Andes to Patagonia—18-day O.A.T. Small Group Adventure
Exploring South America: Rio, Buenos Aires, Patagonia & Chilean Fjord Cruise—19-day O.A.T. Small Ship Adventure
2. Serengeti National Park, Tanzania
Named after a Maasai word meaning "land that runs on forever," the endless plains of the Serengeti are sure to leave a lasting impression. Founded in 1951, Serengeti National Park is Tanzania's oldest park, and its 5,700 square miles of protected plains, riverine bush, woodland, and acacia grassland, have collectively been designated as a UNESCO World Heritage Site in recognition of its ecological significance and biodiversity. With what may be the largest population of lions in all of Africa; more than 500 bird species; and a host of other animals including cheetah, leopard, elephant, the rare black rhino, and more, the Serengeti's diversity of wildlife is unrivaled. This is especially evident during the great migration, a yearly phenomenon where hordes of animals—including more than a million wildebeest and 200,000 zebras—cross the plains of Tanzania into Kenya in search of new grazing lands and water.
Explore the Serengeti during …
Safari Serengeti: Tanzania Lodge & Tented Safari—13-day O.A.T. Small Group Adventure
The Best of Kenya & Tanzania—18-day O.A.T. Small Group Adventure
Out of Africa: Botswana, Zambia, Zimbabwe, Kenya & Tanzania—34-day O.A.T. Small Group Adventure
1. Yellowstone National Park, United States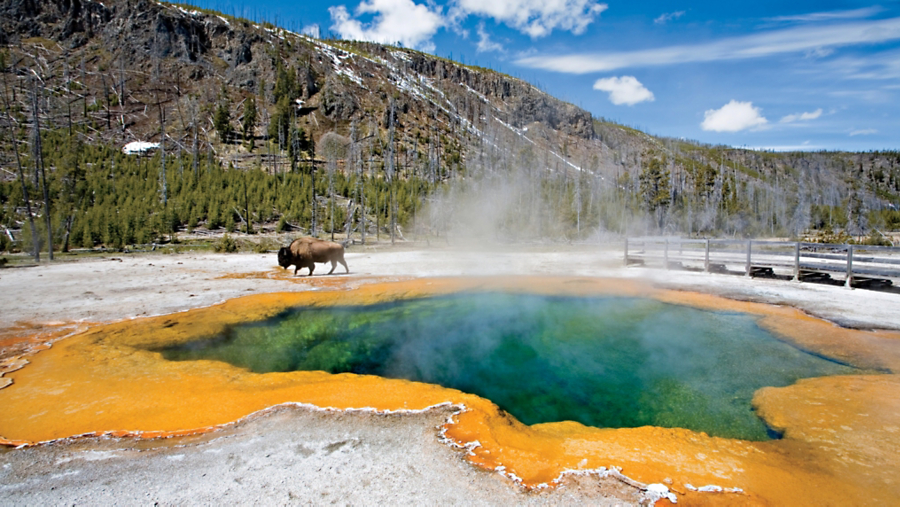 In March 1, 1872, Ulysses S. Grant enshrined this two-million-acre plot of land as a "public park … for the benefit and enjoyment of the people." That day marked the creation of the world's first national park—and the beginning of a new era of conservation, wildlife protection, and tourism that has since taken root all over the world. It's not hard to see why this place was chosen. Yellowstone is geologically fascinating: There are more than 10,000 thermal features in the park, including geysers, mud pots, and fumaroles (fissures that emit steam from under the Earth's crust). The park is also home to scores of mammal species such as bears, bison, moose and mountain lions. And of course, it is a stunningly beautiful landscape of grasslands, rivers, mountains, and waterfalls that has left visitors in awe for more than 140 years.
Explore Yellowstone during …
The Great National Parks: Yellowstone, Grand Teton & Mount Rushmore—13-day Grand Circle Travel Tour