Top 10: A World of Wellness
Posted on 4/2/2019 12:00:00 AM in The Buzz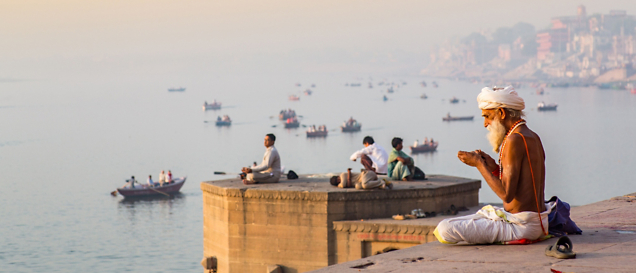 Wellness is a booming industry in the U.S.—and new trends crop up at such a fast pace, keeping up can run counter to any attempt at mindfulness. Perhaps we'd do better to seek inspiration from cultures around the world—many of which practice healthy habits with ancient roots. Whether you're striving toward wellness at home or on the road, fuel your body and soul with our favorite healing rituals from popular O.A.T. destinations.
10. Finland: Sweat it out in a sauna
There's a reason why "sauna" is the only Finnish word that appears in the English dictionary. For more than 2,000 years, the tradition has been central to the Finnish way of life—and today, an estimated one sauna exists for every two people. Nearly 100% of Finns take a sauna at least once a week, with die-hard devotees taking one almost every day. You'll find them in homes, apartment buildings, hotels, offices, lakeside retreats, and even city streets.
The dry heat in a sauna can reach over 200 degrees Fahrenheit—and while one must be in good cardiovascular health to partake, the purported health benefits outweigh any discomfort. Among them: improved circulation, muscle relaxation, lower blood pressure, better breathing, and—perhaps above all—a sense of calm and wellbeing as you leave the stress of modern life behind. Do as the Finns do, and embrace a sense of community—while letting go your inhibitions.
Explore Finland during …
New! Fjord Cruise & Lapland: Norway, Finland & the Arctic—18-day O.A.T. Small Ship Adventure
Enhanced! Grand Baltic Sea Voyage—15-day O.A.T. Small Ship Adventure
9. Japan: Forest Bathing
Yes, you can experience more traditional bathing in a Japanese onsen—but you don't need to get wet to appreciate the latest trend in stress relief, which recently made its way to the U.S. Shinrin-yoku, "forest bathing," means soaking up nature. It's not just taking in the view, but using all five senses, which requires actually being outside in a green space. At the same time, it is not about exercise, but relaxation: letting nature fill you, instead of you filling it with activity. Simply get out there, breathe deep, and take it all in.
Japan's Forest Ministry began promoting shinrin-yoku in 1982, promising that benefits would follow. The authorities weren't wrong. Since then, research has shown that practitioners of shinrin-yoku enjoy reduced stress and stronger immune systems.
Explore Japan during…
Enhanced! Japan's Cultural Treasures—15-day O.A.T. Small Group Adventure
New! South Korea & Japan: Temples, Shrines & Seaside Treasures—18-day O.A.T. Small Group Adventure
8. Israel: Rejuvenate in the Dead Sea
So named because aquatic and plant life literally cannot thrive there, the Dead Sea's high concentration of minerals and nutrients—more than 48 in total—can do wonders for human skin. While the water here is nearly ten times saltier than the ocean, the salt contains much less sodium chloride, and pulls moisture into the skin where regular seawater would repel it. So a soak leaves your skin hydrated, and soothes conditions like eczema and psoriasis. The water even heals wounds … though the intense stinging sensation might not be worth the pain. In fact, even shaving before floating in the Dead Sea will leave your skin burning.
Beyond the water, seek out spa treatments or beauty products made with Dead Sea mud for more therapeutic benefits. And you might feel better simply by breathing the air: higher atmospheric pressure and lack of allergens improves respiratory function, and a high concentration of bromine relieves tension.
Explore Israel during …
Israel: The Holy Land & Timeless Cultures—18-day O.A.T. Small Group Adventure
Suez Canal Crossing: Israel, Egypt, Jordan & the Red Sea—18-day O.A.T. Small Ship Adventure
7. Iceland: Heated from within
Geothermal hot springs—which contain mineral-rich waters heated by underground lava flows—are known for their healing properties as much as they are for pure recreation. Locals and visitors alike bathe in these hot springs all year long, the Blue Lagoon in Reykjavik being one of the most popular. It features a man-made lagoon, but it is nature that provides the steaming water, which can get as hot as 98-102 degrees Fahrenheit. The heat provides similar benefits to a sauna, like increased circulation and stress relief; while the mineral content of the water softens and heals skin.
Explore Iceland during …
Untamed Iceland—13-day O.A.T. Small Group Adventure
6. Bhutan: Good vibrations
In the Buddhist religion, the sustained ringing of a singing bowl accompanies chanting or meditation, and the sound alone promotes relaxation. As a result, alternative medicine practitioners have incorporated singing bowls into their healing rituals. Proponents believe that the vibrations encourage harmony within every cell in the body, clarifying the mind and heightening intuition. While little scientific evidence exists to corroborate the claims, exposure to the sound has been shown to decrease pain intensity and lower blood pressure.
Creating the sound is a meditation in itself: run the wooden mallet along the edge of the bowl in a circular motion until you hear a bright, clear tone, and reduce the speed of the motion to sustain it. It makes a beautiful and functional souvenir to bring home.
Explore Bhutan during …
New! Bhutan: Hidden Kingdom of the Himalayas—17-day O.A.T. Small Group Adventure
Bhutan: The Hidden Kingdom pre-trip extension on Heart of India—17-day O.A.T. Small Group Adventure
Bhutan: The Last Shangri-La pre-trip extension on Nepal & the Mystical Himalayas—17-day O.A.T. Small Group Adventure
5. New Zealand: Making it official
New Zealanders make the most of their country's stunning landscapes and wide open spaces, embracing the outdoors through every kind of sporting activity imaginable. No wonder the Kiwi lifestyle is so famously laid back. In 2019, Kiwi health and wellness will officially become a government priority with the implementation of a "Wellbeing Budget," with funds earmarked toward reducing emissions, creating new socioeconomic opportunities, leveling the playing field for the Maori community, and raising awareness around mental health.
Explore New Zealand during …
Enhanced! Pure New Zealand—17-day O.A.T. Small Group Adventure
Australia & New Zealand: An Adventure Down Under—30-day O.A.T. Small Group Adventure
4. Morocco: The ultimate scrub-down
Communal bathing is a common theme on this list—but the Moroccan hammam experience has an intensity all its own. Depending on the hammam, you'll either be given black soap or required to bring it yourself; made with olive oil and eucalyptus, the soap's antibacterial and moisturizing properties have earned it a cult status here in the U.S. But one does not merely wash with this soap. The hammam brings new meaning to the term "exfoliation," especially when you allow an attendant to do the scrubbing for you. Layers of your skin will literally slough off.
For most Moroccans, the hammam is a weekly social activity, and witnessing this can be an especially eye-opening experience for women: while Moroccan women are covered from head to toe in public, they bare it all at the hammam. The convivial atmosphere offers a window into the daily lives of women and our perception of their freedom.
Explore Morocco during …
Morocco Sahara Odyssey—16-day O.A.T. Small Group Adventure
3. Thailand: A body under pressure
While Thai massage is sometimes recommended for anyone squeamish about nudity, the ability to remain fully clothed is the perhaps the only comfortable aspect of the technique—especially if you're used to Swedish massage. But if you can withstand the physical demands, you'll appreciate the benefits. More than the simple rubbing of muscles, Thai massage involves constant physical contact between the client and the masseuse, who manipulates the body into stretches and positions akin to yoga. Depending on the tightness of your muscles, it may be difficult to avoid discomfort—but if you enjoy a massage that "hurts so good," give the Thai variety a try. In addition to relaxation and energy stimulation, regular practice can improve flexibility—much like a traditional yoga practice, with far less effort on your part.
Explore Thailand during …
Ancient Kingdoms: Thailand, Laos, Cambodia & Vietnam—20-day O.A.T. Small Group Adventure
2. China: Slow it down
When the sun rises in China, people head to public parks to practice tai chi: slow, deliberate movements with roots in Taoist philosophy, Buddhism, and martial arts. Physically, tai chi can help improve strength, flexibility, and balance—but the true goal of each motion is to establish a mind-body connection, similar to a moving meditation. The practice is said to unblock qi—the energy that flows through the body—and harmonize the opposing elements of yin and yang. Like yoga, movements are synchronized with breath. Even here in the U.S., tai chi is gaining popularity as a safe, effective form of exercise for those with health or mobility problems—and a type of meditation for anyone seeking to become more calm and mindful.
Explore China during …
Imperial China, Tibet & the Yangtze River—22-day O.A.T. Small Ship Adventure
1. India: Go with the flow
Today, millions of people worldwide practice many different forms of yoga—some of which are geared toward fitness and exercise. But in the fifth century, when the concept of yoga in ancient India began to resemble modern practice, it was purely spiritual in nature—and not intended as a workout. While the exact origins are difficult to trace—with roots dating back up to 5,000 years—the poses likely originated as a form of self-discipline amongst Vedic priests. By around 400 A.D., Hindus, Buddhists, and Jains had adopted the practice as a way to broaden consciousness and achieve a higher level of being.
In the 20th century, yoga reached the Western world, peaking in popularity in the 1960s when Hindu spirituality became popular in the U.S. If you practice yoga, regardless of which school you prefer—or how closely it adheres to tradition—a visit to the land where it originated might deepen your appreciation and understanding.
Explore India during…
Heart of India—16-day O.A.T. Small Group Adventure