Top 10: Adventures in Europe for 2021
Posted on 6/2/2020 12:00:00 AM in The Buzz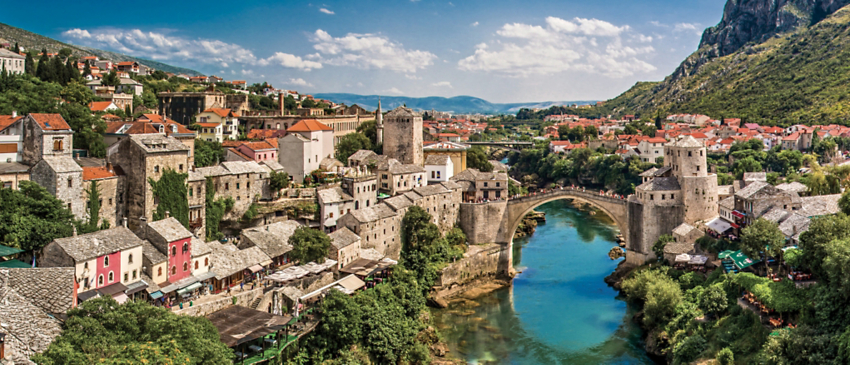 Slowly but surely, we're beginning to look toward the days when traveling becomes possible again. These are the Top 10 adventures that our travelers—in particular, our solo women travelers—are reserving for 2021. While we have high hopes for the future, we realize that the world will be an uncertain place for some time. So wherever you dream of traveling next, know that you can reserve with confidence with our NEW Risk-Free Booking Policy: For any reservation made by 9/30/20, you can transfer to another departure date for any reason—up until 24 hours prior to your original departure—and we will waive any change fees for 2020, 2021, and 2022 reservations.
10. Tuscany & Umbria: Rustic Beauty in the Italian Heartland—15-day O.A.T. Small Group Adventure
Optional extensions: Pre-trip: Italy: Bologna, Parma—6 nights; Post-trip: Italy: Rome—4 nights
From the grape-laden vines of Chianti to the thick olive groves blanketing the hills of Trevi, Italy's Tuscany and Umbria regions are ripe for discovery. Wander through fields of wildflowers to explore an abandoned abbey. Stand atop the walls of an ancient city, and gaze upon the marble churches and tree-lined piazzas below. Travel along the narrow lanes of small towns, marvel at medieval hilltop fortresses, and stroll between proud stands of cypress trees. And by exploring in such a small group with a local Trip Experience Leader by our side, we'll enjoy intimate interactions with the people who live and work in these regions of Italy—everyone from olive oil producers and wine merchants to local truffle hunters.
View itinerary
9. Jewels of Bohemia: Czech Republic, Slovakia & Hungary—15-day O.A.T. Small Group Adventure
Optional extensions: Pre-trip: Germany: Berlin, Dresden—5 nights; Post-trip: Austria: Vienna—5 nights
Journey with O.A.T. into Eastern Europe's Bohemian heartland to discover the history, culture, and landscapes of the Czech Republic, Slovakia, and Hungary—and prepare to enter an enchanting world of fairy-tale castles, Gothic cathedrals, and picturesque towns. In the Czech Republic, a region noted for its hearty Bohemian beers, witness the spires of Prague, the medieval splendor of Cesky Krumlov, and traditional ways of life in the Renaissance village of Slavonice. In Slovakia, discover the youthful optimism of Bratislava, the forested country's historic capital. Then, enjoy an audience with the "Queen of the Danube," and immerse yourself in the grandeur of Budapest, the lovely Hungarian capital infused with the vibrancy of a fiery paprika.
View itinerary
8. Northern Spain & Portugal: Pilgrimage into the Past—17-day O.A.T. Small Group Adventure
Optional extensions: Pre-trip: France: Carcassonne & Bayonne—5 nights; Post-trip: Portugal: Lisbon—4 nights
Follow the path of ancient pilgrimage routes on a journey from the Basque capital of Bilbao and Hemingway's beloved Pamplona to legendary Santiago de Compostela and find out why 88% of travelers rated this trip excellent. Throughout this Portugal and Spain travel experience, you'll witness the full breadth of the region's delights—including the Bretxa Market in San Sebastian and the streets of León—as well as savor local tastes when you sample wine and enjoy a Home-Hosted meal. The discoveries continue as you explore the rich traditions of Galicia, Spain's northernmost region, and the lush riverside Douro Valley of Portugal. Crown your journey in history-soaked Porto, the coastal city that launched so many explorers.
View itinerary
7. Untamed Iceland—13-day O.A.T. Small Group Adventure
Optional extensions: Pre-trip: Iceland's Westman Islands—3 nights; Post-trip: Greenland: Ammassalik, Kulusuk—4 nights
One of the least-populated nations on Earth—and nowhere near as cold as its name implies—Iceland is a verdant paradise of electric green valleys punctuated by craggy mountains, steaming hot springs, boiling mud pools, and lava fields said to be inhabited by elves. Here, our small group will afford us the opportunity to meet hardy locals who have historically carved a living from both the land and sea in farming communities and fishing villages, as well as discover the history of this isolated nation preserved in a series of medieval tales known as the Sagas. Their customs and traditions are inspired from centuries of folk tales passed down from generation to generation, and are full of magic, ghosts, elves, and huldufolk (hidden people).
View itinerary
6. Back Roads of Iberia: Spanish Paradores & Portuguese Pousadas—16-day O.A.T. Small Group Adventure
Optional extensions: Pre-trip: Porto: Northern Portugal's Romanesque Gem—5 nights; Post-trip: Bilbao & Spain's Northern Coast—7 nights
We'll chart our course for discovery in these ancient lands during O.A.T.-exclusive stays for eight nights in intimate Portuguese pousadas and Spanish paradores, restored historic inns—from castles and convents to manor homes and monasteries—that evoke the glory of an earlier era. We'll also dine with a family in their home and discover the secrets of Portuguese cuisine during a cooking lesson; explore the village of Sintra, situated within a fairytale landscape of lush forests, turreted palaces, and castle ruins, including a visit to the medieval Sintra National Palace; and learn about life on a family-owned olive oil mill during our NEW A Day in the Life near Úbeda, a town situated in the Jaén province which is bordered on all sides by numerous olive groves that produce some of the world's best olive oil.
View itinerary
5. Irish Adventure: Dublin, Belfast & the Northwest Counties—16-day O.A.T. Small Group Adventure
Optional extensions: Pre-trip: Dublin—4 nights; Post-trip: Ireland: Dingle, Killarney—5 nights
Ireland holds a controversial history that often goes undiscovered, and we'll uncover the good, the bad, and the ugly of Ireland's heritage though conversations with those who've endured these tough times. Upon the Emerald Isle, we'll trace the influence of the infamous Troubles across the country through exclusive experiences and local interactions—first exploring the era's influence on bustling Dublin before traveling to Belfast, where the heart of the period unfolded during the late 20th century. Stay in both quiet country settings and in the heart of Ireland's musical cities. Whether it's the stunning Cliffs of Moher rising from the Atlantic or the cozy pubs lining cobbled city streets, the rich history and natural splendor witnessed across Ireland is sure to captivate you.
View itinerary
4. New! Scotland Revealed: Legends, Lochs & Highland Landscapes—15-day O.A.T. Small Group Adventure
Optional extensions: Pre-trip: Scotland's Isle of Skye: Inverness, Portree, Stornoway—6 nights; Post-trip: England: Bath, Windsor—5 nights
Rolling hills dotted with castles and churches overlook picturesque lochs ... winding cobbled streets hug stacks of stone buildings ... unspoiled Isles reveal secluded beaches and verdant pastures ... these settings have provided the background for Scotland's rich history, which is the stuff of legends. It's here that the Protestant Reformation changed the religious landscape of the country; where the beloved sport of golf originated; and where kings and queens shaped Scotland's politics. As we trace the coast of Scotland all the way down to its capital city, we'll get an intimate glimpse into the country's past, and we'll meet the warm, inviting locals that call Scotland home along the way.
View itinerary
3. Enhanced! The Baltic Capitals & St. Petersburg—16-day O.A.T. Small Group Adventure
Optional extensions: Pre-trip: Poland: Krakow, Warsaw—5 nights; Post-trip: Russia: St. Petersburg, Moscow—5 nights
Few regions possess a more turbulent history than Russia and the Baltic states of Lithuania, Latvia, and Estonia. After countless wars, occupations—even a "singing" revolution—these countries have re-emerged to reveal their splendor to the world. When you travel to the Baltic capitals in a small group with O.A.T., you'll discover the turrets, spires, and winding cobbled streets of Vilnius, Riga, and Tallinn—three capitals that preserved the timeless elegance of their Old Towns. And you'll cast your eyes to Mother Russia as you discover the wonders of St. Petersburg, the glorious city on the Neva, founded by Peter the Great early in the 18th century as a showcase for Russia's imperial might. Take in the rich sweep of history, unique cultures, and natural beauty of one of Europe's long-buried treasures on this adventure, which 92% of our travelers rated excellent.
View itinerary
2. Sicily's Ancient Landscapes & Timeless Traditions—16-day O.A.T. Small Group Adventure
Optional extensions: Pre-trip: Italy: Matera, Lecce—5 nights; Post-trip: Italy: Pizzo, Civita, Salerno—5 nights
On this Sicily travel experience, you'll discover an Italian island with more than 3,000 years of history. Once home to a Greek colony, a Roman province, an Arab emirate, a Norman kingdom, and more, traces of ancient conquerors can still be found in Sicily's well-preserved ruins, elegant architecture, and gastronomic delights. Zip along Modica's narrow streets in an iconic, vintage Fiat 500; spend the night in an agriturismo, a traditional Sicilian farmhouse; and even sit down to a home-cooked meal with a farming family in the pastoral Sicilian countryside. The island beckons … so bring an open mind, a spirit of adventure, and a hearty appetite.
View itinerary
1. Crossroads of the Adriatic: Croatia, Montenegro, Bosnia & Herzegovina, and Slovenia—18-day O.A.T. Small Group Adventure
Optional extensions: Pre-trip: Albania: Tirana—4 nights; Post-trip: Serbia: Novi Sad, Belgrade—4 nights
On this adventure, which has an 87% traveler excellence rating, journey to the countries of Croatia, Montenegro, Bosnia & Herzegovina, and Slovenia—southeastern Europe's multicultural lands of forgotten beauty. Discover the heritage of the Balkans while witnessing stunning coastal scenery, exploring ancient walled cities, and experiencing the pride and resilience of the people of these re-emerging nations. Because we travel in a small group, we'll get to engage with locals in each country we visit and learn about their current lives, thoughts on Tito's legacy, and wartime experiences—and discover how varied ethnic identities and traditions have often led to differing views about the events of the complicated breakup of Yugoslavia.
View itinerary