Stuffed Peppers: Croatia's Summer Sensation
Posted on 7/14/2020 12:00:00 AM in The Buzz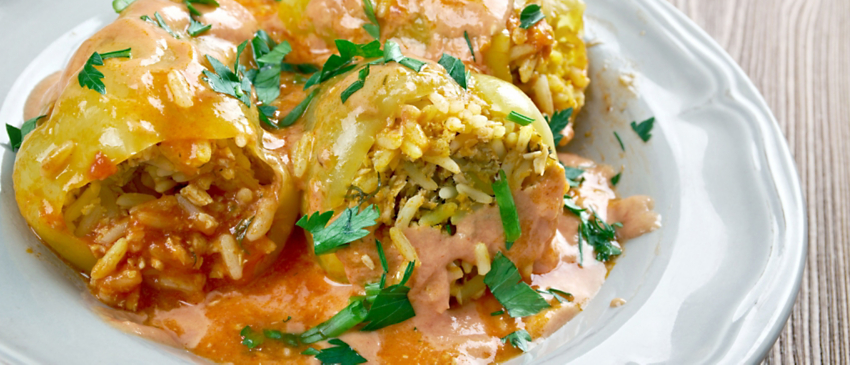 Summertime—the season when gardens burst with bounty and home cooks pick their meals from the vine. In Croatia, that means punjena paprika (stuffed peppers). As popular in the interior as along the coast, this classic is comfort food, not restaurant fare, and because it's a rustic dish, there is no universal recipe. But the basics remain the same: a rice-and-meat filling plumps up the peppers and the whole thing is doused in tomato sauce.
The wider the pan you use for cooking the peppers, the better. You don't want to stack the peppers and risk breaking them. You also don't want to over-stuff them, as the rice will expand somewhat in cooking, and the added volume may split the peppers open. Just fill the hollow gently, without packing the meat down, and call it good.
How you eat the peppers is a matter of personal choice: some slice the stuffed peppers like meatloaf, to keep all the flavors together; others scoop the filling out and eat the pepper after; and still others mash the pepper and meat together to mix with whatever side dish they've chosen.
Punjena Paprika (Stuffed Peppers)
Ingredients:
1/3 cup uncooked rice
6 large, fresh bell peppers (red, yellow, or green), rinsed
3 cups ground beef, veal, pork, or a mix
1 egg
1-2 teaspoons parsley, chopped
1 large onion
4 cloves garlic
3 Tbs olive oil
3 Tbs flour
3 cups pureed tomatoes
2 tsp sugar
¼ tsp salt
¼ tsp pepper
1 bay leaf
Instructions
Bring water to a boil for the rice. Add the rice and cook 'till halfway done, no more than 10 minutes.


Hollow the peppers by carving out the stem and removing the seeds. Don't worry about scraping down the ribs of the pepper; the more structure to the pepper, the better for holding filling.


Mix the rice, meat, egg, and parsley.


Sauté the onion and garlic in a frying pan till onion is soft, then add to the meat mixture.


Stuff the mixture inside the cleaned peppers.


In a large frying pan or sauce pot with a wide enough based to hold all the peppers, heat olive oil over medium heat and then whisk in the flour, cooking just till light brown.


Add tomato puree, sugar, salt, pepper, and bay leaf to the frying pan, and stir. Bring to a low boil.


Set the peppers into the pot, without stacking them, and add a little water to the sauce to just cover the peppers.


Cook on low simmer for 45-60 minutes, testing for softness at 45 minutes.


Serve with mashed potatoes or rice.
Serves 4-6
Savor all the flavors of Croatia during O.A.T.'s Crossroads of the Adriatic: Croatia, Montenegro, Bosnia & Herzegovina, and Slovenia adventure.