Survey Results: A Closer Look at Solo Travelers
Posted on 11/24/2020 12:00:00 AM in The Buzz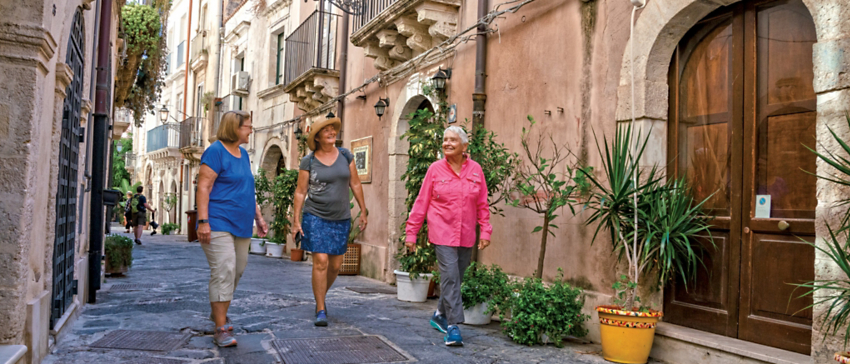 In October, O.A.T. partnered with Solo Traveler, the preeminent publication for those who travel alone, on their eighth annual reader survey. Nearly 3,000 respondents shared their thoughts regarding solo travel and the coronavirus, making it clear that they have the desire and intentions to resume international small group travel.
According to Janice Waugh, publisher of Solo Traveler, "The response to this year's survey was overwhelming. We received more than double the responses compared to previous years, with 80% of respondents being women. This demonstrates a huge pent-up desire for travel."
The respondents were 63% American and 21% Canadian; 85% were over 55 years of age. Here's a summary of what they had to say.
When they will travel and what will be different
The survey, which had 2,915 respondents, indicates that a Coronavirus vaccine is not the most important factor affecting when solo travelers will travel internationally again. Sixty-one percent (61%) said they would travel internationally once a vaccine is available. But more than three-quarters (77%) of solo travelers are willing to travel internationally as long as they do not need to quarantine at their destination.
Respondents also revealed that travel will take a higher priority than before.
46% will travel more often


25% will take longer trips


16% will opt for greater luxury
How they will travel
The survey also asked how solo travelers will travel differently once they can go internationally. More than half (53%) of respondents indicated that they are likely to take escorted tours when they can travel internationally again. This is three times the number who are not likely to take a tour.
The survey also revealed that:
40% will travel more consciously and sustainably


40% favor Europe and the UK as a destination, outstripping every other destination


26% will take more road trips
What they look for in an escorted tour
More than 35% of respondents have taken four or more escorted tours. These were their top reasons for choosing group travel over independent travel:
66% can travel to destinations that they wouldn't feel confident exploring on their own


59% prefer to relax and let the trip leader handle all the details


42% appreciate not having to do the planning
Of those who have taken escorted tours, we wanted to know what influenced their choice in tour operators. These factors ranked as their three most important:
The tour operator is going to the right destination at the right time


The total price of the trip, including flights, tips, etc.


Whether they apply a single supplement for a private room
Of the 2,700 respondents who take escorted tours, nearly 2,500 indicate that they personalize their travel beyond the packaged itinerary:
36% arrive earlier or stay later in their destination


19% add optional pre-trip or post-trip extensions


12% choose their own air preferences
We are grateful to Solo Traveler for giving us the opportunity to support their annual reader survey. As nearly 50% of O.A.T. travelers join us solo—and 85% of these are women—it's important that we understand how these travelers feel about resuming their journeys post-pandemic. We look forward to the day when it finally becomes a reality.
To learn more about the survey results, visit the Statistics page on Solo Traveler.