"Merit on the Road to Heaven"
Posted on 11/7/2017 12:00:00 AM in The Buzz
O.A.T. associates from Southeast Asia were all smiles during their community service day in Cambodia.
By Mov Chhay, Program Services Manager Cambodia
On August 3, 2017 at 3:30pm, O.A.T. leaders from Cambodia, Thailand, and Vietnam joined together with partners from the Angkor Paradise Hotel and Sokharoth Hotel for a community service day in Ta Chek village, Siem Reap, Cambodia.
Upon our arrival, there were a number of kids, villagers, buffalo cart drivers, a village chief, and a woman chief who were waiting to warmly welcome us with happy, smiling faces. This warm welcome showed us that they were really happy with our support to improve the road in their village.
We divided our team with buffalo cart drivers and villagers into two groups. Group one was responsible for collecting the rubbish to make the village clean and group two took care of filling in soil on the road. Even though we were interrupted by a rain shower, we never stopped working until we completed our work, which took us about two hours.
After completing the project, our team gathered with vendors, villagers, and buffalo cart drivers to start our interaction. We provided some snacks, which we prepared from town, to bring back the energy we spent together on the project. It is very important for us to build a great relationship with the community as they have always given warm welcomes to our group.
On behalf of his community, the village chief opened with a speech, during which he thanked our team, Grand Circle Foundation, and the hotel partners who provided them with a smooth road through their village. He said in Buddhism when roads are built for people, it means that merit is being built on the road to heaven. Then he and his villagers promised and committed to help maintaining the road for long-term use.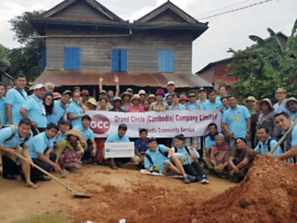 All of us felt very thrilled and proud to participate in community service in a place where we travel. We can educate the children who will become the leaders of the country about the giving and caring for other people. Moreover, we were very happy at the end because we could make some changes in people's lives, even if it was a small act for the community. It was quite the memorable moment.
See the difference being made by Grand Circle Foundation when you join O.A.T. for Ancient Kingdoms: Thailand, Laos, Cambodia & Vietnam.