Recipe: Uzbek Plov
Posted on 10/9/2018 12:00:00 AM in The Buzz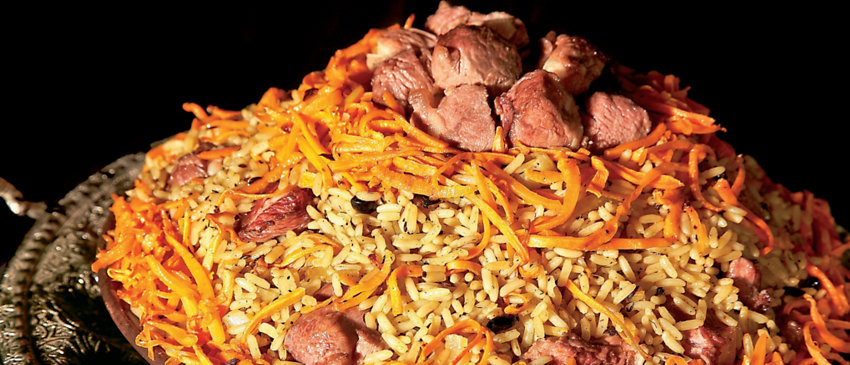 You may not consider Uzbekistan a culinary destination, but savvy European travelers have caught on to the country's flavorful cuisine. Many dishes and preparations, if by other names, might be familiar from other cultures that left their mark on Central Asia—like Turkish shish kebab, Russian pelmeni, Chinese noodle soup, and even Indian tandoori—but the Uzbek people alone proudly own the meat and rice pilaf known as plov.
Uzbekistan is unique from neighboring nomadic cultures in that its people were always settled, and found great success in raising cattle and farming grains and vegetables. Plov is a direct representation of this rich agricultural tradition. The earliest references to the recipe date to the tenth century, when the dish was primarily reserved for the wealthy—or for peasants on special occasions.
With grains, vegetables, and meat on one plate, the dish sticks to your ribs—and its sustaining power is nothing short of legendary in Uzbekistan. It is said that Tamerlane served plov to his soldiers at the urging of a trusted advisor. Just a small amount fueled the warriors through multiple battles—a secret weapon that ultimately led to victory.
Today, you'll find versions of the recipe at both the humblest hearths and the grandest celebrations. For the latter, a ceremonial chef known as an oshpaz prepares it over an open flame, sometimes in quantities large enough to feed 1,000 people. Regardless of who prepares it, the Uzbeks believe that if you can master plov, you can cook anything. Put yourself to the test with our recipe.
Ingredients:
1 1/2-2 lbs. beef sirloin or good quality beef
2 medium onions, sliced
5 medium carrots, peeled & julienned
2 1/2 cups Basmati rice, washed
1/2 cup extra virgin olive oil
2 teaspoons kosher salt, more if needed
1 teaspoon ground cumin, divided
1/2 teaspoon saffron
1 whole garlic bulb, top cut off
Black pepper, to taste
5 cups water
Preparation:
Prepare all of the ingredients by cutting the beef into 1-inch cubes, slicing the onions, and julienning the carrots.



Pour 1/2 cup olive oil into a Dutch oven and heat on medium/high until very hot. Carefully add the cubed steak, and cook about 7-10 minutes until browned, stirring few times.



Add the onions, 1/2 teaspoon ground cumin, 2 teaspoons kosher salt and black pepper to taste. Stir and cook on medium/high until the onions are cooked through (about 10 minutes).



Add carrots, 1/2 teaspoon ground cumin and 1/2 teaspoon saffron. Mix and cook until carrots are cooked through about 5 -7 minutes, stirring few times.



Pour 5 cups of water, bring it to a boil, cover and simmer on low for about 40 minutes or until meat is tender.



Then add the rice and garlic and bring it to a boil. Season with salt and pepper, to taste. Then, cover and simmer on low until rice is cooked through, about 30 minutes. 
Serves 6-8
Discover the many cultural influences on Uzbek cuisine when you join our new Stans of Central Asia: Turkmenistan & Uzbekistan adventure.