Recipe: Tempura Shrimp & Vegetables
Posted on 9/26/2017 12:01:00 PM in The Buzz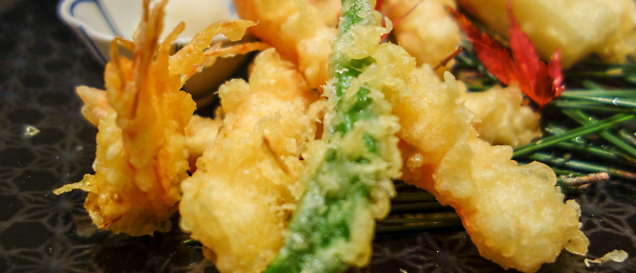 These days, you'll find almost any combination of fried seafood and vegetables on a plate of Japanese tempura—but it all started with green beans … and Portugal.
When we think of Japanese cuisine, refinement comes to mind: small portions, delicate flavors, perfect plating according to thousands of years of tradition. If crispy tempura seems to stick out like a deliciously misshaped fried sore thumb, look no further than Portugal.
Of course, like any nation, Japan has borrowed plenty of techniques and ingredients. Even rice came here by way of China. But the introduction of tempura came at a time when Japan was closed off from much of the world, aside from limited trade with the Dutch and Chinese. In 1543, a Chinese ship carrying three Portuguese sailors arrived in Japan entirely by accident, having been blown off course en route to Macau. At first, this seemed like a happy accident, as Japan was in the midst of a civil war and realized that trade with Portugal had certain benefits (namely, firearms). So they agreed to establish a Portuguese trading post. Eventually, though, the ruling shogun saw Christianity as a threat to his carefully guarded society, and banished the Portuguese in 1639.
But the Japanese had already fallen in love with the Portuguese—and, ironically, Catholic—tradition of battering and frying green beans during Lent, when meat consumption was forbidden. Even the name "tempura" has Catholic roots, deriving from the Latin "ad tempora cuaresme": "in the time of Lent." Over the centuries, the Japanese made the dish their own, eventually arriving at frying whole fish in the 18th century—a purely Japanese nod to serving ingredients in their unadulterated form.
This recipe from Epicurious features both the green beans that started it all and mostly unadulterated shrimp; decide for yourself whether "massaging" a shrimp breaks too far from Japanese tradition. Scroll down to watch the experts prepare this recipe in a short film, and to download an easy-to-print PDF.
Japanese Tempura Shrimp and Vegetables
Ingredients:
For dipping sauce:
1/4 cup dashi
1/2 cup light soy sauce
2 teaspoons fresh ginger, finely grated (from about 3/4-inch piece)
1/2 cup daikon radish, finely grated (from about 4 1/2-inch piece)
1/4 cup mirin (Japanese sweet rice wine)
For tempura:
10 green beans, trimmed
12 large shrimp, peeled, deveined, tail shells left intact
Salt and pepper
About 6 cups vegetable or peanut oil for frying
2 cups all-purpose flour
1 1/2 tablespoons baking powder
2 tablespoons Asian sesame oil
10 fresh shiitake mushrooms (about 3/4 pound), stemmed
1 large white onion, peeled and cut into 1/2-inch thick rings
2-ounce piece fresh lotus root (about 1 1/2 inches long), peeled, and cut into 1/4-inch-thick slices
10 fresh shiso leaves
Preparation:
Make dipping sauce:
In small saucepan over moderate heat, stir together all ingredients. Bring to simmer, then remove from heat and keep warm. (DO AHEAD: Sauce can be made ahead, refrigerated in covered container up to 2 days, and rewarmed over moderate heat before serving.)
Make tempura:
Bring medium pot water to boil over high heat. Have large bowl ice water ready.


Add green beans to boiling water and blanch just until crisp-tender, about 30 seconds.


Using slotted spoon, immediately transfer to ice water to stop cooking, then drain well and dry on paper towels.


Make several shallow cuts across inside curve of each shrimp and gently press shrimp flat on cutting board (to help prevent curling during cooking). Sprinkle shrimp with salt and pepper.


In large saucepan over moderate heat, heat 4 inches of oil until thermometer registers 325°F.


In large mixing bowl, whisk together flour, baking powder, and sesame oil. Gradually and gently whisk in 2 1/2 cups ice water, mixing just until dry ingredients are moistened. (Batter will be very lumpy.)


Working in batches, using tongs or chopsticks dip shrimp and vegetables into batter and fry, turning occasionally, until golden, about 1 1/2 minutes for green beans, 2 minutes for shrimp and other vegetables. Transfer to paper towels to drain. Return oil to 325°F between batches and, using spider or slotted spoon, remove any residual bits of batter from oil before adding next batch.


To fry shiso leaves, gently lay each leaf on top of batter to coat 1 side, then drop, batter-side-down, into oil and fry without turning until underside is golden, about 1 minute. Transfer to paper towels to drain.


Serve tempura immediately with dipping sauce.
Serves 4
See the experts from Epicurious prepare this recipe in this film:
Download and print the recipe here.
Crunch some authentic Japanese tempura—and more regional specialties—when you join O.A.T. for Japan's Cultural Treasures.