Recipe: Swiss Cheese Fondue
Posted on 2/6/2018 12:00:00 AM in The Buzz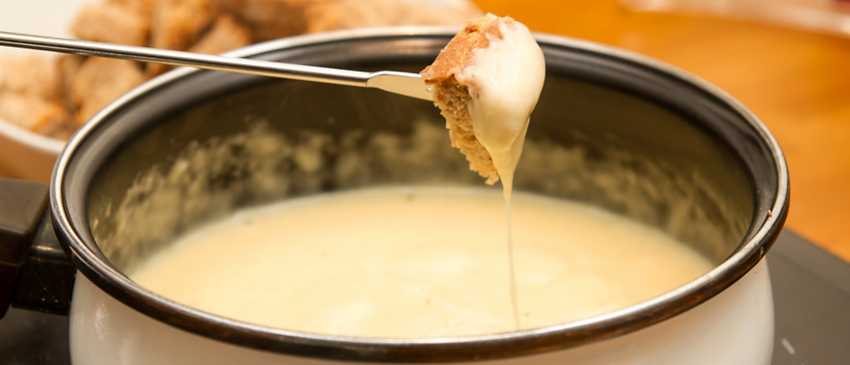 If you own a fondue set (that has likely been gathering dust for decades), you—as an American—can thank the 1964 World's Fair, when Switzerland featured fondue on the menu of its Alpine restaurant. But in Switzerland, its roots go much deeper. In the 18th century, farm families developed a basic version of the dish as a way to stretch stale bread and aged cheese into something palatable during winter. Eventually, the upper classes caught on to the delicious concoction, and elevated the ingredients according to their means. The invention of cornstarch in 1905 popularized fondue even further, as it helped ensure a smooth, foolproof emulsion of the cheese and wine.
Today, it's a national dish—by the singular design of an organization called the Swiss Cheese Union. After World War I, Switzerland found itself with an overabundance of cheese—and, with most of Europe focused on more pressing matters of rebuilding, not enough consumers to eat it. A group of cheesemakers formed a cartel, agreeing not to compete with one another. They controlled the price of milk, the amount of cheese one could produce, and even the types of cheese allowed to be made. Many a small-batch artisan would come to despise the union, learning that it never paid to mess with Big Cheese.
In the 1930s, the Swiss Cheese Union declared fondue a national dish, and launched a marketing campaign around it to encourage cheese consumption. After World War II, when cheese was no longer rationed, it ramped up its efforts, going so far as to distribute fondue pots to the military and other organizations. And who could resist its slogan: "La fondue crée la bonne humeur," or, "fondue creates a good mood!" Fondue became a symbol of Swiss unity—and, in the 1970s, a symbol of happy, attractive Swiss folks in cozy ski sweaters, thanks to yet another widespread ad campaign.
After drawing comparisons to the mafia, and prompting questions as to whether cheese promotion might not be the best use of government funds, the Swiss Cheese Union collapsed in the 1990s. But fondue was here to stay—at least, that is, in Switzerland. A generation of Americans and their dusty fondue sets could hardly say the same.
If you're among them, we urge you to drag out the old pot, dust it off, and put it to use with this recipe from Epicurious. If you don't have a fondue set, there's a more modern—albiet less attractive—option: use a slow cooker instead.
Swiss Cheese Fondue
Ingredients:
1 garlic clove, halved crosswise
1 1/2 cups dry white wine (preferably Swiss, such as Fendant)
1 tablespoon cornstarch
2 teaspoons kirsch
1/2 lb Emmental cheese, coarsely grated (2 cups)
1/2 lb Gruyère, coarsely grated (2 cups)
Accompaniment: cubes of French bread on fondue forks or long wooden skewers
Special equipment: a fondue pot
Preparation:
1. Rub inside of a 4-quart heavy pot with cut sides of garlic, then discard garlic. Add wine to pot and bring just to a simmer over moderate heat.
2. Stir together cornstarch and kirsch in a cup.
3. Gradually add cheese to pot and cook, stirring constantly in a zigzag pattern (not a circular motion) to prevent cheese from balling up, until cheese is just melted and creamy (do not let boil). Stir cornstarch mixture again and stir into fondue. Bring fondue to a simmer and cook, stirring, until thickened, 5 to 8 minutes.
4. Transfer to fondue pot set over a flame and serve with bread for dipping.
Serves 6
Sample the culinary delights of Switzerland—and four other countries—during our Romance of the Rhine & Mosel River Cruise.